In today's interconnected digital landscape, expanding your online presence globally is paramount for businesses seeking to tap into international markets. International SEO plays a crucial role in ensuring your website ranks well and attracts relevant traffic from various countries. This article explores the key factors to consider when implementing international SEO Toronto strategies, enabling you to optimize your website's visibility and reach a wider audience worldwide.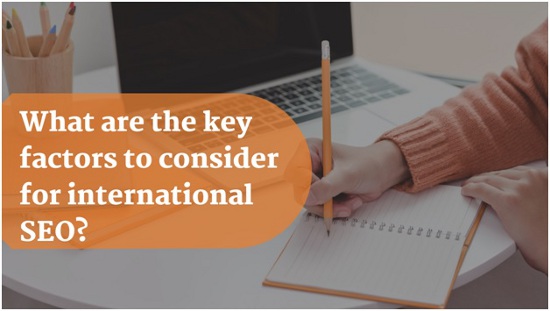 What is International SEO?
International SEO refers to the practice of optimizing your website to help search engines such as Google to identify which countries you want to target for your brand. It involves optimizing your website's content, structure, and technical aspects to match the search intent of users that you want to aim globally.
Difference between International SEO and Local SEO:
Why invest in International SEO?
Investing in International SEO can provide various benefits for your business growth and success. Consider these compelling reasons to prioritize international SEO:
Increased global visibility: Reach a wider audience beyond your domestic market, allowing your brand to gain exposure on a global scale.
Enhanced brand reputation: Establish your brand as an authority in international markets, building trust and credibility among diverse customer bases.
Greater customer acquisition: Attract and engage international customers who are actively seeking your products or services in their native language and cultural context.
Competitive advantage: Outperform competitors in international markets by optimizing your website for targeted keywords and delivering localized content.
Long-term growth potential: Unlock new revenue streams by tapping into emerging markets and capitalizing on global trends.
Cost-effective expansion: Compared to traditional methods, international SEO offers a cost-efficient approach to expanding your business globally.
Cross-cultural insights: Gain valuable insights into different markets, allowing you to adapt your marketing strategies and tailor your offerings to meet specific regional needs.
Scalable and measurable results: Leverage data analytics to track and measure the impact of your international SEO efforts, enabling continuous optimization.
7 Key Factors to Consider for International SEO:
Market Research: Conduct thorough market research to understand your target international markets. This includes studying their language preferences, cultural nuances, search behaviour, and identifying local competitors. This knowledge will help you tailor your SEO strategies to effectively target and engage your international audience.
Language Optimization: Translate and localize your website's content in a way that aligns with your target audience in each market. It involves not only translating the text but also adapting it to the local language, cultural references, and idiomatic expressions. Additionally, optimize metadata, URLs, and other elements to align with the language preferences of each market.
International Keyword Research: Perform keyword research specific to each target market. Consider local search trends, preferences, and language variations to identify the most relevant and effective keywords. This ensures that your website is optimized for the keywords that resonate with the target audience in each country or region.
Geotargeting and hreflang Tags: Implement geotargeting techniques to signal search engines about your intended target audience for each page or section of your website. Additionally, use hreflang tags to specify language and regional targeting, indicating which language version of a page should appear in search results for users in different countries or regions.
Website Structure and Navigation: Create a clear and user-friendly website structure that has the options of multiple languages, regions, and search engine requirements. Consider implementing language selectors, country-specific subdirectories, or subdomains to ensure smooth navigation for international users. An organized structure helps search engines understand and crawl your site efficiently.
Technical SEO Considerations: Pay attention to technical aspects to ensure your website is accessible, indexable, and optimized for different devices, languages, and search engines. This includes optimizing your page for the following aspects such as:

Page load speed
Implementing structured data markup
Optimizing for mobile responsiveness
Proper handling of international URLs and redirects.

Local Backlink Strategy: Build a diverse backlink profile by earning high-quality links from local and international domains. Focus on acquiring backlinks from authoritative websites relevant to your target markets. This helps to improve your website's authority, search engine rankings, and visibility in each international market.
International Content Marketing: Develop a comprehensive content marketing strategy that focuses on delivering relevant, engaging, and localized content for each target market. Create country-specific landing pages, blog posts, or articles that address the needs, interests, and cultural preferences of your international audience. This approach helps to attract and engage users while establishing your brand's relevance and authority in each market.
Final Words!!
In an increasingly interconnected world, international SEO serves as a vital strategy for businesses aiming to expand their global reach and tap into new markets. By considering key factors such as market research, language optimization, geotargeting, technical SEO, and localized content, you can position your website for success in international markets. Investing in international SEO not only opens doors to a wider audience but also boosts brand reputation, drives customer acquisition, and provides valuable insights into diverse markets. Embrace the power of international SEO to unlock global opportunities and propel your business toward sustainable growth and success on the global stage.