Let's embark on a journey to discover how Industry 4.0 will radically transform the industrial sector. The term "Fourth Industrial Revolution," which is used frequently to describe the contemporary era, is more than simply a slogan; it refers to a paradigm change that is altering how we create, manage, and innovate manufacturing processes.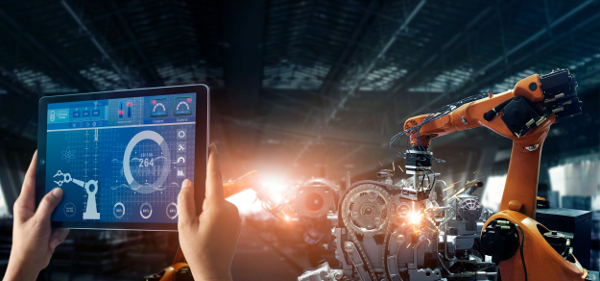 In this blog, I'm eager to discuss the significance of Industry 4.0 in the fast-paced production environment of today. So, without further ado, let's get started!
Taking a Step Back: From Steam Engine to Cyber-Physical Systems
Let's take a tour through the halls of industrial history to appreciate the revolutionary nature of Industry 4.0 fully. Think back to the first industrial revolution when the sheer force of steam and water automated processes.
Manufacturing reached new heights during the second wave, which also brought about mass production and electricity. When manufacturing began to be automated and computerized, the third revolution began.
Imagine the emergence of Industry 4.0 now. We are discussing a completely new manufacturing world that is intertwined with cyber-physical systems, the Internet of Things, artificial intelligence, and data analytics. We are able to exchange real-time data and make intelligent decisions as a result of this convergence, where machines, products, and systems work together in harmony.
A Look at the Tech Landscape: The Foundations of Industry 4.0
Several disruptive technological pillars are key to industry 4.0 solutions. Here is a summary:
IoT and connectivity:
Think of the symphony of data that connected gadgets and sensors are producing. This symphony is not just for show; it aids manufacturers in optimising processes, anticipating maintenance requirements, and raising productivity to new heights.
Analytics for Big Data:
Consider sophisticated analytics as expert translators for the deluge of data coming in from all sides. The patterns, trends, and anomalies that these interpreters identify help decision-makers make wise choices.
AI and machine learning:
When making decisions, AI assumes the role of an old wise man who has sifted through the evidence. Through the practice of machine learning, it streamlines procedures, anticipates potential problems, and continuously improves.
The use of additive manufacturing (3D printing):
Just picture combining some innovation with age-old production techniques. Rapid prototyping, customised designs, and a decrease in material waste are all made possible by additive manufacturing.
Using digital twins and cybersecurity:
Security is increasingly important as connectivity grows. Digital twins, which are virtual replicas of physical systems, are used as testing grounds and simulation environments before operations are put to the test in the actual world.
Industry 4.0 in Modern Manufacturing: Exaggerating Its Dimensions
Let's shed some light on the significance of Industry 4.0 from several angles:
Enhanced Productivity:
We're talking about a tech-driven tango in which several technologies collaborate to improve productivity, reduce downtime, and make the best use of available resources.
Customised Works:
Imagine a world where businesses may produce specialised wonders without sacrificing effectiveness. Mass customisation has become a practical reality as a result of Industry 4.0.
Effective Supply Chains:
Suppliers and distributors interact in this connected world by exchanging data in real-time. As a result? Accurate inventory management and demand forecasting that reduce expenses and inconveniences.
Accelerated Innovation:
An environment of constant innovation is fostered by Industry 4.0. Manufacturers are quick to launch new items and change their appearance to match the shifting tastes of the market.
Living up to the Sustainable Talk:
Bid adieu to resource overconsumption and wasteful behaviour. Resource optimisation, preventive maintenance, and a focus on environmentally friendly manufacturing are key components of Industry 4.0.
Triumph of Industry 4.0: Decoding the Smart Factory MOM Solution
The shining example of creativity in the era of Industry 4.0 is:
"Smart Factory." industrial Operations Management (MOM) system, a key piece of technology that coordinates and enhances complex industrial processes, is at the centre of this shift. Efficiency, ability to adapt, and data-driven decision-making are brought about by the Smart Factory MOM solution, which is the real champion of Industry 4.0. Explore this gem by removing its many layers.
Dispelling Myths About the Smart Factory MOM Solution
Think of a conductor of a symphony who brings together many musical components to create a beautiful masterpiece. The responsibility of Manufacturing Operations Management (MOM) is that. Consider MOM now equipped with cutting-edge technology like IoT, real-time data analytics, and machine learning. As a result, MOM is elevated to the position of the brain of a smart factory, seamlessly coordinating people, machines, and systems.
A Smart Factory MOM Solution for Industry 4.0: Unlocking its Gems
Real-time Observation & Insight:
As a Smart Factory, embrace real-time wisdom. The MOM solution enlightens you on each production stage. Machine sensors feed data that reveals operational insights, production rates, and potential bottlenecks.
Upkeep for fortune-telling:
Think of devices that can anticipate their demands. By keeping an eye on performance trends and providing maintenance projections, Smart Factory MOM remains ahead of the curve. Assets are happier when downtime declines, and maintenance expenses decline.
Making Resource Rhythms Your Own:
Explore the art of data ballet, where material use, energy use, and labour productivity all coexist in perfect harmony. Resources are celebrated as waste declines and productivity soars.
Streamlined and fluid workflows:
The stage is set by automation, which orchestrates mundane chores and minimises human involvement. Operations run smoothly, the quality is constant, and errors are reduced.
Decision-Making's Muse, Data's Wisdom:
You are presented with a wealth of insights via the Smart Factory solution. This richness of data powers strategic choices creates a picture of operational competence, and magnifies the impact of magic.
The Supreme Rule of Flexibility:
Imagine a dancing floor with quick-changing choreography. Swift changes to changing demands, ripples in the supply chain, or subtle product differences are made possible by Smart Factory MOM.
Entire harmony:
Planning, carrying out, and quality control are all intertwined in the production process. Smart Factory MOM's magic wand is this symphony of collaboration and visibility.
In Tune with the Anthem of Industry 4.0
In the Smart Factory MOM solution, the principles of Industry 4.0 smart factory find their perfect match:
Interoperability:
A unified, harmonic exchange of communication between systems.
In the spotlight: Transparency
Data-driven decisions are able to be made on a canvas that real-time data has painted, transforming into transparent windows.
Advice from AI:
AI gives its wisdom, illuminating the way for people to make decisions like a wise advisor.
Independent Wisdom:
By providing operators with real-time insights, Smart Factory MOM stokes the fires of decentralised decision-making.
The Future's Direction: A Strong Encore
The Smart Factory MOM solution is a guide as you navigate industry 4.0 solutions in a constantly changing environment. It serves as a link, a road map, and a means of innovation for you. It is a requirement, not simply a benefit. Consequently, as the manufacturing industry dances into the future, accept the Smart Factory MOM solution as your pass to Industry 4.0 greatness. The future moves forward in graceful steps as the stage is set and the symphony continues to play.