Keeping your Ziptrak blinds in top-notch condition through regular maintenance and cleaning is crucial for maximising their lifespan and ensuring they continue to function optimally. In this comprehensive guide, we'll walk you through the steps to preserve the quality of your blinds.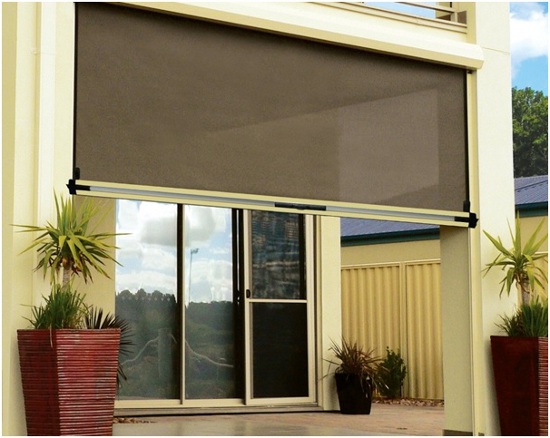 Understanding Ziptrak Blinds
Crafted by Australian engineers, Ziptrak blinds seamlessly blend style and functionality. These blinds are hassle-free and devoid of zips, cords, ropes, or wires, making them durable and visually discreet. They effortlessly integrate into your outdoor areas.
How to Clean Your Ziptrak Blinds
Outdoor blinds in Sydney endure constant exposure to the elements, making regular cleaning of the sunscreen mesh or PVC essential for prolonging their lifespan:
When cleaning the PVC skin, use a very mild detergent and a sponge, much like you would for your car.
Be gentle with PVC, as it's durable but porous and can be prone to cuts from sharp objects.
Clean the blind guides, metal surfaces, and pelmet with a soft microfiber cloth and warm, soapy water. Use a small amount of methylated spirits for stubborn dirt on metal surfaces or light scratches.
Do not use bore water for cleaning; prevent bore water sprinkler systems from hitting the blinds.
Keep a safe distance when using a high-pressure hose, as close-range high pressure may damage the blinds.
Refrain from using full-strength window cleaning detergents, soaps, or oil-based products like WD40 or Silicon Spray.
Avoid abrasive cleaners or cloths that may scratch the PVC material.
Allow the blinds to dry before you roll them up. Preferably, it would help if you dried PVC blinds with a cloth after washing.
Promptly remove bird droppings, dirt, or debris as soon as you notice them.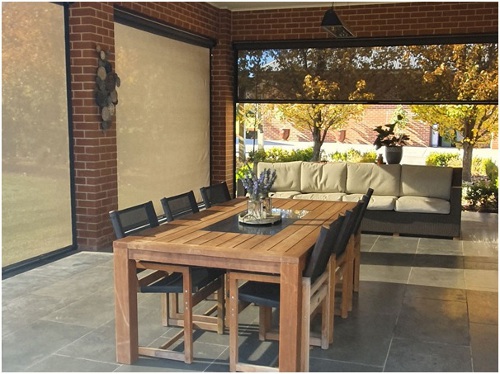 How Frequently Should I Clean My Ziptrak Blinds?
It's advisable to clean your Ziptrak blinds every 3-6 months to keep them in top shape. This regular cleaning routine helps prevent dirt buildup and protect your blinds from harm or stain. This practice will ensure that the PVC and sunscreen mesh maintains a pristine appearance over the years. It is recommended to schedule your cleaning at the start of each new weather season.
Additional Tips for Shielding Your Ziptrak Blinds
When your outdoor Ziptrak blinds are first installed, it's a good idea to keep them down for most of the first month. It allows the blind material to settle and adapt to the weather conditions.
During windy or stormy weather, either fully retract your Ziptrak blinds onto the top tube or leave them partially open. It allows the blinds to move with the wind and reduces the risk of damage from flying debris.
Do not use garden sprays or insecticides near your blinds, as these substances may stain the surfaces and cause damage to the blinds.
Avoid rolling up wet blinds, particularly 100% block-out plastic café-style blinds with condensation on the surface. Rolling up damp blinds can lead to mould growth within the material.
In extreme weather conditions, fully retract your Ziptrak blinds onto the top tube for added protection.
Ensuring Smooth Operation for Your Ziptrak Blinds
After you've completed the cleaning and drying of your blinds, it's beneficial to lubricate the tracks. While Zipscreen and Ziptrak blindsare generally low-maintenance for smooth operation, environments with dust may require some lubrication to keep the track-guided operation running seamlessly. For this purpose, it's recommended to use a food-grade silicon spray.
Here's how you can do it:
Lower the blinds fully to the ground.
Apply the silicon spray between the spline tape and the track into the groove.
Open and close the blinds several times after applying the spray to ensure even distribution of the silicon within the track.
Please Note: Avoid using oil-based lubricants like WD40, as they can damage the spline tape and cause dust buildup inside the track.
As Ziptrak blinds are a significant investment, it's crucial to maintain them regularly to ensure their longevity and keep them looking great for years to come.
Final Words
Maintaining and cleaning your Ziptrak blinds is vital to preserve their functionality and appearance. Following these essential tips can keep your blinds in top condition for years. Regular cleaning, lubrication, and proper care will ensure that your investment in Ziptrak blinds remains a valuable addition to your outdoor spaces. This effort will not only enhance the longevity of your blinds but also contribute to their aesthetic appeal. So, remember to schedule regular cleaning sessions and perform necessary maintenance tasks to enjoy the benefits of your Ziptrak blinds for seasons to come.