The manufacturing industry employs many skilled professionals to design, develop, and produce the products you use daily. If you're interested in a hands-on career making and improving the world around you through technical innovations, the manufacturing industry may be for you. Keep on reading to see what's ahead of you!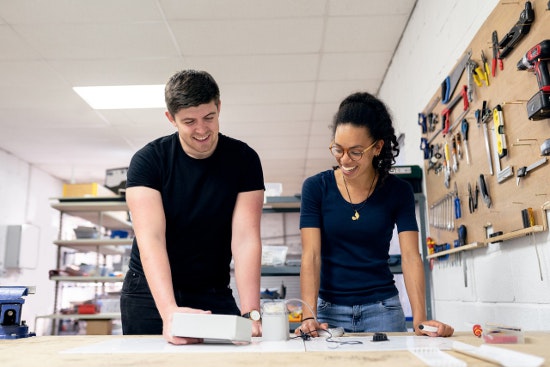 How to Get Involved with Manufacturing Careers
Education and Training Requirements
Most manufacturing careers require at least a bachelor's degree in engineering, design, or a related field. Some positions, like CNC machinists and maintenance technicians, typically require a postsecondary certificate or associate degree plus on-the-job training.
Internships
Completing an internship or apprenticeship in the manufacturing industry is a great way to gain experience and determine if a career path is right for you. Many companies offer specific programs for new graduates where you can apply!
Networking and Industry Connections
Connecting with professionals currently in manufacturing careers you're interested in can help in many ways. They can provide advice, be a referral, bring awareness to new positions, or write letters of recommendation for you.
Job Search Strategies
In addition to typical job sites, focus your search on websites dedicated to manufacturing and engineering employment. Also, search for positions on individual company websites and through local industry organizations. State and local newsletters are also great places to watch for new openings.
Professional Development Opportunities
Continuous learning is important for a career in the manufacturing industry. Stay up-to-date with technologies and innovative processes through workshops, conferences, online courses, and professional organizations. Consider also earning advanced certifications to demonstrate your knowledge.
How to Build Your CV Specifically for a Manufacturing Career
Identifying Key Skills
Technical skills like CAD software proficiency, blueprint reading, and quality standards are important factors that most employers in this industry prefer. When finalizing your CV for a specific job in the manufacturing field, highlight relevant soft skills such as communication, critical thinking, organization, and teamwork.
Highlighting Relevant Work Experience
Emphasize any hands-on experience or project work related to manufacturing. Discuss specific responsibilities, contributions, and measurable outcomes. In this phase, you must use quantified results and metrics to demonstrate your capabilities. If you've taken part in a technical internship, use statistics to show how your contribution improved project results!
Customizing Your CV for Different Manufacturing Roles
Once your CV is ready, don't think the same sheet can be used for every role within the industry! Tailor your CV for each position based on the key requirements listed in the job ad. Focus on the job description and make sure it aligns with your resume. For example, if any job requires you to be aware of a specific computer language or have had prior experience in automotive testing services, don't forget to add that in!
Showcasing Your Problem-Solving and Critical Thinking Skills
Discuss a complex work challenge you solved using critical analysis or thinking. Explain the issue, what you did to determine the root cause, actions you took, and results achieved. That highlights valuable transferable skills for a manufacturing setting.
FAQs When Working with Manufacturing Services
Why Should I Apply for a Career Here?
A career in manufacturing provides opportunities for high pay, job stability, and growth. With the rise in technology, expect a rise in jobs!
You also gain real-world experience solving complex problems that can lead to innovative products. Additional benefits include health insurance and even student loan reimbursements. You might receive all these benefits as an entry worker, but you can work your way up!
What Skills are Important in Manufacturing?
Key skills include problem-solving, critical thinking, mechanical abilities, communication, computer proficiency, and continuous learning. Strong math, science, technology, and technical design skills are also important for many manufacturing roles.
How Can I Advance in a Manufacturing Job?
The top ways to advance in manufacturing include:
Gain more experience and expertise by taking on more responsibility in your role.
Move into a supervisory or leadership position by managing a team.
Cross-train and earn certifications to expand your knowledge and skills.
Complete additional education like earning a bachelor's or master's degree.
Stay up to date with advances in technology, equipment, software, and processes.
Network and look for new opportunities within your company or at other employers.
Conclusion
The manufacturing industry offers stable, engaging careers for those interested in working with cutting-edge technology to design and produce innovative new products. While the specific roles and responsibilities may vary, all provide opportunities to solve complex, hands-on problems that shape the physical world around you.