An essential part of a home renovation plan is to give a new look to the kitchen area. Food is an essential part of life, prepared in the kitchen. You will have to restructure the kitchen with changing times and family demands.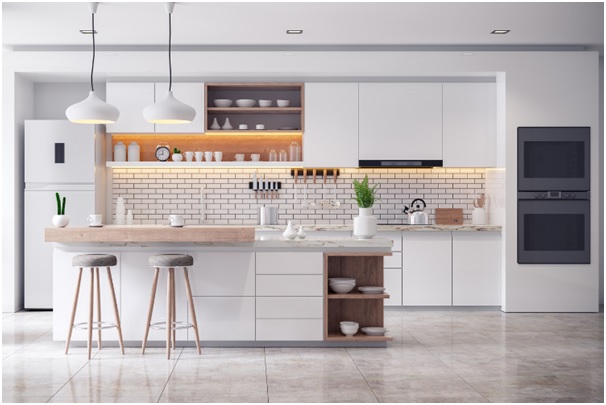 The modern kitchen is no longer a dark, secluded place for cooking that is aloof from the main house. It is now an integral part of every house that reflects the style and décor preferences of its owners.
Australian Trends
If you consult a professional company for kitchen renovations in Australia, you will see a few popular trends across households.
Renovation plans consist of a few popular aspects as follows:
The colour white is popular. You will find the use of white cabinetry, kitchen counters, and flooring frequently in design plans.
The use of the latest equipment, gadgets, and appliances for the kitchen is always included.
There is an equal demand for traditional and modern designs for kitchen renovation.
Benchtops are popular in Australia. Choice of engineered stone or laminate benchtops will give you the best-looking ones within budget.
Kitchen Renovation Tips
You may have an unlimited or a limited budget for your kitchen makeover. Professional companies will give you perfect solutions that will match your preferences and will provide kitchen makeover on a budget. These are some ideas you may consider using for your kitchen renovation.
Using lighter shades will always create a spacious look within a limited area.
Consider using wooden or laminated floors in a natural finish that will be lighter on the eyes and easy to clean and maintain.
Pay attention to the design details and check for the number of cabinets, shelves, and drawers included. Make sure that you have enough space for the storage of things that you keep in the kitchen.
Keep a designated space for a small plant or a music player that you may use at times while cooking.
Always make extra electrical connection points. They come in handy.
If you have the space, consider including a kitchen island. In case you are opening one side of the wall, and opting for an open kitchen, this will be useful.
Tiles can be placed on the walls to prevent backsplash. It will be easier to clean the kitchen after cooking and ensure durability.
Ensure the use of only high-quality metallic accessories.
The Planning
Professional kitchen designer companies offer comprehensive service packages that include designing or re-designing your kitchen and implementing the new plan.
The new plan will incorporate ideas from both sides.
The company professionals will survey your home and the kitchen to understand the design and present state of construction.
A new open floor plan is prepared for your approval. It will be a complete layout drawing of a modern or traditional kitchen design that you want.
Everything will be discussed and finalised here. Starting from the design and style of the renovation to the choice of materials to be used.
The floor plan will include the cabinets, shelves, and other storage arrangements for the new kitchen.
After the finalisation of the design, the company will quote its price for a final agreement and work approval.
This is followed by a final date when the work will commence.
Benefits
Here are some of the benefits you can enjoy after renovating the kitchen.
Renovating kitchens can be expensive but enhances the overall valuation of your house.
You feel refreshed with a new look in your kitchen after many years.
Hygiene and food preparations may be affected if the kitchen accessories do not function properly. They need to change periodically after a few years.
Dampness, leaking taps, and broken shelves and cabinets can cause disturbances in cooking and are potentially dangerous. You have to replace them as early as possible.
A renovated kitchen means upgrading to a more modern kitchen with time-saving appliances at your disposal.
Conclusion
Modern kitchens are an essential part of every home. It facilitates easy cooking on a busy day or allows the family to gather for Sunday brunch. A well-planned kitchen makes it a fun-filled exercise to cooking a meal after a stressful work week.
The arrangements here offer comfort in cooking with a comfortable and relaxed ambiance.