When we think of stress, we typically associate it with negative things like mounting work obligations, family problems, and burnout from busy schedules, and exhaustion.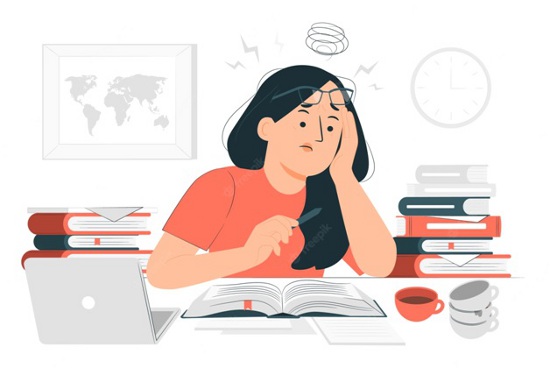 When a challenge feels out of proportion with the tools at their disposal to handle it, stress results. Researchers have identified two types of stress: "eustress," which refers to positive stress (such as a breakup), and "distress," which refers to negative stress (starting a new job).
Chronic stress has been linked to unhealthy eating, skin issues, smaller brain size, and even a higher risk of developing chronic diseases, according to the American Psychological Association, which isas "the physical or emotional response to an internally or externally stressful situation that persists."
We often hear that stress is bad for us and that we should do everything in our power to manage it. To learn more about how stress can be beneficial for you, seek Online Counselling at TalktoAngel.
However, getting stirred up isn't always a negative thing; after all, the fight-or-flight reaction is designed to defend, not harm, the body.
Continue reading to learn more about healthy stress and how a little momentary anxiety can actually be helpful for your body and brain.
Eustress, sometimes known as "good stress," is defined by the American Psychological Association as "the pleasurable stress response encompassing appropriate levels of stimulation" (APA). In other words, it is stress that might result from engaging in challenging yet joyful activity. A few examples of items or circumstances that could cause healthy stress include the following:
Entering retirement
Having children
Making preparations for a new job chance
Participating in an athletic event
Although the most advantageous sort of stress is that brought on by enthusiasm, there are other types as well. According to the APA, its opposite, anguish, which is what we picture when stress is mentioned, can also be advantageous for our bodies and minds.
Here are a few surprising benefits of having a little bit of stress.
Stress Enhances Motivation
Even though tension can feel overwhelming and sap motivation, a little bit of it can go a long way in rejuvenating your work. Stress in moderation can boost our motivation. A deadline, for instance, can motivate people to concentrate and pay more attention because there is only a limited amount of time left. We've all experienced saying, "Oh, I've got to get that done," but being unable to find the drive to do it until we are under pressure because it is due the next day, at which point the motivation appears. Sometimes, the fight-or-flight reaction can energise us.
Stress can promote growth and resilience
Although stress might feel overwhelming, it also encourages people to overcome problems, which eventually helps them gain confidence and skills that will be useful in the future. People tend to feel less scared and more in control of their environment when they have improved resilience and confidence.
Additionally, working through situations rather than avoiding them might help you use stress to face your anxieties or obstacles. You will feel more prepared to handle fears in the future once you have faced them since you have done so.
Stress can encourage closeness
One of the most unexpected advantages of stress is that it can foster interpersonal connections, which are essential for good health. One of the most effective defenses against issues with one's physical or mental health is social interaction. People feel less lonely and isolated when they are liked and understood by another person.
People can share their anxieties with others in support groups, for instance, which foster empathy and releases feel-good hormones. By being honest with one another, people are able to relate to one another's difficulties and validate one another's emotions, which help to turn a bad situation around.
Speaking with friends and family might help to build and improve relationships. If we hadn't helped one other through some of the harder periods, "a lot of our friendships or family ties wouldn't be the same,"
A worthwhile life includes stress
A life free of stress isn't always preferable. Consider a graduate student as an illustration. The admission procedure is competitive, the curriculum can be difficult, and changing from an academic environment to a corporate one after graduation can be a learning process. But in the end, one did something deserving of praise." The achievements that fill our lives with the most significance and make us feel the most proud of ourselves are difficult. If we got rid of the stress, we "would definitely wipe away a lot of the meaning in our lives."
It supports mental performance
By encouraging the production of neurotrophins, a group of substances in the brain, low-level stressors improve the connections between neurons in the brain. This may be the main way that exercise, a physical stressor, increases focus and productivity.
In addition, a 2017 study found that, in certain circumstances, stress may help you remember things more quickly (e.g., needing to take a written exam).
Stress only has a detrimental impact on our health and wellbeing when it becomes chronic or when we feel we no longer have control over a situation. If you're still having difficulties managing your stress, consult a medical professional or mental health professional. They will be able to assist you in determining the stress-reduction techniques or treatments that work best for you.
Feel free to seek consultation from the Best Psychologist near me at TalktoAngel for more information on stress issues.