To bring a change to your space, choosing the right tile becomes important but how to pick tile can be challenging for anyone who does not have an idea about tiles. You might believe that all you need to do is choose one that complements the entirety of your space decor and has an appealing appearance. But there are many other factors to take into account besides the tile's appearance. There are different categories of tiles available in various designs and finishes. This blog is the go-to resource for choosing the ideal tiles for your house.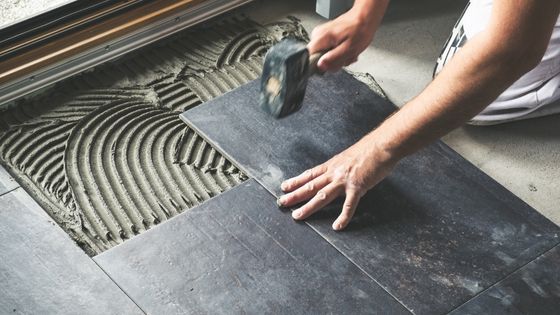 Everything You Need to Know About Different Types of Tiles
Utilising a combination of sand, natural clay, and water, ceramic tiles are created. Due to their strength, ceramic tiles are identified to last for a very long time. Ceramic tiles can satisfy all of your functional and aesthetic needs. Both walls and floors can be covered with these tiles.
Porcelain tiles outlast other types of tiles and can withstand significant wear and tear. They are also scratch and stain resistant and can tolerate chemicals that are abrasive too.
For both commercial and residential flooring, vitrified tiles are a great option. Vitrified floor tiles come in four different varieties: polished, glazed, double-charged, and full body. Due to the 3–4 mm additional tile layer used in their construction, these tiles are tougher than any other regular tile.
Additionally, tiles made of natural materials like travertine, marble, sandstone, and limestone are readily available.
Cement tiles, which come in classic patterns, are a good choice for a striking appearance. These must occasionally be sealed because they are porous in nature.
Location Matters
It is seen that people often go for tiles which are used in the interior walls for the outdoor walls as well. But, this is actually a big mistake. Some tiles are manufactured only with indoor use in mind, while others are manufactured with outdoor use in mind. The requirements of both the interior and exterior walls and floors are different. The exterior walls need tiles that are more resistant to dust, germs, water and tiles that can last longer, while the exterior floor also demands tiles that are durable, do not require high maintenance and can handle high-footfalls. Tiles made with extra layering such as double-charge tiles, Digital Glazed Vitrified Tiles is a perfect tile for use in areas with high footfalls.
Interior walls are usually protected, but outdoor walls are often exposed to dust, rain, and many other occurrences. In the interior, you can even use glossy finish tiles to add sheen elegance to the design of tiles used on your walls and floors.
Colours
There are a lot of colour options in tiles. From light shades to dark colour shades, there are numerous ranges available. Considering your space while selecting tiles is one of the best approaches. If you have a small home, go for lighter shades because they give the impression that the room is larger. Additionally, light colours give your rooms a light, airy appearance. Don't worry if you don't have many windows; light-colored floor tiles help a lot with lighting. Make sure your room is well lit if you are really set on using dark coloured tiles. You could use various tones of brown, black, or grey. You can even use bright, fun colours to make a space feel cheery and cosy.
Durability of the Tile
Durability of a tile matters a lot. There are different categories of tiles that are durable and are long-lasting as well. Tiles made up of Porcelain, Vitrified material are among the most durable tiles. Ceramic tiles are also tough and the most preferred category as well. Especially, while choosing floor tiles, you cannot compromise on the durability of the tile. Usually tiles that are durable do not absorb moisture, and are resistant to stains and scratches.
How to Pick the Correct Tile Size
Make sure there will be as little waste as possible during installation when choosing the size. For the living area, dining room, and bedroom, choose larger tiles while for the bathroom and kitchen should use smaller ones. With larger tiles you can make your space look bigger and the grout lines also are less. Measure your space and based on requirements, should select the tile for your space. It is important to find the right floor tile size and wall size for perfect fit.
Finish and design of tiles
When you are purchasing tiles, then you should consider the finish of the tile, since the finish not only has an impact on the aesthetic, but also on the functionality of the tile.
Gloss finish tiles offer a lovely mirror-like surface that reflects light, increases brightness, and creates the illusion of more space. Because they tend to get slick when wet, glossy ones shouldn't be used on the floor of wet spaces, such as kitchens, balconies, and bathrooms.
The tiles that come with a matte finish are non-reflective, slip-resistant, and do not readily display stains or dirt. With such tiles placed in the bathroom and kitchen, the chances of slipping and falling down are minimal.
Alternative finishes include lappato finish tiles and satin-finish tiles. These tiles are non-slippery and have a brighter sheen compared to matte finish tiles.
Consider Budget
Don't skimp on the quality because tiles are an investment that will last for a long time. Choose tiles that promise longevity even if they are a bit more expensive because you do not want to spend more money replacing worn-out tiles. Additionally, purchase more tiles than is necessary to be on the safer side. You should order a few extras to make up for any breakages that may occur in each of your packages. The majority of businesses do provide refunds for all unallocated boxes.
While selecting tiles, you should definitely keep these points in mind in order to find the best suitable option for your space. From the stage of space measurements to tile selection, every stage requires ideas on how to find the perfect option. We hope after reading this blog, you will be able to get the ultimate idea.