In the world of e-commerce, wholesale dropshipping has emerged as a popular business model that offers numerous advantages for entrepreneurs and online retailers. This innovative approach allows businesses to sell products without the need for inventory management or order fulfillment. Instead, the supplier handles the storage, packaging, and shipping directly to the customer. In this blog post, we will explore five compelling reasons why wholesale dropshipping is a game-changer for aspiring entrepreneurs and established online retailers.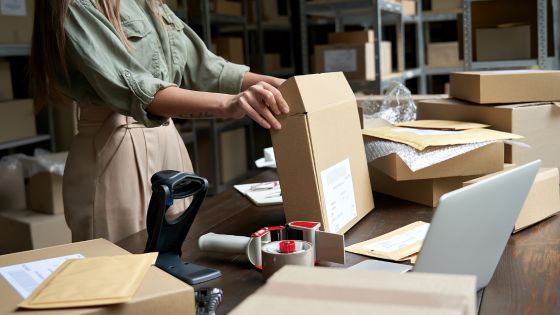 1. Low Startup Costs and Reduced Risk
The low initial costs and lower risk of wholesale dropshipping are two of the main factors that make it a desirable alternative. Unlike traditional retail models that require significant upfront investments in inventory, wholesale dropshipping eliminates the need to purchase and store products. This significantly reduces the initial financial burden and minimizes the risk of unsold inventory.
By partnering with reliable wholesale dropshipping suppliers, entrepreneurs can focus their resources on building an appealing website, marketing their products, and providing exceptional customer service. The absence of inventory-related costs allows for greater flexibility and scalability, enabling businesses to allocate their funds toward strategic growth initiatives.
2. Wide Product Selection and Flexibility
Wholesale dropshipping provides access to a vast array of products from various suppliers and manufacturers. This means that entrepreneurs can offer a wide selection of products without the need to manage physical inventory. By partnering with multiple suppliers, businesses can curate a diverse product catalog, cater to different customer preferences, and stay ahead of market trends.
Additionally, the flexibility offered by wholesale dropshipping allows businesses to quickly adapt and respond to changing consumer demands. Entrepreneurs can easily add or remove products from their online store based on market trends, customer feedback, or seasonal demands. This agility enables businesses to stay relevant and competitive in the dynamic e-commerce landscape.
3. Streamlined Operations and Time Efficiency
Wholesale dropshipping simplifies the operational aspects of running an online business. With no inventory management, businesses can focus on core activities such as marketing, customer engagement, and business development. This simplified method frees up significant time and resources, enabling business owners to focus on developing their brand and increasing their clientele.
.
The supplier takes care of order fulfillment, including packaging and shipping, which saves significant time and effort. By leveraging the expertise of the wholesale dropshipping supplier, businesses can ensure efficient and reliable order processing, delivery, and tracking, providing a seamless shopping experience for customers.
4. Global Reach and Market Expansion
Wholesale dropshipping empowers businesses to tap into a global market without the complexities of international shipping and logistics. By partnering with suppliers that offer worldwide shipping, entrepreneurs can reach customers in different countries and expand their customer base exponentially.
The ability to target international markets without the need for physical presence or infrastructure opens up new growth opportunities. Entrepreneurs can test and enter new markets with relative ease, leveraging the supplier's expertise in shipping and customs regulations. This global reach not only increases sales potential but also enhances brand visibility and recognition on a global scale.
5. Scalability and Profitability
Wholesale dropshipping provides a scalable business model that can adapt to growth and increased demand. As the business expands, entrepreneurs can collaborate with additional suppliers to accommodate higher order volumes. The suppliers handle the logistics, ensuring smooth order processing and fulfillment, allowing businesses to scale without the burden of managing inventory and shipping logistics.
The profit margins in wholesale dropshipping can be significantly higher compared to traditional retail models. Since businesses purchase products at wholesale prices and sell them at retail prices, the difference between the two represents the profit margin. With careful product selection, effective pricing strategies, and efficient marketing, businesses can maximize their profit potential.
However, it's important to note that success in wholesale dropshipping requires careful planning, research, and strategic execution. Here are a few key considerations to ensure a successful wholesale dropshipping venture:
• Find reliable suppliers: Partnering with trustworthy and reputable suppliers is crucial. Conduct thorough research, read reviews, and assess their track record to ensure they have a proven history of timely order fulfillment, quality products, and excellent customer service. Establish clear communication channels to maintain a strong working relationship.
• Optimize your website and user experience: A well-designed and user-friendly website is essential for attracting and retaining customers. Optimize your website for search engines, ensure smooth navigation, and provide detailed product descriptions and images. Offer a seamless and secure checkout process to enhance customer satisfaction and trust.
• Implement effective marketing strategies: While the supplier handles fulfillment, marketing is still a vital aspect of driving traffic and generating sales. Utilize various digital marketing channels such as social media, content marketing, email marketing, and search engine optimization (SEO) to increase your brand visibility and attract potential customers.
• Provide exceptional customer service: Even though you may not handle order fulfillment directly, delivering exceptional customer service is still crucial. Respond promptly to customer inquiries, address concerns, and provide clear communication throughout the purchasing process. A positive customer experience can lead to repeat purchases and positive reviews, contributing to long-term success.
• Continuously analyze and optimize: Regularly review your business performance, analyze sales data, and track customer behavior. Identify trends, optimize your product offerings based on demand, and refine your marketing strategies accordingly. Adapt to market changes and customer preferences to stay competitive and drive growth.
In conclusion, wholesale dropshipping offers a range of benefits for entrepreneurs looking to establish a successful online business. It is a desirable choice due to its inexpensive beginning costs, adaptability, and potential for scalability. By focusing on finding reliable suppliers, optimizing your website and user experience, implementing effective marketing strategies, providing excellent customer service, and continuously analyzing and optimizing your operations, you can maximize the potential of wholesale dropshipping and achieve long-term profitability and success.