Any garden or outdoor area would benefit from the addition of creeper plants, commonly referred to as climbing plants or vines. A touch of greenery and attractiveness can be added to walls, fences, pergolas, and trellises thanks to these plants' extraordinary capacity to climb and attach themselves to them. For their aesthetic value, ability to provide shade, and a variety of other advantages, creeper plants are commonly grown in India. We'll look at some common creeper plants from India in this article, along with some advantages they provide.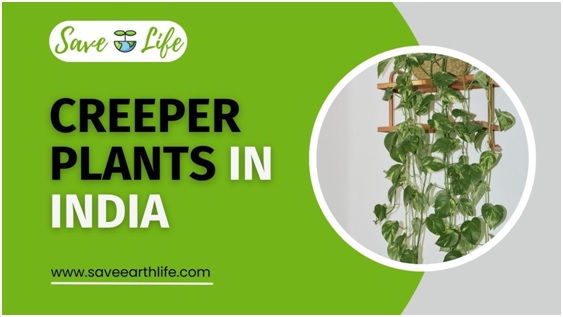 Importance of Creeper Plants in India
India has always valued creeper plants for their aesthetic value and practical advantages. Along with improving the aesthetics of gardens and landscapes, they also offer a number of benefits including shade and privacy. Creeper plants are frequently employed in institutional landscapes, public parks, and personal gardens to create a warm and welcoming atmosphere.
Popular Creeper Plants in India
1. Bougainvillea (Bougainvillea spectabilis)
Bougainvillaea is a colorful, quickly-expanding creeper vine distinguished by the vivid bracts that encircle its tiny white blooms. It is a common choice in many parts of India since it tolerates drought and grows well in warm conditions. Fencing, walls, and pergolas are frequently decorated with colorful flourishes thanks to bougainvillea.
2. Morning Glory (Ipomoea spp.)
The delightful creeper plant known as morning glory bears lovely, funnel-shaped flowers in a range of hues, including pink, white, blue, and purple. It is renowned for its speedy development and capacity to quickly envelop structures. Morning glory frequently forms a spectacular display of vibrant blooms when it is grown on trellises, fences, and arches.
3. Indian Trumpet Vine (Pyrostegia venusta)
The robust creeper plant known as the Indian Trumpet Vine, often referred to as Flame Vine or Orange Trumpet Vine, is indigenous to India. Clusters of brilliant orange-red flowers that draw birds and butterflies are what make it distinctive. Indian Trumpet Vine is frequently used to decorate buildings, pillars, and arbors, giving the area a tropical feel.
4. Rangoon Creeper (Combretum indicum)
The stunning blossoms of the Rangoon Creeper, a creeper plant, change color as they ripen. The flower's color changes from white to pink to deep red over time. This plant is a favorite among garden enthusiasts since it releases a lovely smell in the evening. A fence, trellis, or pergola are frequent places where the Rangoon Creeper is growing.
Also Read: 365 days flowering plants in india
5. Jasmine (Jasminum spp.)
The popular creeper plant in India is jasmine, which has lovely white blossoms and a seductive scent. It is widely grown for its decorative qualities and frequently employed to build fragrant arches, trellises, and garden boundaries. Along with crafting floral garlands, jasmine is also employed in religious occasions.
Benefits of Creeper Plants in India
Aesthetic Appeal
Any landscape or garden is given a natural attractiveness boost by creeper plants. They can turn ordinary fences, walls, or buildings into vivacious green areas with colorful blossoms, creating a welcoming and aesthetically pleasing setting.
Shade and Privacy
Shade is provided by creeper plants with thick foliage, which lessens the effect of direct sunlight and makes an outdoor area pleasant and cosy. Additionally, they serve as organic privacy screens, keeping inquisitive eyes out of your patio or garden.
Air Purification
By collecting carbon dioxide and releasing oxygen, creeper plants are essential for cleaning the air. By lowering pollution levels and enhancing air quality, they help create a cleaner and healthier environment.
Erosion Control
Strong tendrils or clinging roots on creeper plants aid in preventing soil erosion. They are important additions to gardens situated on slopes or vulnerable to erosion because they stabilize the soil and stop it from being swept away by strong winds or rain.
Conclusion
In addition to adding aesthetic appeal to gardens and outdoor areas in India, creeper plants also provide useful benefits such as shade, concealment, air purification, and erosion management. Bringing Joy to Your Life Indian creeper plants include the attractive and useful Bougainvillea, Morning Glory, Indian Trumpet Vine, Rangoon Creeper and Jasmine. To enjoy the beauty of these plants and the benefits they provide, grow them in your home garden so that you can enjoy them. This plant is very beautiful and smells great, how about adding them to your yard or landscape? Think.
Save Earth Life is all about gardening and planting trees to save nature. Here you can check a variety of topics including Informative facts about plants and trees, Creative gardening ideas How to grow & care plants, Flower Etc.
FAQs
1. Are creeper plants appropriate for tiny gardens or balconies?
Absolutely, you can grow creeper plants in tiny gardens or even in pots on balconies. For small places, such hanging baskets or vertical trellises, pick compact or trailing kinds.
2. In India, how should I take care of creeper plants?
In order to maintain their growth and structure, creeper plants often need frequent watering, adequate sunshine, and occasional trimming. Make sure they have enough room to spread out and provide them enough assistance to climb.
3. Do creeping plants entice insects or vermin?
Although some insects or pests may be drawn to creeper plants, regular maintenance and observation can help avoid any serious problems. Check your plants frequently for pest indications and take necessary action to control them, such as using organic insecticides or home cures.
4. Do all types of creepers require direct sunlight?
Not all creepers need direct sunshine. Some cultivars can flourish in filtered sunshine or moderate shade. Consider the lighting in your garden or area before choosing a creeper plant, and make your decision in light of that information.
5. Can creeping plants harm the buildings they cling to?
If not maintained properly, creeper plants with clinging roots or tendrils may harm some structures. Regular trimming and observation can guarantee that the plants develop in the right direction and assist prevent any damage.