The global software industry is expected to reach $872.2 billion by 2028. The phenomenal growth of the software industry has lured many entrepreneurs toward building their own software. There are two main approaches to software development. The first one is to build software with an in-house team of developers. In contrast, the second approach is to build software by outsourcing it to a software development company. In this blog, we will discuss the second approach and its effectiveness.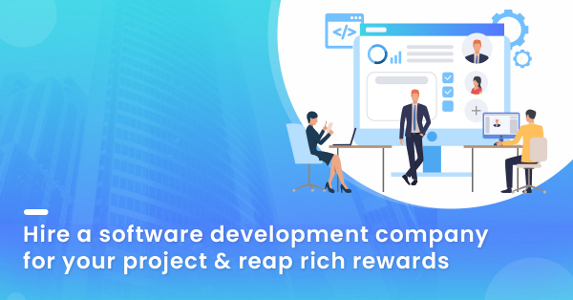 Cost-effectiveness
It's never a good idea to spend your hard-earned money on costlier options. Hiring an in-house developer team when you can go for an outsourced team is one of those ideas.
Hiring an in-house team for your software, web or mobile app development isn't cheap. You will have to pay out at least market salary levels, and these costs also come with expenses like taxes and insurance. This can prove to be an expensive proposition in developed nations where base-level salaries are high.
You must also budget for recruiting and HR costs if you hire an in-house development team. Other expenses may include fees for posting job opportunities on different platforms since most work boards charge money for their services and headhunter agency costs.
You might use your company's internal HR department resources. But, as you hire professionals for a software development project, you are going to need to work with top software developers. In this case, they should be brought onto the team and given input on requirements.
When launching a new product, many businesses hire an initial in-house team to develop it. To provide these developers with the resources they need for their work, you'll need to provide them with the physical space and equipment required. When deciding on an in-house team, make sure you do your due diligence about any potential operational costs. But hiring a software development outsourcing company will free you up from all of the problems mentioned above because
You only pay for the time the developers spend working on your project. Fair pricing means you'll save more in the long run.
When choosing an offshore service provider, you can expect the per-hour rates of developers to be much lower than they would be in your home country.
When you hire a software development company, you don't have to worry about any extra recruitment or other employment-related expenses. You don't need to find a new space, and you won't incur additional costs for furniture and equipment.
No Hiring Stress
If you are considering hiring IT software engineers in-house and it's your first time, it can be a lot of work to find the right people. Providing the right working conditions to your in-house developers is just as important as locating people with skills. The success of a software product or mobile app depends on the team, be that 5 people or 100.
Merging with a new team member sometimes leads to other challenges, like integrating them into an ongoing project. Outsourcing can be a great option to avoid these business challenges.
If you hire a professional software development agency, you can be sure that highly qualified developers will always be on hand to get your projects done right. And you never need to worry about recruitment or the difficulties of finding skilled developers.
If you have a project that needs multiple skills that aren't always available, it might be a good idea to work with software development firms. But you also need to make sure that the service providers always have the developers with the right skills for the type of work you are doing. If an individual doesn't complete their own written or code review, then your project is at risk too.
Get Access To Experienced Developers
Quality custom software development companies can provide high-quality custom development services. These companies have experts that have years of experience in collaboration and are capable of anything you can think up.
A great software development company will know when the best times to release an update to your products or services are. They can also recommend how your business can get promoted on different channels and platforms. As you work on projects together, your outsourced company will get a clearer understanding of them.
The software development company can provide you with the ideal recommendations through knowledge of your business' strengths and weaknesses. This can lead to cost-efficiency, increased productivity and more benefits for you as the customer.
Hiring companies should always do their research! Every software company out there has its hidden qualities, and when searching for a dedicated software development team to hire, you should always ask to speak with some of the best software professionals they have. You will then be able to see straight away if they are right for your business needs or not.
Agility
A dedicated developer team offers a lot of advantages, like the agility it offers, especially for small and medium-sized businesses. By outsourcing your tech requirement to these remote teams, you can keep your in-time workforce smaller and spend more time on other areas of your organization.
Consider looking at the hired remote software development team working dedicatedly as an extension of your on-premise staff to be able to fully engage with them. You should not view them as a third-party working for your organization.
One-time tasks can be outsourced to a remote team for increased efficiency and agility, such as tech migrations, new releases, etc.
Focus on your core business
Building any type of software is a time-consuming process. When you're involved in software development, it can be a full-time job. A lot of people find that they need to delegate tasks to people in another country. It helps you stay focused on the things that matter which makes your business grow.
The offshore software development company has a professional team of experts and managers to oversee them. This synchronized work helps the business to achieve its targets by focusing on its core business and not on software development.
Conclusion
As you can see, there are a lot of benefits of going with hiring one of the top software development companies in the industry. So why wait? Let's begin your success story by hiring one.