Weddings in general are hard to plan. Do-it-yourself (DIY) weddings, on the other hand, take things to another level. Without the help of a professional, planning a wedding on your own is a huge undertaking. You'll have to do everything on your own, from creating your guest list to scheduling a pre-wedding shoot. On top of that, you'll still have to get yourself ready.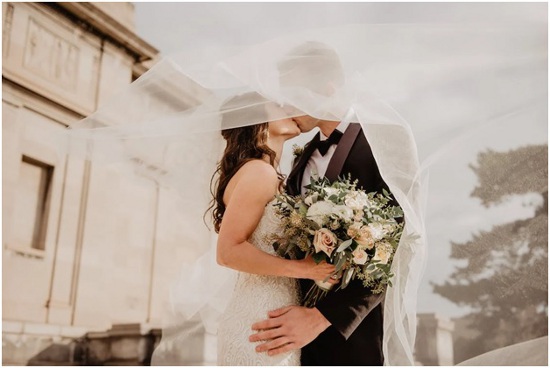 While planning a DIY wedding will be a lot of work, that doesn't mean it's impossible. You can still have a perfect wedding even without the help of a wedding planner. Below, we've broken down a few tips to plan your DIY wedding like a pro:
1. Start earlier than usual
The number one rule of DIY weddings is to get an early start. There's a lot to take on, so give yourself enough time to get everything done. If couples working with planners give themselves a year to plan their wedding, give yourself twice the amount of time.
Take a moment to write down all of your tasks and make a wedding timeline. This is a great way to get an overview of what needs to be done and when they need to be done. Wedding timelines are also the key to making sure you don't overlook vital parts of your wedding. A long to-do list can be overwhelming, so try to break it down into weekly tasks to make things more manageable.
2. Delegate duties to friends and family
Once your loved ones find out that you're planning a DIY wedding, they'll be more than happy to lend a helping hand. For instance, do you have a cousin who's a florist, photographer, or wedding singer? Ask for a favor. It's perfectly fine to get your wedding guest involved (as long as they don't mind working during your wedding, of course).
A word of advice: choose which loved ones to work with carefully. The advantage of working with vendors is that you can communicate your vision directly. Friends and family, on the other hand, might get offended when you tell them what to do. They're also more likely to lose themselves in the moment and forget they've got a job to do.
Since your loved ones may not be used to working weddings, you'll want to go through the details such as the shot list, flower arrangements, and more before your big day. And remember, you're asking them to take on a big responsibility, so only work with people you can count on.
3. Limit the number of vendors
Wedding planners have the advantage of knowing where to find vendors. They've also been in the business for a long time, so they know who the best vendors are. If you're planning your wedding on your own, you'll have to set aside plenty of time to vet and select vendors, not to mention coordinate with all of them.
The solution is to work with only a few vendors. Choose vendors that can tick more than one item off of your checklist — for instance, find a company that does wedding decorating and catering. If possible, opt for an all-inclusive venue as it's more practical. It may be more expensive, but it saves time as you'll no longer have to deal with individual vendors.
4. Use Pinterest for inspiration
Figuring out what you want your wedding to look like can be tricky without the help of a wedding planner. Fortunately, Pinterest is here to help. Pin whatever catches your eye and try to spot any patterns in the pictures you've saved. For instance, if you notice that your Pinterest board is filled with boho wedding ideas, that should tell you what your theme should be.
Once you've understood your ideal style, you can start searching for decor ideas, cake designs, and so on. Show your Pinterest board to your suppliers to give them an idea of what you're going for.
5. Don't forget the more important details
As you plan your wedding, don't forget to sort out the more important details such as your wedding dress and wedding bands. Yes, wedding details such as flower bouquets and food matter, but these matter more.
Have you decided if you want a traditional or non-traditional wedding dress? While some dresses can be bought off the rack, others will need to be ordered months before. Have you bought your wedding bands? You can't get married without rings, so don't forget this detail!
6. Don't forget to get a marriage license
Imagine this: you've spent months planning your DIY wedding. Your big day is weeks away when it suddenly dawns on you that you don't even have a marriage license. You check the website and find out that you only have a few days left to file for one. This is, inarguably, one of the worst things that could happen to any couple.
Couples tend to get so swept up in wedding planning that they forget to apply for a license. It's best to obtain a license 90 days before your big day as they can expire. Before that window opens, set aside ample time to prepare your documents such as your social security numbers, birth certificates, and IDs.
7. Hire a "day-of" or partial planner
No bride or groom should have to spend their wedding day worrying about whether the flowers have been arranged, or if the vendors have arrived. It can help to hire a "day-of" planner to whom you can outsource your duties on your wedding day. Another option is a partial planner who'll get on board weeks before the wedding. They'll take over your tasks and tie up any loose ends so you can focus on yourself.
By hiring a day-of or partial planner, you'll still have full control over your DIY wedding, but you'll have help in case you need it. It's an extra cost to consider, but it's a worthwhile expense. You can rest assured that they'll pick up where you left off and help you plan your wedding to perfection.
Say "I do" to a DIY wedding
Planning the DIY wedding of your dreams can be overwhelming, but with these tips, it doesn't have to be. Sure, it will take a lot of work, but think of it this way: you'll be able to plan a wedding that's truly special to you and your partner. Years from now, you'll look back at your big day, pat yourselves on the back, and know that you threw a wedding that's true to both of you. So, if you're considering DIY-ing your wedding, go for it! Don't be afraid to do your own thing.