A branded water purifier is a must to have appliance for every Indian household as tap water in most areas is not very clean or safe for drinking. Water from natural sources such as lakes, rivers or borewells quickly gets contaminated with animal, human, plant and industrial waste. Government bodies add chlorine or fluorine to the water to eliminate viruses and germs, but this is not enough to get rid of the dangerous chemicals or toxins from the water.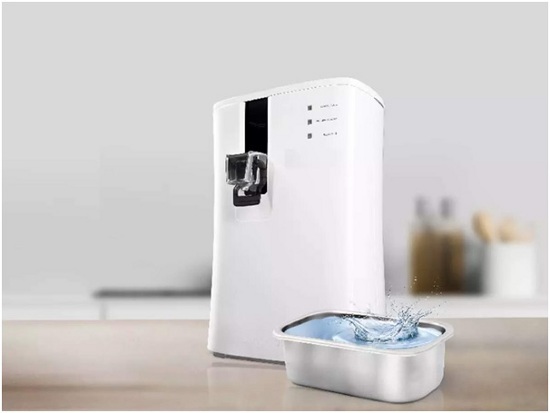 A Eureka water purifier can be an affordable and excellent solution to keep yourself and your family safe, as they are specifically designed to offer clean and healthy water. Here are the top-three Eureka water purifiers that can keep your family safe from water-borne diseases:
Aquaguard Delight RO+UV+MTDS water purifier (Eureka Forbes AquaSure) (7Litres)
This Eureka water purifier is an excellent choice in the mid-price segment. The Aquaguard Delight is an elegant and lightweight model designed to enhance the interior looks of your modern kitchen, and it is packed with best-in-class technology. This Eureka water purifier features a semi-transparent water tank that can store approximately 7 litres of purified water. The semi-transparent water tank lets you check the water level in the unit at all times. 'Power ON', 'Tank Full' or 'Purifying' are all marked by individual LED indicators, which come in handy in everyday use. The Eureka water purifier also has a TDS controller that users can manually calibrate to change the TDS level.
Aquaguard Water Purifier on EMI: Available
Eureka Water Purifier: ₹9,499.00
Aquaguard Marvel Eureka Forbes Water Purifier (Active Copper+RO+UV e-boiling+MTDS+Mineral Guard Technology) (8Litres)
This Eureka water purifier flaunts a superior design backed with advanced technology. Its core dual RO+UV water purification feature offers the best possible purification you can get in this price range. Regardless of the source of your water supply line, the 'Taste Adjuster' assures that the user receives sweet-tasting water. This Eureka water purifier's unique UV e-boiling feature offers the same level of purity, which is otherwise possible by boiling water for 20 minutes.
The 'Mineral Guard' feature ensures that no minerals from the water are lost during the filtration process. As these minerals are valuable to our body, the machine ensures that they are maintained as it is during the purification process. The Eureka water purifier also uses an active copper feature, which adds the excellence of copper to your filtered water. Excess chlorines are eliminated by the Chemi-block feature to offer you safe and healthy water.
Aquaguard Water Purifier on EMI: Available
Eureka Water Purifier: ₹11,999.00
AquaSure from Aquaguard Smart Plus Water Purifier (RO+UV+MTDS) (6Litres)
This Eureka water purifier is one of the top-selling models in India that you can get under INR. 10,000 price segment. This budget-friendly machine is a compact model that offers safe and healthy drinking water thanks to its multi-stage purification process (RO+UV+MTDS).
The AquaSure water purifier flaunts an all-black layout complimented by blue highlights with water level indicators. This mid-range water purifier is an excellent solution for most water sources like borewells, municipal water and tankers. The voltage fluctuation protection, six stages of the water purification process, and lightweight and compact design made it hugely popular among its users.
Aquaguard Water Purifier on EMI: Available
Eureka Water Purifier: ₹8,999.00
We have gone through numerous water purifier models, compared their features and efficiency, and checked their user feedback before compiling the above list of the best Eureka water purifiers so that you get to pick only from the best of the batch. No matter which model you finalise from this list, it will offer you healthy and purified water for sure. If you are delaying the purchase plan of your favourite Eureka water purifiers or looking for an Aquaguard water purifier on EMI, then again, we are here to help.
The Smart Way of Purchasing the Brand New Water Purifiers
Bajaj Mall is a remarkable e-commerce platform that enables consumers to purchase their favourite affordable or premium range water purifiers without the obligation of paying the entire product cost at once.
Users can also apply for the revolutionary Bajaj Finserv Network Card as it comes loaded with a credit limit of up to INR.4 lakh and is readily accepted in more than 1.2 lakh online and offline partnered shops across India.