Caring for your skin is essential for maintaining a healthy and radiant complexion. While many people focus on cleansing and moisturising, one often overlooked but highly beneficial step is using a face toner. Adding a toner is good for your skincare habits. A natural toner can softly cleanse your skin, avert breakouts, and prepare your skin for the remaining skincare.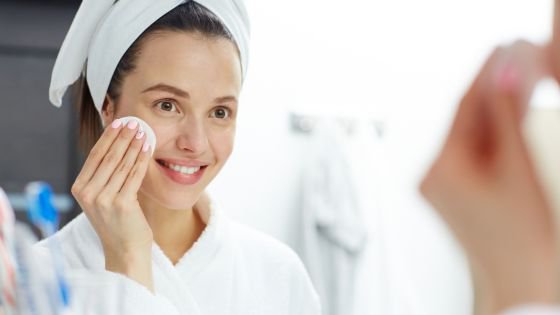 Face toners offer a range of advantages that can enhance your skincare routine and improve your skin's overall health and appearance. Let's explore why including face toner in your skincare regimen is a prudent decision:
Tightens Pores
Enlarged pores can be a concern, especially if you have oily skin. Face toners can help tighten your pores, giving your skin a smoother and more refined appearance. By constricting the pores, toners reduce the likelihood of dirt and oil buildup, which can lead to acne and blackheads.
Provides Deeper Hydration
Face toners enhance the effectiveness of your moisturiser. They provide an initial layer of hydration, allowing your moisturiser to penetrate deeper into the skin. This results in better moisture retention and a plumper, more radiant complexion.
Balances the Skin's pH
The pH level of your skin plays a crucial role in maintaining its overall health. Too acidic or alkaline skin can become prone to dryness, sensitivity, and inflammation. A good face toner helps to balance your skin's pH after cleansing, creating an optimal environment for the subsequent skincare products you apply.
Eliminates Extra Makeup & Grime
After a long day, your skin can accumulate dirt, pollutants, and excess makeup. Using a toner helps to remove these impurities effectively. It acts as a supplementary skin cleanser, ensuring your skin is thoroughly cleaned before you move on to other steps in your skincare routine. It helps avert breakouts, clogged pores, and dull-looking skin.
Revives & Invigorates
Using a toner can instantly refresh your skin. It provides a burst of hydration and rejuvenation, revitalising your skin throughout the day. It is especially beneficial in hot and humid weather when your skin might need an extra boost to stay hydrated.
Rose Water Vs Toner
Rose water is a natural ingredient that's often compared to face toners. While rose water can offer mild hydration and a pleasant aroma, it doesn't provide the same range of benefits as a well-formulated face toner. Toning products are designed with specific ingredients that cater to various skin needs, making them a more versatile choice.
Best Toner for Sensitive Skin
Sensitive skin requires gentle care. Select alcohol-free and fragrance-free toners that contain calming ingredients like chamomile, cucumber, and green tea extract. These toners help soothe inflammation and redness without causing further irritation.
Best Toner for Dry Skin
If you have dry skin, look for toners that contain ingredients like hyaluronic acid, glycerine, and aloe vera. These components help to lock in moisture, soothe irritation, and restore your skin's natural barrier. A hydrating toner will ensure your skin stays plump and comfortable throughout the day.
Best Toner for Oily Skin
For oily skin types, toners with salicylic acid, witch hazel, and niacinamide are excellent. These ingredients help control excess oil production, minimise pore size, and prevent breakouts. Using a toner for oily skin can leave your complexion matte and balanced.
Is Face Toner Essential?
The necessity of a face toner depends on your skin's individual needs. While a well-formulated toner can provide various benefits, it's not a mandatory step in everyone's routine. If you're already satisfied with your skincare routine and your skin is thriving, you might not need to add a toner. However, a toner could be a valuable addition if you're looking to address specific concerns like hydration, pore size, or pH balance.
Is It All Right to Use Face Toner Daily?
Using a face toner daily is generally safe, but choosing a toner that suits your skin type and concerns is essential. Some toners are designed for daily use, while others might be better suited for every other day use or a few times a week. Pay attention to your skin's response and adjust the frequency of use accordingly.
Final Words
Whether dry, oily, or sensitive skin, a face toner can cater to your skin's needs. Adding a face toner will help improve the quality of your skin. Facial toner can prevent acne, eliminate oil and dirt, and hydrate your skin, leaving it soft and tender; however, selecting the best toner for your skin type is essential. Thus, incorporating face toner into your skincare routine can yield numerous benefits for your skin's overall health and appearance.