The video marketing industry is on a boom, more businesses, organizations, industries, and individuals prefer video marketing as their core to market themselves on social media and search engine platforms.
The traditional marketing techniques which were very effective such as advertising through magazines, newsletters, newspapers, TV, and radio lost their powers in modern times as these were not trackable. In modern times marketing has taken a digital approach, with the introduction of search engines and social media platforms the marketing of modern times is more stable, efficient, and less costly.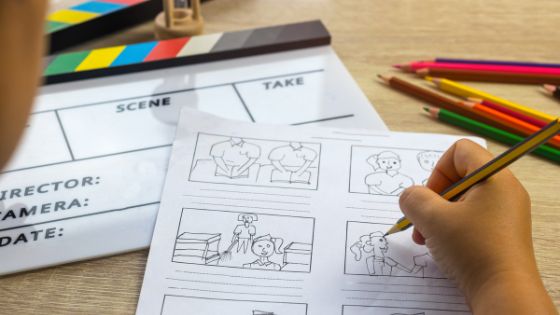 Almost every brand small or big has its presence on social media platforms such as Facebook, Linkedin, Twitter, Youtube, and Instagram. These platforms once upon a time were good for sharing image content and connecting to friends. But now with better optimization, these platforms favor videos more and explainer video services have become an efficient tool for brands to market online.
Well connecting to an explainer video company or an animated explainer video company can be the best option for you, we today discuss the importance of a storyboard, or what is a storyboard?
If you break down the sentence and think tactfully the meaning of the storyboard is already there, but fine if you don't get it, the storyboard of a video is the main body that contains the animations, images, texts, sketches, descriptions, and many other factors of your video, arranged in systemic series that acts as a clear roadmap for your explainer video company or team to work on.
The storyboard of a video is at the heart, and is the best way to arrange your video systematically, this ensures that all your video production activities are in a perfect rhythm and everything works fine. So now if you asked what is a storyboard, you can have an easy answer to it.
What Do You Require A StoryBoard
Yes, maybe a storyboard sounds like an extra task on ads for you, but that is in fact not the case because having a storyboard is the most crucial aspect of your video production activities.
A storyBoard is a gateway to bridging the gap between imagination and reality, as you note down your imagination, the animations you want, the elements to make your video beautiful, the dialogues, script, and everything your explainer video or animated explainer video could have can be converted from thought to written format and finally to the video format.
Even the ideas of your fellow team members can be addressed and included in your explainer video storyboard. Mostly animated explainer videos require a proper storyboard as they contain complex graphics and motions, so the storyboard acts as a perfect tool to get things done systemically if you opt for an animated explainer video. Getting done with an animated explainer video with a proper storyboard can be a challenging task. Connecting to an animated explainer video company can be a good solution for you.
So now you know why are storyboard so important, every top explainer video company believes in having a proper storyboard ready before starting with the explainer video activities as the storyboard acts as a roadmap for an explainer video company for preparing a video.
How To Make A Great Storyboard
A storyboard is the heart or skeleton of your video production activities. You need to be artistic and full of imagination while having the idea and getting it down on a storyboard. Here are some of the top tips to make an excellent storyboard for your video.
Choose The Right Templet
A good storyboard often requires a good template, a template for your storyboard can be found on the internet. You can also customize a template of your choice in different shapes, sizes, or colors. It's always to be kept in mind the template must have proper colors on which text and images are properly visible. Different slides of the template can be made depending upon your requirements.
 Script It Well
All the processes through which your video will act are mentioned in the script, script is the single most important factor that determines the true value of your video.cIt's best suggested to break down the script into multiple key sequences, a good script can fit in many parts of a template. Make sure to recheck your script and also welcome suggestions from other colleagues for preparing a good video script.
Draw It
For explaining the video script better, it's necessary to draw a few designs, characters, and animations on your storyboard. Drawing is an art, everyone often is not good at drawing, but it's ok. There can be simple figures and designs drawn just to give the video creator the idea you want to implement in the form of animations.
Add Key Notes
You can add notes everywhere, near the animations, drawings, and descriptions. These small notes in the bracket can contain the font size, the color of animation, required pictures also camera movement which you desire should be mentioned in small notes everywhere. Adding notes to your storyboard makes it easier for the content creator to understand your vision and bring it into detailed practice.
Review & Revise Everything
It's always preferred to review your storyboard content with your colleagues and note down their suggestions to improve the overall storyboard. Further, you need the revise everything right from the start at least twice or thrice to make sure all the content in the storyboard is in perfect sync.
These were some key elements to keep in mind for preparing a perfect storyboard for your video.
Best Explainer Video Company
Finding a good explainer video company that can script the storyboard of your video and bring it into practice is often a challenge.
Explainer Mojo is the leading explainer video company in the UK that provide you with a perfect storyboard for your explainer videos and animated explainer videos.
Explainer Mojo is also a leading animated explainer video company that provides all explainer video services under one roof at very competitive prices.So feel free to connect to Explainer Mojo tody for the best explainer video production services.