A camping tent is a portable shelter designed to protect you from the elements while you are camping. It is typically made from waterproof and breathable materials such as nylon or polyester, and it usually has a waterproof floor and rainfly to keep you dry. A camping tent typically has one or more rooms, and it may also have a vestibule where you can store gear.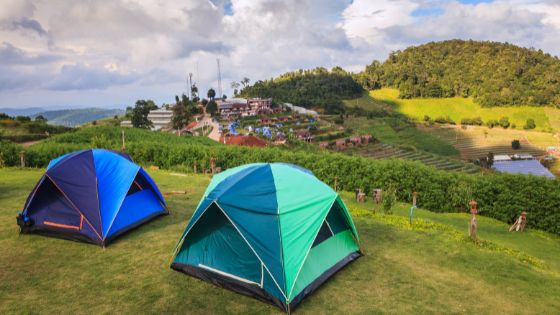 When choosing a camping tent, it is important to consider the size, weight, and type of tent that best meets your needs. For instance, if you are car camping, you will likely want a larger and heavier tent than if you are backpacking. The type of camping tent you choose will also depend on the weather conditions in which you plan to camp. In warm weather, for example, you may want a light weight tent with more ventilation, whereas in cold weather, you will want a four-season tents that can withstand heavy snow and high winds.
Let's discuss these factors in detail:
Size
Choosing the right size tent is one of the most important considerations when planning a camping trip. After all, a tent is only as comfortable as it is spacious. If you're cramped up inside, you're not going to have a good time. On the other hand, if your tent is too large, it will be difficult to keep warm on cold nights. Another factor to consider is the number of people who will be sharing the tent.
If you're camping with a group, you'll need a larger model that can comfortably accommodate everyone. Finally, don't forget to consider the height of the tent. If you're tall, you'll want a model with plenty of headroom so you can stand up and move around freely.
Setup
When you are out camping, the last thing you want to do is spend hours trying to set up your tent. That's why ease of setup is such an important consideration when choosing a camping tent. The best pop up tent can be set up in a matter of seconds, giving you more time to enjoy the outdoors. They are also typically lightweight and easy to transport, making them ideal for backpacking and car camping.
While they may cost a bit more than traditional tents, the extra expense is worth it for the convenience and peace of mind that they provide. So next time you hit the trail, make sure to bring along a pop up tent for a hassle-free camping experience.
Features
After all, your tent is your home away from home, and you'll want to make sure it's comfortable and spacious enough for all your gear. But there are other factors to consider as well, such as storage and protection from the elements. Some tents have built-in storage pockets or organizers, while others have rain flies for extra protection against the elements. Therefore look for some additional features while choosing tent.
Budget
A camping tent is an essential piece of gear for any avid outdoors enthusiast, and there are a lot of factors to consider when choosing the right one for your needs. Perhaps the most important factor is price. There are camping tents available at all different price points, from budget-friendly options to high-end models. Finding the right balance of features and price is key to ensuring that you get the best value for your money. If you're expecting cold or inclement weather, make sure to choose a model that can withstand strong winds and heavy rain. Therefore, keep this in mind to buy a budget friendly tent.
Quality
While buying a camping tent, always go for quality over quantity. A good quality camping tent will last you for years, through all sorts of weather conditions, and will keep you comfortable and safe while you're out in the wilderness. In contrast, a cheap tent is more likely to tear or break, leaving you stranded in the middle of nowhere.
It's also important to make sure that your tent is the right size for your needs. If you're planning on going camping with a large group, you'll need a bigger tent than if you're just going solo. And if you're tall, make sure to get a tent with enough headroom so you can stand up and move around comfortably. Keep these factors in mind; you'll be sure to find a high-quality tent that's just right for your next camping trip.
Summary
When it comes to camping, having a reliable and comfortable tent can make all the difference. However, with so many different tents on the market, it can be hard to know which one is right for you. Just keep in mind all the factors we discussed and you will surely find a good tent for your camping adventure.