Every monument has an exciting story behind it. Monuments always remind us about the history of something. But, when it comes to the love story, it becomes much more interesting and enjoyable. Monuments of love have been created throughout history to commemorate love, affection, and devotion. These monuments are often grand and impressive, symbolizing the depth of feeling between two people. From ancient ruins to modern sculptures, here are the top 10 most popular monuments of love in the world. Each of these has a fantastic story.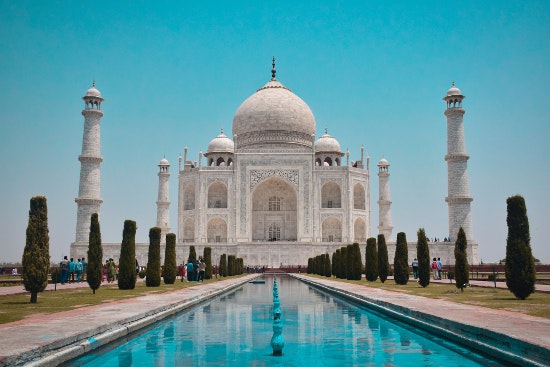 1. Taj Mahal, India
The Taj Mahal is one of the most famous and iconic monuments of love in the world. Built-in the 17th century by Mughal emperor Shah Jahan in memory of his wife Mumtaz Mahal, it is a masterpiece of Islamic architecture and a symbol of eternal love. Taj Mahal, the famous landmark, attracts more than a million visitors every year. Taj Mahal architecture is a mixture of Islamic, Indian, and Persian styles. Whopping stonecutters, 22,000 laborers, painters, and embroidery artists build this masterpiece.
2. Eiffel Tower, France
The Eiffel Tower is an iconic and technological masterpiece symbol of Paris and one of the most popular monuments of love in the world. The Eiffel tower was the tallest structure in the world until the topping off of the Chrysler building in new york city in 1929. Couples flock to the tower to declare their love and take romantic photos against the backdrop of the city.
3. The Great Wall of China
The Great Wall of China is not only a testament to human ingenuity, but it is also a monument to the love between Emperor Qin Shi Huang and his wife. It is said that the emperor ordered the construction of the wall to protect his wife's tomb and honor her memory. The great wall of china is one of the most notorious structures in the whole world.
4. The Wall of Love, Paris
The Wall of Love is a unique monument to love located in the Montmartre district of Paris. It features the phrase "I love you" written in 250 languages, making it a truly international symbol of love. The "I Love You" wall is a work of art conceived by Claire Kito and Frederic Baron.
5. Bibi Ka Maqbara, India
Bibi ka Maqbara is a tomb located in Aurangabad, Maharashtra, India. It was built in 1661 by Prince Azam Shah, the son of Emperor Aurangzeb, in memory of his mother, Dilras Banu Begum. The mausoleum is often referred to as the "Taj Mahal of the Deccan" due to its resemblance to the iconic Taj Mahal in Agra.
6. Kellie's Castle, Malaysia
Kellie's Castle is a historic castle located in Batu Gajah, Perak, Malaysia. The castle was meant to be a gift for his son, but Kellie Smith died before it was completed. The castle features a mix of architectural styles, including Scottish, Moorish, and Indian, and is known for its unique design and impressive features, such as a rooftop courtyard and a wine cellar.
7. Boldt Castle, New York
Boldt Castle is a historic landmark located on Heart Island in the Thousand Islands region of the St. Lawrence River in New York State, USA. The castle was built by millionaire hotel magnate George C. Boldt as a tribute to his wife Louise but was left unfinished after her sudden death in 1904. Boldt Castle is a popular destination for weddings, events, and historical tours, and is considered one of the most popular tourist attractions in the Thousand Islands region.
8. Petit Trianon, France
The Petit Trianon is a small château located on the grounds of the Palace of Versailles in France. It was built in 1762 for Madame de Pompadour, the mistress of King Louis XV, and later became a favorite retreat of Queen Marie Antoinette. The Petit Trianon was designed in the neoclassical style and features elegant architecture, beautiful gardens, and luxurious interiors.
9. Kodai-ji Temple, Japan
Kodai-ji Temple, also known as Kodai-ji Zen Temple, is a Buddhist temple located in Kyoto, Japan. It was founded in 1606 by Kita-no-Mandokoro (also known as Nene), the wife of Toyotomi Hideyoshi, a powerful feudal lord in Japan.
Kodai-ji Temple is known for its stunning gardens, which were designed by the famous Japanese landscape architect, Kobori Enshu. The gardens feature a variety of different styles, including a Zen rock garden, a pond garden with a small waterfall, and a tea garden.
10. Sweetheart Abbey, Scotland
Sweetheart Abbey is a ruined abbey located in the village of New Abbey in Dumfries and Galloway, Scotland. The abbey was founded in 1273 by Lady Devorgilla of Galloway in memory of her husband, John Balliol. The name "Sweetheart" comes from the fact that Lady Devorgilla is said to have carried her husband's embalmed heart with her wherever she went after his death.
Conclusion
The world is filled with monuments of love that have been created to commemorate the enduring power of love. From the iconic Taj Mahal to the Modern Love Pavilion in Taiwan, these monuments inspire and remind us of the depth of human emotion. As monuments are important to commemorate love and affection, monument headstone companies have taken this into account and have designed many such monuments to honor the loved ones who have passed away.