Bright colours and prints have found their way to men's wardrobes; after all, why should girls have all the fun, right? Printed shirts for men are a fun upgrade to classic solid-coloured designs. They amp up your outfit in no time, giving your look a vibrant touch. Here are six trending men printed shirts that deserve to be in your wardrobe:
1. Colourful Stripes
Striped shirts are a staple for men's wardrobes. Simple yet striking, they are easy to style. Plus, you can wear them in both casual and formal settings.
Ace a toned-down look with a black-and-white striped design and jeans, or go all out with neon stripes and bright-coloured trousers!
2. Paisley Print Shirts
These men's printed shirts have a bohemian appeal as they feature colourful paisley patterns made of teardrop-shaped curved motifs with a curved upper end. They are perfect for retro or vintage-inspired outfits, which adds a pizazz like no other print.
Tuck a paisley print shirt into straight-fit black or dark brown trousers, use a belt to accentuate your waist, and complete the look with leather dress shoes!
3. Tie-Dye Designs
Tie-dye men's shirts are all the rage (suffice to say, they are not 'dyeing anytime soon)! These designs are dyed with multiple hues. Different colours are added in small quantities to the fabric, which is then tied tightly with strings and immersed in a dye bath. The dye does not tint the tied sections, giving the cloth an abstract yet mesmerising pattern!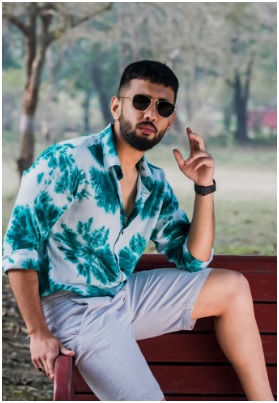 4. Floral Prints
Floral designs lend men's printed shirts a bright pop of colour. It is easy to get confused between floral and tropical themes. Nothing to worry about; remember – floral motifs highlight garden flowers like roses, orchids and sunflowers, whereas tropical motifs focus more on plants that grow along the coastline, such as ferns and palms.
While styling floral shirts, do not shy away from experimenting with colours! Pair them with bright bottom wear. You can also match your socks with your shirt for a fun twist.
5. Graphic Prints
Perfect for adding personality to your attire, these men's printed shirts come in a number of designs. From movie quotes and abstract patterns to neon-coloured typography and brand initials, graphic shirts are your go-to choice when gearing up for a day of endless fun and frolic!
6. Ethnic Prints
Last but (definitely) not the least, there are various ethnic designs – like Kalamkari, Ajrakh, and Bandhani – for men's printed shirts. Ethnic shirts are an excellent blend of style and elegance, and the best part? They are a beautiful way to stay connected to Indian culture.
Prints like Kalamkari and Ajrakh are traditional Indian forms of hand painting that can be traced back thousands of years. You can choose from different colour schemes and prints; from neutral, minimalist tones to bright hues and over-the-top designs, the options are endless! Pick a shirt of your choice and rock it effortlessly with jeans, chinos, or cotton pants.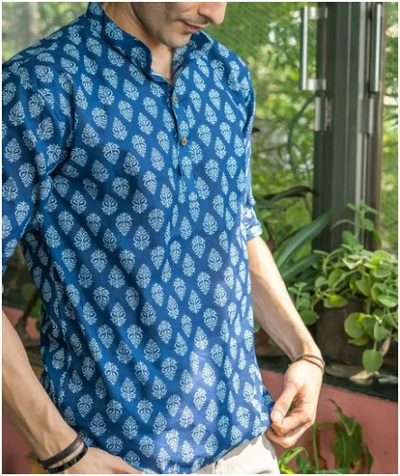 Basically, the latest trends in men's printed shirt designs are all about embracing bold and eye-catching prints that make a statement. From tropical motifs to geometric patterns, these prints add a vibrant touch to any outfit. Step out in style and let your personality shine through with these fashion-forward options of men's printed shirts in confidence.