Gujarati Bandhani sarees, also known as Bandhej sarees, are a captivating blend of traditional artistry and contemporary appeal. Originating from the colorful state of Gujarat in India, these sarees boast intricate tie-dye patterns that create a mesmerizing visual spectacle. From their vibrant hues to the skilled craftsmanship behind them, Gujarati Bandhani sarees are a popular choice for women across the country. In this blog post, we will delve into styling tips and fashion inspiration to help you embrace the elegance of Gujarati Bandhani sarees for every occasion.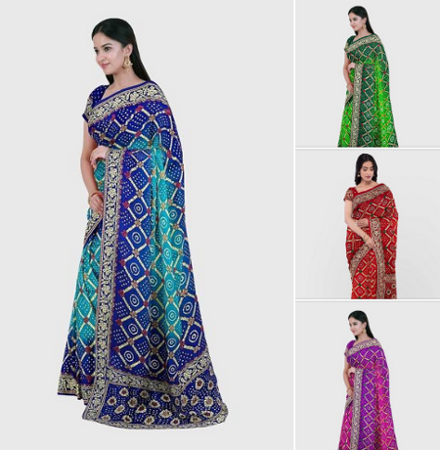 1. Embrace the Vibrant Colors: One of the defining features of Gujarati Bandhani sarees is their kaleidoscope of colors. From bold reds and royal blues to graceful greens and sunny yellows, these sarees offer a wide array of shades to suit every taste and occasion. Embrace the vibrant hues of Bandhani sarees and opt for colors that complement your skin tone and the event you're attending.
2. Accessorize with Elegance: When it comes to accessorizing Bandhani sarees, less is often more. Let the saree be the star of your ensemble and opt for subtle, elegant accessories. A pair of traditional jhumkas (Indian earrings), a delicate maang tikka (forehead ornament), and bangles can add a touch of sophistication to your look without overpowering the saree's charm.
3. Blouse Magic: The blouse you choose can significantly influence the overall look of your Gujarati Bandhani saree. Experiment with various blouse designs, such as halter necks, boat necks, or backless blouses, to add a contemporary twist to the traditional saree. You can also play with contrasting or complementary colors to create a striking visual impact.
4. Draping Styles: The draping style of your saree can change the entire vibe of your outfit. Gujarati Bandhani sarees can be draped in the traditional Nivi style or the Gujarati style, where the pallu is pleated and pinned at the back. Each draping style lends a distinct charm to the saree, making it suitable for different occasions.
5. Fusion Fashion: For a modern and eclectic look, consider incorporating elements of fusion fashion with your Gujarati Bandhani saree. Pair it with a crop top or a contemporary jacket instead of a traditional blouse. You can also experiment with belt accents or dhoti-style draping to create a unique and eye-catching ensemble.
6. Casual Chic: Gujarati Bandhani sarees aren't just reserved for grand occasions. Embrace their versatility and wear them casually for a day out or a gathering with friends. Opt for lighter fabrics like cotton or chiffon for a more relaxed look, and accessorize minimally with chunky jewelry for a touch of bohemian flair.
7. Glamorous Evenings: For evening events and formal occasions, try Sea Green Minakari Bandhani Saree in Georgette. Such sarees feature intricate patterns and embellishments that exude a sense of grandeur. Pair them with statement jewelry and a neatly tied bun or a stylish updo to create a regal and glamorous look.
Conclusion
Gujarati Bandhani sarees are a true celebration of colors, artistry, and tradition. Whether it's a casual day out, a festive gathering, or a grand soirée, these sarees can be styled to suit any occasion. Embrace the beauty of Bandhani sarees, experiment with various draping styles, and add your personal flair to create captivating ensembles that exude grace and charm wherever you go. Let the mesmerizing allure of Gujarati Bandhani sarees inspire your fashion choices and make every occasion a memorable one.