Sitting idle beside the swimming pool can help soothe your nerves and relax your mind. However, you won't be able to enjoy that time if you have kids running around and always fear them drowning. Well, that's when the glass pool fencing comes into action. As understood from the name itself, the main goal of these fences is to guard the sides of the pool so that no pets or kids can just jump inside the pool.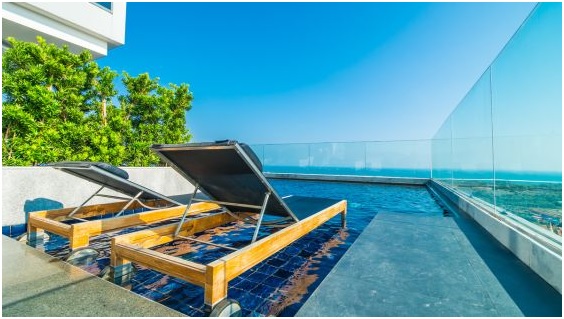 Thanks to these glass fences around the pool, now you can let your kids play in the backyard without any fear. When you are inside the pool, you can still keep a look at your kids in the backyard because of the transparent and sturdy glass panels surrounding the pool area.
Benefits associated with glass pool fencing:
Before jumping straight to the conclusion and purchasing glass pool fencing for your use, it is vital to know the growing demands behind these fences. The reasons are listed below for your reference.
● The ultimate style quotient:
Want to enhance the look of your pool without guarding the view? Well, the glass frameless panels will match your needs then. As there isn't any frame structure in each panel, it will create an illusion of nothing being present. So, you can still enjoy the beauty and have a protective guard around the pool at the same time.
● Cannot ignore the safety notion:
This is the primary reason for you to invest some bucks in the glass pool fence. If you have kids or hyperactive pets running around your house, you never know when they might decide to jump into the pool. If they don't know how to swim, the chances of them drowning are high. You are busy covering household chores and cannot always have a look at them. It might lead to disastrous results.
To prevent that, these taller frameless glass panels will work pretty well. It is hard for pets or little kids to open the fence and move inside. They will always need adult support for the same.
● Glass is pretty sturdy:
Even though the market houses aluminium pool fencing, most people are aiming towards the glass option. Have you ever wondered why? Glass fences are proven to be pretty strong because they are mostly made out of toughened 12mm safety glass.
Here, the toughened or tempered glass will be heated at around 700 degrees Celsius while processing. As a result, the glass materials turn out to be pretty strong with higher endurance levels. Nothing can break these glass fences, be it your hyperactive kids or harsh weather conditions.
● Enjoy climb-resistant panels:
The glass panels, which are used to design and cover the swimming pool, will offer a non-climbable and slick surface. There won't be any divots or grooves for their curious little ones to try and use as a foothold. These panels are now available in different heights, which will surely match your swimming pool safety requirements. Typically, most states will approve the panels to be around 4 feet to 5 feet tall.
● Reflects lights and heat:
As these glass fence panels reflect light and heat, you can enjoy your pool throughout the year. Otherwise, it becomes hard to take a dip during the winter seasons. The glass barrier will not allow the light and heat to escape so that the water stays warm for a long time. This same temperature control prevents algae growth. So, there is no need to scrub down the pool walls or floors once in every week!
● Always a good investment:
Even though the frameless version of glass fences can be a bit expensive, this added value to your home is worth it. One major perk is that these fences are known to have a lower maintenance routine. With proper installation and regular inspections, these fences can last for a long time. These pools are chemical resistant as well!
The final say:
From the points mentioned above, it is clear to determine why people are investing more in these glass fences. If you have extra bucks to spare, opt for the frameless version. Otherwise, there are framed options available too, within your affordable rate. Check out the reputed centres, working with glass fences for a long time.