Temperature monitoring is a critical aspect of various industries, from healthcare and food service to data centers and manufacturing. In addition to being an issue of compliance, ensuring accurate and consistent temperature readings can have a big impact on product quality, safety, and operational effectiveness. With advancements in technology, various methods have emerged to make temperature monitoring more precise and convenient. One such innovation is Wireless Temperature Tracking, which offers real-time monitoring and data logging capabilities.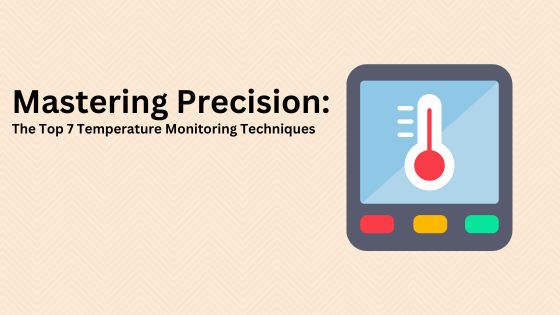 Here are the top temperature monitoring techniques to help you master precision in your operations.
1. Thermocouples
Thermocouples are one of the most commonly used temperature sensors, especially in industrial settings. They are versatile, cost-effective, and can measure a wide range of temperatures. However, they are not as accurate as some other methods and may require frequent calibration. Thermocouples work on the principle of the Seebeck effect, where a voltage is generated at the junction of two different metals, which is then translated into a temperature reading.
Pros:
Wide temperature range
Cost-effective
Versatile
Cons:
Less accurate compared to other methods
Requires frequent calibration2.
2. Resistance Temperature Detectors (RTDs)
RTDs offer higher accuracy and stability compared to thermocouples. They are often used in laboratory settings and other environments where precision is crucial. However, they are typically more expensive and less temperature-range-flexible.
Pros:
Highly accurate
Stable over time
Suitable for precision tasks
Cons:
More expensive
Limited temperature range
3. Infrared Thermometers
Infrared thermometers allow for non-contact temperature measurement, making them ideal for situations where the object being measured is moving, inaccessible, or too hot to touch. These devices measure the infrared radiation emitted by an object to determine its temperature.
Pros:
Non-contact measurement
Quick readings
Versatile applications
Cons:
Affected by emissivity of the material
Less accurate for detailed measurements
4. Thermistors
Thermistors are highly sensitive temperature sensors that offer excellent accuracy over a limited temperature range. They are often used in electronic devices and appliances where precise temperature control is required. Thermistors are made from ceramic materials that change resistance with temperature.
Pros:
Highly sensitive
Excellent accuracy for limited ranges
Cost-effective for specific applications
Cons:
Limited temperature range
Not suitable for extreme conditions
5. Bimetallic Strips
In bimetallic strips, two various metals are joined together. They are used in simple, mechanical temperature monitoring devices like thermostats. While not as accurate as electronic sensors, they are durable and do not require a power source.
Pros:
Durable
Simple and easy to use
No power source required
Cons:
Less accurate
Limited to mechanical applications
6. Data Loggers
Data loggers can record temperature readings over time for later analysis. They are often used in supply chain monitoring, research, and other applications where historical data is useful. Wireless Temperature Tracking technology can be integrated into data loggers to provide real-time monitoring and alerts.
Pros:
Records historical data
Suitable for long-term monitoring
Can be integrated with Wireless Temperature Tracking for real-time updates
Cons:
May require specialized software
Initial setup can be complex
7. Wireless Temperature Tracking
Wireless Temperature Tracking is a cutting-edge solution that offers real-time monitoring, alerts, and data logging. These systems broadcast temperature data to a central monitoring station via wireless sensors, which can then be viewed remotely via smartphones or PCs. This technology eliminates the need for human inspections and is especially helpful in areas where constant monitoring is necessary.
Pros:
Real-time monitoring and alerts
Remote access via smartphones or computers
Highly scalable and adaptable
Cons:
Higher initial cost
Requires a stable wireless network
Factors to Consider When Choosing a Temperature Monitoring Technique
When selecting a temperature monitoring technique, several factors come into play. Here are some additional considerations to help you make the best choice:
Budget Constraints: While some methods like RTDs and Wireless Temperature Tracking offer high precision, they may also come with a higher price tag. Assess your budget and determine if the added cost justifies the benefits.
Environmental Conditions: Consider the conditions under which the temperature monitoring will take place. For instance, if you're monitoring temperature in a high-humidity environment, you'll need a method that is not affected by moisture.
Regulatory Compliance: Certain industries have strict regulations governing temperature monitoring. Make sure the method you choose complies with any industry-specific guidelines or standards.
Scalability: As your operations grow, your temperature monitoring needs may also expand. Choose a system that can easily scale to meet future requirements. Wireless Temperature Tracking systems are often a good choice for scalability, as additional sensors can be easily integrated into the existing network.
The Future of Temperature Monitoring
As technology continues to advance, we can expect even more innovative solutions for temperature monitoring. Real-time monitoring will most certainly become more effective and accurate as a result of the integration of IoT devices, cloud computing, and machine learning algorithms. Wireless Temperature Tracking, in particular, is poised to become even more advanced, offering features like predictive analytics and automated control systems.
Fiber Optic Sensors
Known for their excellent sensitivity and precision, fiber optic sensors. In settings where electromagnetic interference could be a problem, including in medical or aeronautical applications, they are very helpful. These sensors are also ideal for monitoring temperature in harsh conditions, including extreme temperatures and corrosive environments.
Digital Temperature Sensors
Digital temperature sensors offer the advantage of easy integration with computer systems for real-time monitoring and data logging. In settings where electromagnetic interference could be a problem, including in medical or aeronautical applications, they are very helpful. They are particularly useful in settings where you need to monitor multiple points simultaneously.
Cloud-Based Monitoring Systems
Cloud-based systems often incorporate Wireless Temperature Tracking and offer the added advantage of storing data in the cloud. This makes it easier to access historical data, generate reports, and share information across different departments or locations. Cloud-based systems are particularly useful for businesses with multiple locations or complex supply chains.
Customization and Flexibility
Every industry and application has its unique requirements for temperature monitoring. Some systems offer the flexibility to be customized according to your specific needs. Whether it's setting up custom alerts for temperature fluctuations or creating tailored reporting formats, a system that can adapt to your requirements is often more valuable in the long run.
Final Thoughts
Temperature monitoring is a nuanced field with a range of methods to suit different needs. From traditional thermocouples to advanced Wireless Temperature Tracking systems, each technique has its own set of advantages and limitations. By considering additional factors like budget, environmental conditions, and user-friendliness, you can select the most appropriate temperature monitoring solution for your specific requirements.
You can make sure that your temperature monitoring system is both precise and effective going forward by remaining up to date on technical developments and regularly reevaluating your needs.