Dubai has become a symbol of extravagance when cheap energy meets disregard for the environment during the boom years. Indoor skiing is merely a metaphor: Dubai uses a lot more fossil fuel to cool its glass buildings. It essentially boils enough seawater each day to fill hundreds of Olympic-sized swimming pools just to keep the faucets running in all those buildings. Additionally, it submerged coral reefs behind enormous man-made islands in order to expand the coastline for more opulent hotels and villas.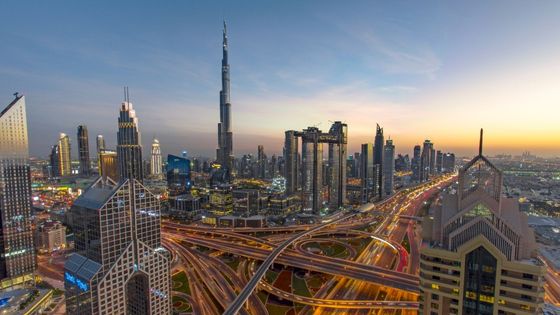 The United Arab Emirates was named the nation with the greatest ecological footprint, per capita, by the World Wildlife Fund (WWF) in 2006, partly as a result of its carbon emissions. Sheikh Mohammed, the ruler of Dubai, has mandated that by the year 2050, his metropolis shall be powered by 75% sustainable energy. According to him, the city should have the smallest carbon footprint on the planet. Among the seven emirates, Dubai has become the most conscious consumer for sustainable development. Here's how:
Organic Produce
In the desert metropolis, which imports 80% of its food, even CSAs have found headway. To meet the growing demand from customers looking for organic vegetables from nearby farms, Ripe Market has a weekly booth at Zabeel Park. Food banks have made progress as well, offering a way to deal with Dubai's leftovers: Approximately 38% of food prepared each day is wasted, and this number rises to 60% during Ramadan.
Green Space
Yoga sessions on one of Zabeel's 117 acres attract the foreigners who make up 90% of the city's population. Parks are expensive, yet Dubai is increasing its green area. There are 55 playgrounds and routes for biking, running, and walking in the 350-acre Dubai and development.
Sustainable Development
The driverless metro trains now travel the length of the city along Sheikh Zayed Road, carrying roughly the same number of passengers and frequently moving more quickly than the vehicles on that congested 12-lane thoroughfare. A new housing development named Sustainable City has opened on the southern fringes of Dubai that recycles its water and garbage and generates more energy than it needs. Dubai is currently constructing a massive solar power plant farther out in the desert, which will soon be generating some of the cheapest and cleanest electricity on the planet.
The eco-friendly project Sustainable City Dubai, which was founded in 2015 and covers more than 5 million square feet, focuses on social, economic, and environmental sustainability. It addresses every area of energy conservation and offers its people a healthy way of life. Properties in Dubai's Sustainable City aims to make the city more ecologically friendly by including rooftop solar panels, nature-inspired architecture, lots of green space, car-free zones, and energy-efficient equipment in residential and commercial buildings. Here are some examples of how Dubai real estate promotes sustainable growth.
Jebel Ali
Jebel Ali is home to a bustling artificial harbor and a sizable industrial facility owned by the Dubai Electric and Water Authority (DEWA). In the same process, the majority of the city's power and drinking water are produced: Electricity is produced by burning natural gas, primarily from Abu Dhabi and Qatar, and the residual heat is then utilized to distill seawater and remove the salt.
The plant has continued to expand as Dubai has progressed, and as a result, it is now a mile-long stretch of candy-striped smokestacks and evaporator tanks. It has the capacity to generate half a billion gallons of desalinated water daily and roughly 10 gigawatts of power daily.
Dubailand
Dubailand never ceases to astound us with its architectural wonders or cutting-edge developments. It goes without saying that no matter where on the map they are located, houses in Dubai are unique. The Sustainable City, a ground-breaking project by Diamond Developers in Dubai, is the world's first net-zero energy site and is located on Al Qudra Road behind Arabian Ranches 2. The complex has a mix of residential homes and businesses that were constructed with sustainability in mind. The Diamond Innovation Center, often known as "The Brain of SC," is the focal point of the neighborhood and can produce 140% of its own energy needs, containing any emissions from building or other activities.
MBR City
The Mohammed Bin Rashid Al Maktoum Solar Park is one of the UAE's most significant environmental efforts and the largest single-site solar park in the world based on the Independent Power Producer model. It is managed by Dubai Electricity and Water Authority (DEWA). Currently in its third phase of construction, this $50 billion sustainable development in the UAE strives to advance sustainability in the nation. By 2030, an environmentally friendly construction project in the UAE will be complete, producing 5,000 MW and lowering annual carbon emissions there by 6.5 million tonnes.
Dubai Villas for Sale in Sustainable City
It will be difficult to choose one community as the best if you are considering investing in real estate in Dubai. Due to the real estate market's rapid growth, Dubai has also decided to assist environmentally friendly communities. The United Arab Emirate's only entirely green energy operated development is Dubai's Sustainable City. It is a completely self-sufficient community that elevates science fiction films from the ludicrous to the plausible.
The luxury villas in Dubai Sustainable City are dispersed throughout a 46 acre area. There are 500 courtyard homes and townhomes in this residential community, all of which were inspired by Dubai's former Bastakiya neighborhood. The UC Davis West Village serves as another source of influence for the build. These opulent homes are entirely self-sufficient thanks to solar panels that are fixed to their roofs. Additionally, these homes contain ultraviolet reflecting coatings that lessen internal thermal heat absorption and eliminate the need for air conditioners.
If you are concerned about climate change and global warming, this location is ideal for you. Since electric vehicles have taken the place of conventional cars. The Dubai villas for sale are free from hydrocarbon pollutants. Other ways of transportation include walking, riding a horse, using a cart, and cycling. These electric vehicles have their own highways, parking lots, and charging facilities. The luxury villas in Dubai are also home to top-notch amenities like cafes, pool, community center, restaurants, and technological advancements to ensure energy conservation without compromising on luxury.
The UAE Sustainable Development Plan
UAE promised its citizens that by the year 2071, they would reside in the best nation in the world as, considering a variety of factors, recognised international bodies will decide. The UAE's committed participation in the creation of Agenda 2030 for Sustainable Development, and the extent to which the framework has been applied is evidence of the nation's desire to pursue a path towards environmental-friendly development.
The UAE Cabinet decided in January 2017 to integrate the SDGs into all of the government's development plans, strategies, and operations, both on a national and local scale.
Dubai Sustainability Plan
The most recent initiative promoting sustainable growth in the UAE is Dubai's Sa'fat, which mandates that "green" methods be taken into consideration while building new structures. New government buildings must now comply with the Dubai Municipality's "Green Buildings Specifications," which went into effect in 2011.
These requirements became obligatory for builders of all new structures in March 2014. These rules are primarily concerned with making sure that buildings are built in a way that minimizes resource use and promotes the wellbeing of their occupants. The application of these criteria has resulted in sustainability concerns including the use of solar reflective materials and the incorporation of "green" components like native plant species or living or "green" walls as eco-friendly architectural elements.