Gone are the days when plus-size fashion was limited to oversized and unflattering clothes. Today, the fashion industry has evolved to embrace diversity, and plus-size fashion has taken a front seat. With an array of stylish and comfortable options available, plus-size women can now flaunt their curves with confidence. In this blog, we will explore the world of fashionable plus-size casuals and how you can embrace your curves in style.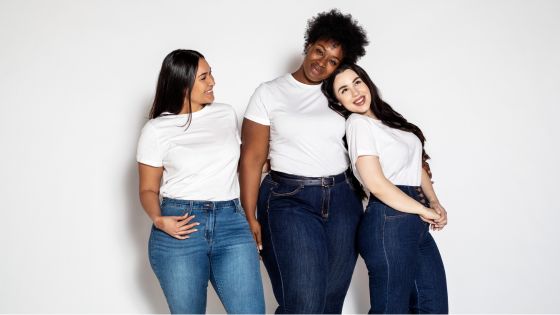 Understanding Your Body Shape
The first step to finding the perfect plus-size casual wear is understanding your body shape. Plus-size women come in all shapes and sizes, and it's essential to know your body type to choose clothes that flatter your curves. Whether you have an apple, pear, hourglass, or rectangle shape, there are specific styles that will enhance your best features and make you feel confident and beautiful.
Fashionable Plus Size Casuals
Dresses: Dresses are a versatile and comfortable option for plus-size women seeking stylish Plus Size Casuals. Opt for A-line or wrap dresses that cinch at the waist and flow over the hips, creating a flattering silhouette. Maxi dresses are also a great option for Plus Size Casuals, as they are comfortable and can be dressed up or down depending on the occasion. These dresses not only embrace your curves but also provide a fashionable and easy-to-wear casual option for plus-size women.
Tops: When it comes to tops, look for styles that highlight your assets. V-neck and scoop-neck tops are great for showcasing your neckline, while peplum tops can accentuate your waist. Don't be afraid to experiment with bold prints and colors, as they can add a fun and fashionable element to your outfit.
Bottoms: For bottoms, choose styles that complement your body shape. Wide-leg pants and skirts with a slight flare can balance out your proportions and create a harmonious silhouette. If you prefer jeans, opt for a high-waisted pair that provides support and enhances your curves.
Outerwear: Outerwear is an essential element of any outfit, and there are plenty of stylish options for plus-size women. Look for jackets and coats that cinch at the waist and have a tailored fit. This will create a structured look that flatters your curves and adds a touch of sophistication to your outfit.
Accessories: Accessories are the finishing touch to any outfit, and they can make a significant impact on your overall look. Pick statement pieces that go well with your ensemble and offer a splash of color or texture; don't be scared to try on different looks until you discover the one that suits you the best.s
Embracing Your Curves: Embracing your curves is all about confidence and self-love. It's essential to wear clothes that make you feel comfortable and beautiful, regardless of your size. Try out a variety of styles without fear and see which suits you the best. Remember, fashion is a form of self-expression, and you should wear what makes you happy.
Tips for Shopping plus Size Casuals
Know Your Measurements
Before you start shopping, it's essential to know your measurements. This will help you find clothes that fit you perfectly and flatter your curves. Keep in mind that sizes can vary between different brands, so always refer to the size chart before making a purchase.
Look for Quality Fabrics
When shopping for plus-size casuals, opt for quality fabrics that provide support and comfort. Natural fibers like cotton, linen, and wool are breathable and comfortable, while fabrics with a bit of stretch can enhance your curves and provide a flattering fit.
Pay Attention to the Fit
The fit of the clothes is crucial when it comes to plus-size fashion. Look for clothes that fit well and highlight your best features. Avoid clothes that are too tight or too loose, as they can make you look bigger than you are.
Experiment with Patterns and Colors
Never be scared to play around with colors and patterns. Bold prints and bright colors can add a fun and fashionable element to your outfit. However, make sure that the patterns and colors complement your body shape and skin tone.
Building a Capsule Wardrobe
A capsule wardrobe is a collection of essential pieces that can be mixed and matched to create various outfits. Building a capsule wardrobe for your plus-size casuals can save you time and money in the long run. Here are some essential pieces to include in your capsule wardrobe:
A Well-Fitting Pair of Jeans: A well-fitting pair of jeans is a must-have in any wardrobe. Look for a high-waisted pair that provides support and enhances your curves.
A Classic White Shirt: A classic white shirt is versatile and can be dressed up or down depending on the occasion.
A Comfortable Pair of Sneakers: A comfortable pair of sneakers is essential for casual days when you want to be comfortable and stylish.
A Versatile Dress: A versatile dress can be dressed up or down and is perfect for any occasion.
Embracing Body Positivity
In addition to finding the right clothes, embracing body positivity is crucial for plus-size women. Body positivity is about loving and accepting your body as it is, regardless of its size or shape. It's about recognizing that beauty comes in all forms and that everybody is beautiful.
The following advice can help you embrace body positivity:
Practice Self-Love: Practice self-love by treating yourself with kindness and respect. Speak to yourself in a positive and uplifting manner and avoid negative self-talk.
Surround Yourself with Positive Influences: Surround yourself with positive influences who uplift and support you. This can include friends, family, and social media accounts that promote body positivity.
Focus on Your Health: Focus on your health rather than your weight. Engage in activities that make you feel good and contribute to your overall well-being.
Celebrate Your Achievements: Celebrate your achievements, no matter how big or small. Recognize the progress you've made and be proud of yourself.
Be Your Authentic Self: Be your authentic self and don't be afraid to show the world who you are. Embrace your unique qualities and let your personality shine.
Also read: Top 4 Outfits Ideas Inspired by Celebrities
Conclusion:
Fashionable plus-size casuals are all about embracing your curves and showcasing your unique style. With the right pieces and a bit of confidence, you can create stylish and comfortable outfits that make you feel beautiful and confident. Remember to know your measurements, look for quality fabrics, pay attention to the fit, and most importantly, embrace your curves with confidence and self-love. The fashion world is your oyster, and it's time to explore it in style!