Remodeling your bathroom is an exciting opportunity to upgrade your living space and increase your home's value. But, with so many things to consider and plan for, it can also be challenging. From selecting the right fixtures to ensuring proper plumbing installation, several elements can make or break the success of your renovation.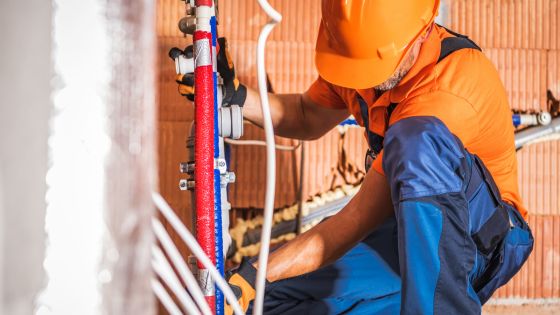 You're probably considering hiring a plumbing contractor if you're planning to remodel your toilet and bath. The right decision will depend on your remodeling plan. Read on to find out if you should contact a plumber for your bathroom upgrade project.
When is a plumber necessary for bathroom remodeling?
There are many ways to take on a bathroom remodeling project. Some homeowners expand their bath areas, improve the lighting, or upgrade their tiles. But typically, most homeowners consider a renovation to update bathroom fixtures, such as toilets, showers, and bathtubs, that may already show signs of wear and tear. Or, they may be tempted by newer models with water-saving features.
A plumber is necessary if you plan to replace, move, or add any plumbing fixtures. While replacing a sink or toilet may seem like an easy feat, many intricacies in plumbing systems only cause headaches if not handled correctly. Aside from that, DIY plumbing can be dangerous. Without the proper techniques, you can injure yourself or flood your home.
Plumbers are skilled professionals who can safely and correctly set up water supply, water heating, and drainage fixtures. They have the experience and knowledge to do the job properly.
The Benefits of Hiring a Plumber
Besides safe and effective fixture installations and replacements, hiring a plumber has many other advantages. Here are some of them:
1. You can consult them for remodeling advice. Plumbing contractors have handled many toilet and bath renovations. You can seek their expertise if you have bathroom remodeling questions, especially if they're about plumbing systems.
For instance, you can ask them which toilet model can save you the most money in the long run or if moving a faucet is within your budget. They can also advise you on the best placement of plumbing components, such as toilets, showers, and sinks, to optimize the functionality and aesthetics of your bathroom.
2. There is no need to buy expensive tools. Changing or adding bathroom fixtures requires plumbing tools and safety equipment. These materials can be pricey. But you don't have to purchase them if you hire a plumber. They already have the required tools and equipment for these tasks.
3. The renovation process is quicker. Plumbers have the expertise and equipment to complete bathroom renovation jobs quickly and efficiently. As experienced professionals, they have done plumbing tasks countless times, enabling them to finish these jobs swiftly without making mistakes. Plus, they have specialized tools that allow them to complete plumbing jobs faster without sacrificing quality.
Non-professionals typically can only access basic tools. Aside from this, they may not have the expertise needed to complete the job effectively, leading to mistakes and the need for repeat work. Overall, hiring a plumbing contractor can ensure a quicker bathroom renovation process.
4. You will save money. Plumbing contractors with deep industry experience know the most cost-effective materials to use for your renovation, such as pipes, toilets, and sinks. Aside from that, they won't make costly mistakes—like purchasing the wrong plumbing rough-in components or shower drain size.
5. You can have warranty protection. Warranty protection is a key benefit of hiring a plumbing contractor for your bathroom renovation. Most plumbing companies provide a warranty, which serves as an assurance that they perform their work at a high standard.
A warranty also guarantees that your renovation will last for many years. It also protects you against unexpected costs and repairs down the line. If anything goes wrong with the plumbing during the warranty period, the contractor will come back and fix it at no cost to you.
6. You will have peace of mind. Hiring a plumbing contractor can assure you that the job will be done correctly and that your bathroom renovation meets all local building codes and regulations. Plus, if potential problems arise, you can trust that someone can handle the issue quickly and effectively. Overall, you can have a smoother bathroom renovation process if you hire a plumber.
With their expertise, precision, and efficiency, a professional plumber can help you save time and avoid costly mistakes. So, be sure to find a reputable plumbing contractor who can help you achieve your goals if you're ready to start your bathroom remodeling project.