With businesses trying to get a strong foothold in the business, customer reviews have become a powerful tool for them to enhance their growth and main brand reputation. With the rise of online platforms and social media, consumers now have a platform to express their opinions and experiences with products and services.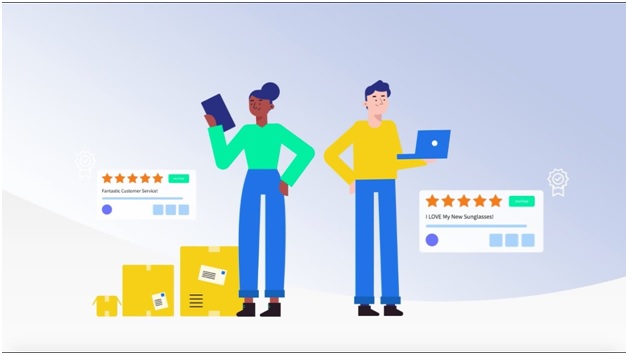 As a business owner or marketer, it is crucial to recognize the value of customer reviews and learn how to harness them effectively. In this blog post, we will delve into smart techniques to utilize customer reviews for the growth of your business.
Techniques to Uplift Business Using Customer Reviews
Reviews not only help customers in making their purchase decisions but also help brands to reach to next level. And for that, brands need some smart strategies, and here are some of the handpicked one's for you.
1. Embrace Feedback
Customer reviews offer a goldmine of feedback that can help you identify areas of improvement. Deliver attention to all types of reviews that includes positive and negative. Positive reviews highlight your strengths and can be used as testimonials for marketing materials. Negative reviews, on the other hand, provide valuable insights into your weaknesses or areas where your product or service falls short. Embrace this feedback, learn from it, and make necessary changes to deliver a better customer experience.
2. Engage and Respond
Engagement is key when it comes to customer reviews. Responding to reviews, whether positive or negative, demonstrates your commitment to customer satisfaction. Engage in a timely manner, addressing any concerns or questions raised by customers. This not only shows that you value their feedback but also gives you an opportunity to resolve issues and turn dissatisfied customers into loyal advocates.
3. Monitor and Analyze
Monitoring customer reviews across various platforms is essential to stay on top of your brand's reputation. Utilize online tools and services that help track and analyze customer sentiment. These tools can provide valuable insights, such as identifying trends, common complaints, or positive experiences. Understanding these patterns can help you make informed decisions and improve your product or service accordingly.
4. Showcase Reviews on Your Website
Make your customer reviews more visible and accessible by featuring them prominently on your website. Create a dedicated section or testimonial page where potential customers can read authentic feedback from previous buyers. Testimonials build trust and credibility, influencing the purchasing decisions of new customers. Ensure that you obtain permission from reviewers to feature their comments on your website. There are various platforms that enable users to provide reviews related to any particular brand or product. Google reviews have made quite a name and reputation, and hence you might have noticed brands opting to embed Google reviews on website.
5. Leverage Social Media
Social media platforms are excellent channels for showcasing customer reviews and generating more engagement. Share positive reviews on your social media accounts, along with a thank-you message to the reviewer. Encourage customers to share their experiences by tagging your brand or using a specific hashtags. This can help create a community of brand advocates who spread the word about your products or services.
6. Incentivize Reviews
Motivate customers to leave reviews by offering incentives, such as discounts, exclusive access, or entry into a giveaway or contest. These incentives can encourage customers to take the time to share their experiences, resulting in a higher volume of reviews. However, ensure that you maintain transparency and authenticity, emphasizing that the reviews should be honest and unbiased.
7. Simplify the Review Process
Make it easy for customers to leave reviews by simplifying the process. Provide clear instructions on how to leave a review on different platforms or, even better, create a dedicated review submission form on your website. Avoid complicated registration requirements that can discourage customers from sharing their thoughts. The simpler and more accessible the process, the more likely customers will leave reviews.
8. Follow Up and Request Reviews
After a customer has made a purchase, follow up with them through email or other communication channels. Express how thankful you are for their business and don't be shy to request a review. Make it easy for customers to provide feedback by including direct links to review sites or a pre-filled review form. Personalize your requests to show that you value their opinion and are genuinely interested in hearing from them.
9. Learn from Negative Reviews
Negative reviews may seem discouraging, but they provide valuable opportunities for growth. Look for patterns in negative feedback and use it as a basis for improvement. Address the concerns raised by customers and take action to rectify any issues. This not only helps you regain the trust of dissatisfied customers but also showcases your commitment to continuous improvement.
10. Incorporate Reviews into Marketing Campaigns
Integrate customer reviews into your marketing campaigns to maximize their impact. Include snippets of positive reviews in your advertisements, email newsletters, or product descriptions. This social proof adds credibility and can significantly influence potential customers' decision-making process.
Also read: The Pros and Cons of Personal Reputation Management Services
Before Leaving
Customer reviews are a treasure trove of valuable insights and opportunities for business growth. By embracing feedback, engaging with customers, monitoring reviews, and leveraging social media, businesses can effectively utilize customer reviews to their advantage. Implementing smart techniques such as showcasing reviews, incentivizing feedback, simplifying the review process, and incorporating reviews into marketing campaigns can help generate more reviews and boost your brand's reputation.
Remember, customer reviews are not just a reflection of your business; they are a valuable tool to drive growth and create lasting customer relationships.