Party buses nowadays have become a part of Canadian culture. It's a common sight at special events such as proms, weddings, corporate events, etc. Even the party bus businesses have evolved to provide their customers the packages designed for specific events where they can get everything that the event demands. In this article, we'll learn to compare these packages and help you understand what to look for when choosing a party bus.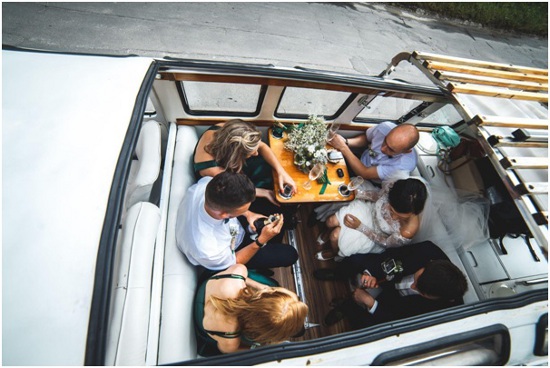 Standard Packages Vs Customisation
Standard packages are a popular choice among people who want to celebrate their big days. A party bus provides a room for a group of people to enjoy some amenities. This may include a dance floor, drinks, and TV. Let's take a look at the standard package of Party Bus Toronto and know what they usually have.
Comfortable seating capacity
Different companies have different options where they can provide you with a bus appropriate for your seating capacity. You don't have to worry about reaching your venues stacked up in an uncomfortable car. These luxurious party buses have vibrant atmospheres capable of setting a party mood. Moreover, the additional facilities and settings create an ideal space to conduct a party on wheels.
Amenities
Usually, standard packages have dance floors, a high-quality music system, a stocked bar and even a TV. Dance floors have LED lights which create a party fir atmosphere inside the bus. Playing music and enjoying the bar drinks will make you feel like you are in a pub or club.
Customized Packages
On the other hand, a customized option allows you to create the party bus experience to your desired preferences. In this option, you can adjust the atmosphere per your event requirements. Unlike standard packages where predetermined amenities are offered, here you can add or remove features based on your needs. If you have a specific kind of vision regarding the theme of the party, then personalization is the right choice for you.
Along with the basic amenities, many party bus companies include extra services to make your event even more fun. These services may include professional drivers and unique decorations based on your event's theme. Some of the most adored features are onboard photography and videography, catering options, and entertainment systems.
Other Packages
Other than the standard and custom options, party bus providers often present a range of extraordinary packages which can suit various tastes and occasions. This grants the customers various options to choose from. Read below how other packages are distinct from those mentioned above. Let' find out their usual inclusions.
1. Nightlife Packages:
In this dedicated package, you can have a city tour where you will be taken to the most vibrant clubs, pubs and dining. You can also enjoy VIP access and even get a designated party host. The bus becomes a lively party space with flashy lights, ensuring the celebration continues between destinations.
2. Wine Tour Packages:
For wine enthusiasts, too, there are specialized packages where people are taken to explore the local vineyard. You'll be provided with a knowledgeable guide, transportation to wineries, and a designated driver; these packages make wine tasting enjoyable and worry-free. Some may even include special amenities like wine and cheese pairings on the bus.
3. Birthday Bash Packages:
For birthday parties, there are packages where you can get personalized decorations and a red carpet entrance. Sometimes a dedicated party planner is provided to you. The party planner takes care of the music and other elements that create a festive vibe in the room. You can freely enjoy your day while leaving the management part on the dedicated planner.
4. Corporate Event Packages:
Business events such as corporate gatherings, product launches or meetings can take place in these party buses. Here along with the basic facilities essential amenities like Wi-Fi and a presentation screen are added to complement the corporate setting. Usually, companies provide catering services as well.
5. Concert and Sports Event Packages:
Special facilities for music and sports enthusiasts, these packages provide transportation to and from events. The bus serves as a pre-event celebration space with music and drinks. After the event, it offers a comfortable and fun way to continue the festivities on the journey home.
When choosing a party bus package, explore these specialized options to find one that suits your event. Whether it's a lively night out, a classy wine tour, an extravagant birthday celebration, a unique corporate gathering, or a pre-event party for a concert or sports game, there's likely a specialized package that adds an extra layer of enjoyment to your festivities.
Options in Party Buses
There are other options as well which are created for high-end events and VIP guests. These buses have luxury features like leather seats, hardwood floors, flat-screen TVs, surround sound systems, disco lights, dance poles, and fully stocked bars. And that's not all. You can personalize the bus with your chosen theme, music, and decorations. Luxury party buses can comfortably accommodate anywhere from 20 to 50 passengers depending on the bus's size and model.
On the other hand, Standard Party Buses offer a more common and budget-friendly option for medium-sized events and groups. Equipped with comfortable seats, carpeted floors, stereo systems, LED lights, and bars, these buses still provide an enjoyable experience without the high price tag. Similar to luxury buses, you can personalize standard party buses according to your preferences and requests. Their capacity ranges from 10 to 30 passengers, depending on the bus's size and model.
For those seeking a more economical choice, a shuttle Party Bus is the best choice. These are made for small-sized events and groups, these buses are simpler and more cost-effective. With basic seats, vinyl floors, and speakers, they are primarily used for transportation rather than entertainment purposes. Shuttle party buses can easily accommodate groups ranging from 10 to 14 passengers, depending on the bus's size and model.
In short, when choosing a party bus, consider the level of luxury and features you desire, aligning them with the nature and size of your event. Whether it's the extravagant offerings of a luxury party bus, the practicality of a standard party bus, or the simplicity of a shuttle party bus, there's an option to suit every occasion and budget.
Bottomline
The comparison between these packages must be based on the pricing structure and the facilities they support. Different companies follow different approaches. Some set hourly rates, others charge based on the packages, and some provide customization options where price varies depending on the facilities they choose. But make sure to choose a company that has no hidden charges. You can learn about this by inquiring about the costs associated with the packages. Reviews and recommendations can also provide you with information regarding the hidden fees. To compare prices from multiple companies, request quotes from them.