As a bride-to-be, you deserve to look and feel your best on your special day. And when it comes to footwear, why should you sacrifice comfort for style? That's where bridal sneakers come in. Not only are they comfortable, but they also offer a stylish touch to your bridal attire. Here are 8reasons why you should consider wearing bridal sneakers on your wedding day.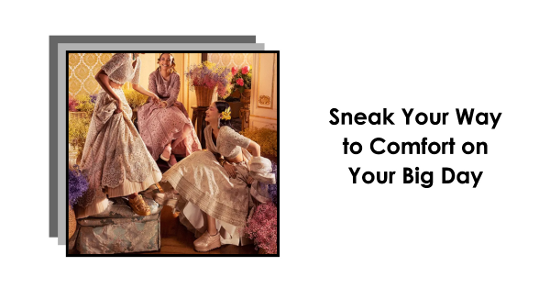 Comfort
Wedding Day is Long and Tiresome Your wedding day is a long day, from the early morning preparations to the late-night celebrations. Wearing traditional high heels all day can be exhausting and take a toll on your feet. Bridal sneakers provide the much-needed comfort to help you last the day comfortably.
Standing for Long Periods From the walk down the aisle to taking photos with the bridal party, standing for extended periods is inevitable. Bridal sneakers provide the necessary support and cushioning needed to keep your feet happy and pain-free.
Dancing with Ease Dancing is a crucial part of a wedding reception. You want to dance the night away without worrying about tired feet. Bridal sneakers allow for easy and comfortable movement on the dance floor without sacrificing style.
Style
Wedding Dresses Look Great With Sneakers Gone are the days when wedding sneakers were considered unconventional and out of place. Nowadays, bridal sneakers are stylish and can complement the wedding dress perfectly. Whether you want a modern, vintage or classic style, there is a sneaker for every bridal dress.
Casual and Stylish Vibes for a Modern Bride Bridal sneakers add a modern and edgy twist to the traditional bridal look. They create a chic, casual and relaxed vibe and allow brides to express their unique style.
A Perfect Match for an Informal or Outdoor Wedding For outdoor and informal weddings, bridal sneakers are the ideal footwear. They provide stability on uneven terrain, are weather-appropriate, and blend seamlessly with the relaxed atmosphere.
Convenience
Greater Mobility and Flexibility Unlike high heels, bridal sneakers provide better mobility and flexibility, making it easy to move around and mingle with guests. They're perfect for brides who want to enjoy their special day without worrying about discomfort.
Perfect for Informal and Outdoor Wedding Photos Taking wedding photos with high heels on challenging terrain can be dangerous and painful. Bridal sneakers provide much-needed comfort and stability during photo sessions.
No Worrying About High Heel Accidents With bridal sneakers, there's no fear of tripping or slipping on the dance floor, increasing your confidence and enjoyment throughout the reception.
Personal Expression
Showcasing Your Personality and Style Your wedding day is your day to shine and express your unique style and personality. Bridal sneakers allow for a more personalized touch to your bridal attire while expressing who you are.
Personalize Your Shoes to Match Your Bridal Party Bridal sneakers can be customized to match the bridal party's sneakers, creating a unified and coordinated look for the ceremony and reception.
Match Your Sneakers with Your Partner's to Add a Personal Touch Matching bridal sneakers with your partner's sneakers is not only a cute and playful idea but also adds a personal touch to your special day.
Practicality
Reusable and Recyclable Bridal sneakers can be easily reused or recycled after the wedding, allowing you to enjoy comfortable sneakers even after the big day. This is not only cost-effective but also environmentally responsible.
Budget-Friendly Alternative Traditional wedding shoes tend to be quite expensive. Bridal sneakers, on the other hand, are an affordable option that provides long-term use beyond the wedding day.
Finding and Buying Bridal Sneakers
Getting bridal sneakers for your wedding day is simple. You can find and buy them both in physical stores and online. This means you'll have an easy time finding the perfect pair for your big day.
Celebrities Inspire Bridal Sneakers Trend Stars like Serena Williams, Priyanka Chopra, and Kaley Cuoco have worn bridal sneakers at their weddings. This has encouraged other brides to also wear sneakers on their wedding day.
Sharing Bridal Sneakers on Social Media Bridal sneakers are a big trend on social media. Many couples share pictures of their unique sneaker designs to give other people ideas.
Making Your Own Bridal Sneakers
You can customize your bridal sneakers by adding decorations or painting them. This way, you can have a unique pair of sneakers that really show off your style.
Choosing the Perfect Bridal Sneakers Thinking about Materials and Designs When picking out bridal sneakers, think about what materials and designs fit well with your wedding and your personal style.
Matching Sneakers with Your Wedding Dress
Think about how you can match your bridal sneakers with your wedding dress. You can find sneakers to go with a classic or modern look that also fits your own style.
Conclusion
Wearing sneakers at your wedding is a great choice. It's comfortable and stylish, and makes moving around easy. This is especially handy for casual or outdoor weddings. With sneakers, you can dance and have fun on your special day without worrying about your feet hurting.
Frequently Asked Questions
What color should my bridal sneakers be?
Your bridal sneakers can be any color, it really depends on your style and the theme of your wedding. White or ivory sneakers go well with the wedding dress, but metallic or colorful sneakers can make things more fun.
Are Sneakers Appropriate for All Wedding Dress Styles?
Bridal sneakers complement all types of wedding dress styles, from classic to modern and everything in between.
Can I Wear Bridal Sneakers with a Formal Wedding Dress?
Bridal sneakers can complement formal wedding dresses without detracting from the elegance and beauty of the dress.
Where Can I Buy Bridal Sneakers?
Bridal sneakers are readily available in stores and online. Major sports brands and shoe companies offer bridal sneaker collections that you can choose from.
Can I Customize My Bridal Sneakers?
Yes, you can personalize your bridal sneakers to match your personal style and wedding theme. From embellishments to paint, your options are endless.