The act of proposing is an iconic moment of profound love and commitment, symbolized beautifully by the presentation of an engagement ring. With evolving tastes and trends, the world of engagement rings sees continual innovation and design evolution, making it an exciting realm to explore for those ready to take their relationship to the next level. This year, in 2023, we're seeing a resurgence of classic designs melded with modern aesthetics, creating a captivating blend of styles to suit all tastes.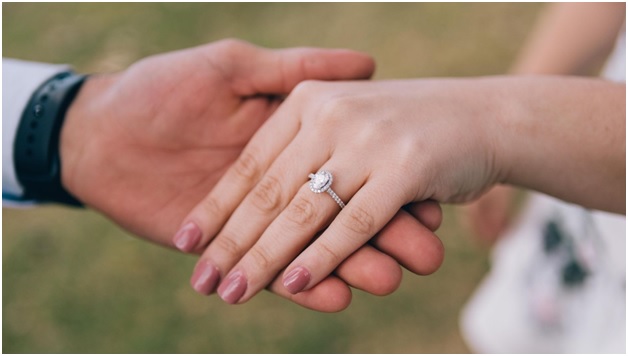 From minimalist solitaires to ornate vintage styles, this guide will walk you through the top ten engagement rings styles that have gained popularity and won hearts in 2023. Whether you're about to propose or just daydreaming about the future, these styles offer a thrilling glimpse into the world of bridal jewelry this year.
1. Solitaire Rings:
Solitaire rings represent the pinnacle of elegance. They are a classic design, featuring a single diamond on a simple band that enhances the beauty of the stone. In 2023, we are seeing solitaires with unique band designs, such as twisted, split, or paved, which add a contemporary twist to the traditional design. Moreover, the diamond's cut can range from round brilliant to emerald, asscher, or oval, allowing for a bespoke design that suits the wearer's personal style.
2. Halo Rings:
Halo engagement rings make a glamorous statement. They are designed with a center gemstone encircled by a "halo" of smaller diamonds. This layout not only enhances the ring's overall sparkle but also creates the illusion of a larger center stone. Double halo designs and vintage-inspired halos, characterized by romantic and intricate details, are gaining popularity in 2023.
3. Three-Stone Rings:
Three-stone engagement rings hold a special significance, symbolizing a couple's past, present, and future. While traditionally these rings feature three diamonds of the same shape, we're witnessing a rise in mixed-shape three-stone designs in 2023. For instance, a round or oval center stone flanked by two pear or baguette side stones offers a refreshing update on this symbolic style.
4. Colored Gemstone Rings:
Colored gemstones have captured the imagination of modern brides, leading to a surge in their popularity. Sapphires, rubies, emeralds, and even semi-precious stones like morganite and aquamarine offer a vibrant alternative to traditional diamond rings. A colored gemstone ring can beautifully represent personal significance or a couple's unique love story.
5. Bezel Set Rings:
Bezel-set rings are appreciated for their modern design and practicality. The gemstone is entirely surrounded by a band of metal, which not only gives the ring a sleek, contemporary appearance but also provides excellent protection for the stone. This style is ideal for those leading an active lifestyle, or simply those who appreciate a minimalist aesthetic.
6. Vintage-Inspired Rings:
Vintage-inspired designs evoke a sense of nostalgia and romance. Drawing inspiration from various eras – the geometric lines of the Art Deco period, the intricate detailing of the Edwardian era, or the romantic motifs from the Victorian times, these rings are all about craftsmanship and detail. 2023 sees a revival of these timeless designs, infused with modern elements for a perfect blend of old and new.
7. Rose Gold Rings:
Rose gold, with its blush-pink hue, offers a fresh, contemporary twist to traditional gold and platinum rings. The warm tone of rose gold beautifully complements both white diamonds and colored gemstones, and adds a romantic touch to any engagement ring design. Its unique hue also flatters all skin tones, making it a versatile choice.
8. Unique Shape Rings:
While round diamonds are a perennial favorite, unique shapes like oval, pear, and cushion cut are emerging trends in 2023. These diamond shapes not only add a unique touch to the ring design but can also influence how big the diamond appears, its brilliance, and even how the ring looks on the hand.
9. Cluster Rings:
Cluster rings are a smart and stylish choice for those who want a big impact without a hefty price tag. Instead of a single large diamond, these rings feature a cluster of smaller diamonds set together in a variety of creative designs. From floral motifs to geometric patterns, the design possibilities are endless.
10. Nature-Inspired Rings:
Nature-inspired engagement rings are perfect for brides who love the outdoors and appreciate organic, free-form designs. These rings feature motifs inspired by nature, such as leaves, flowers, vines, or even landscapes, crafted with careful attention to detail. In 2023, these whimsical designs are becoming a favored choice for their uniqueness and personal significance.
The engagement ring trends of 2023 offer something for every bride, from timeless classics to contemporary styles. Remember, the perfect engagement ring not only reflects current trends but also resonates with the wearer's personal style and the love story it symbolizes.
Conclusion
In conclusion, selecting an engagement ring is a deeply personal and exciting experience. Whether you choose a traditional solitaire, a glamorous halo, a symbolic three-stone, or an unconventional cluster ring, what matters most is the love and commitment it represents. The trends of 2023 offer a remarkable range of designs, all of which celebrate individuality, craftsmanship, and the enduring beauty of diamonds.
As you embark on this thrilling journey, remember to choose a ring that resonates with your personal style and encapsulates your unique love story. After all, your engagement ring is more than just a piece of jewellery; it's a token of love that you'll cherish forever.