In India, the ground for aesthetic medicine became concrete in the 1990s. A Times of India article quoted the worth of the aesthetic healthcare market in India accounts for ~40,000 crores. And we can expect 10% and above growth year on year in the years to come.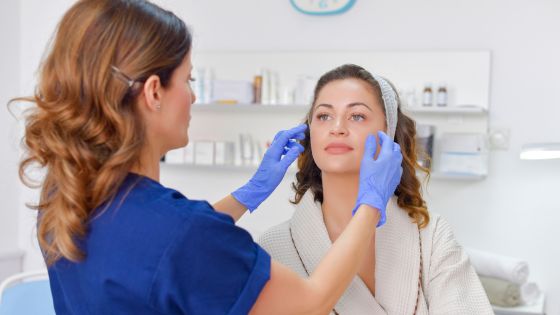 Ofcourse, today, we can see how the industry proliferates & the demand for aesthetic services keeps increasing. But has the fear among people to visit an aesthetic hospital gone away? That's indeed a point of discussion.
The Fading Fear of Visiting an Aesthetic Hospital
In the initial decades, the industry was just booming. And people were not impressed with the results despite the expensive procedures & treatments. In 1995, when the Indian Association of Aesthetic Plastic Surgery (IAAPS) was founded, things began changing.
The standards and protocols were improved.
The quality of plastic surgeries increased with intense training and practice.
The plastic surgeons collaborated with international specialists and learned new innovative ways of performing cosmetic plastic surgery.
As a result, in the first decade of the 21st century, people started witnessing promising results with no significant risks or side effects. By then, the cost of aesthetic treatments was also reduced. Since then, people began losing their fear to visit an aesthetic clinic or a hospital.
Notably, two factors contributed to the evolution of cosmetic surgery in India. One is the rising income levels. And the other is the growth of social media. Researchers already studied the influence of social media and the Covid-19 pandemic.
Tamira Aesthetic Healthcare – Advanced Aesthetic Treatments and Solutions in India
With a vision to provide advanced and safe aesthetic treatments to the people of India, Dr. Jayanthy Ravindran, a board-certified cosmetologist with 15+ years of experience in aesthetic surgeries, founded Tamira Life Aesthetic Healthcare in 2015. Today, the organization has a strong network of senior cosmetic surgeons and physicians from different parts of the country.
Indeed, Tamira was the first in the country to develop a digital platform in the aesthetic healthcare realm. This platform enables people directly connect with the best aesthetic surgeons and physicians. It not only eases the way people consult with Doctors but also redefines the aesthetic healthcare treatments in India.
Patients from over fourteen countries visit Tamira in India to seek the finest aesthetic treatment. So far, it has provided solutions to over 17,000 patients and still counting.
World-class Aesthetic Treatments and Types of Cosmetic Surgeries
Here is the broad list of treatments and surgeries performed at Tamira Aesthetic Hospital, India.
Face

Ears

Ear lobe repair surgery: Reconstructing a torn or stretched earlobe
Ear (gun) piercing: Quick and painless ear puncturing
Otoplasty: Correcting the bat ears

Eyebrows

Thread lifting: Noticeable lift in the skin
Upper and lower eyelid blepharoplasty: Treating the saggy or fatty eyelids
Eyebrow hair transplant: Hair follicle transplant from one to another region
Microblading: Temporary eyebrow tattooing
Non-invasive RF therapy: Decrease the lines, and wrinkles with RF

Chin

Coolsculpting: Fat freezing at a higher temperature and removal
Beard transplant: Complimenting the face with the right beard hair transplant
Mustache Transplant: Hair transplantation from populated to affected areas
Chin Augmentation with Implant: Chin enlargement with implants

Face & Neck

Jaw Surgery: Correcting the jaw bones
Tracheal shaving: Making Adam's apple less visible
Surgical correction of Masseter: Realignment or removal of the masseter muscle
Frontal Bone Reshaping: Forehead reshaping and contouring

Nose

Rhinoplasty: Restructuring the nose
Nasal implants: Enlarging the airway
Open and closed septoplasty: Correcting the shape/size of the nose
Tip Plasty: Reshaping the nose tip

Eyelids

Microneedling: Rejuvenating the skin
Microblading: Temporary tattooing

Cheeks

Buccal Fat Removal: Removing excess fat
Dimple Creation: Surgical dimple forming
Facelift Surgery: Highlighting the features
Injectables: Filling the lips to make them look better

Lips

Pico Laser: Reduce blemishes and wrinkles
Fat Grafting Surgery: Fat transfer to lips
Lip reduction surgery: Remove unwanted tissues
Chemical peels – Lips: Skin resurfacing
Q Switch Laser – Lips: Tattoo removal

Breasts

Male

Nipple Reduction Surgery: Ensuring masculine chest
Gynecomastia Surgery: Excess gland removal
Vaser Liposuction: Break and remove fat

Female

Breast Lift (Mastopexy): Lifting the nipple
Breast Augmentation with Implant: Reshaping breasts with an implant
Breast Preservation Surgery: Removing cancer
Surgical Breast Correction: Correcting the shape and size
Inverted Nipple Correction Surgery: Correcting the inversion

Skin

Mira Dry: Removal of sweat glands
Removal: Mole, skin tags, warts, etc
Hydra Facial: Hydrating the skin
Radiotherapy: Scar correcting with radiation
Lump Excision: Scrapping the unwanted skin
Dermabrasion: Exfoliating treatment

Hands/ Legs

Arms

Non Invasive RF Skin tightening: Rejuvenating the skin with RF
Arm Lift or Brachioplasty: Toning upper arms
Chemical peels – Arms: Reduce pigmentation

Hands

Callus Removal: Removing callus in hands
Laser Hair Removal – Hands: Permanent hair removal

Legs

Sclerotherapy: injection into the veins
Surgical Stripping of the veins: Varicose vein stripping/ ligation
Calf implants: Calf augmentation

Feet

Chemical Peels – Feet: Skin resurfacing
Corn Removal: Removal of callus and corn tissue
Laser treatment – Feet: Corrects skin irregularities

Thighs

Thigh Lift: Thighplasty (improving appearance)
Vaser Liposuction – Thighs: Unwanted fat cell removal

Genitalia

Male

Penile Lengthening: Extending the length of the penis
Scrotal Reduction: Scrotum tightening
Male-to-Female Conversion Surgery: Gender confirmation surgery
Penoscrotal Web Release: Correcting penoscrotal web

Female

Vaginoplasty: Tightening the vagina
Hoodectomy: Clitoral hood reduction
Clitoral unhooding: Decreasing the foreskin tissue
Monsplasty: Decreasing the protruding of the mons

Dentistry

Zirconia Crowns: Cementing the new crown
Tooth Coloured Filling: Dental cavity filling
Flouride Application: Applying fluoride gel
Flap Surgery: Fix bone damage
Tooth Jewelry: Jewellery attachment to the teeth
Teeth Whitening – Laser Bleaching: Teeth brightening

Hair

Hair Transplant: Transplanting the hair follicles
PRP Treatment: Platelet-rich plasma for hair growth
Scalp Biopsy: Microscopic analysis of scalp tissue

Reshape

Sides & Back

Coolsculpting & Liposuction – Flanks/Sides: Removing excess fat and skin tightening

Navel

Navel Correction & Creation: Improving navel appearance

Buttocks

Butt Implant & Augmentation: Improving buttocks appearance

Abdomen

Lipo Abdominoplasty: Eliminate excess fat
Hernia Surgery: Reducing the organ protrudes

Weightloss

Power Assisted Liposuction: Excess fat removal
Tummy Tuck: Improves the appearance of the abdomen
Bariatric Surgery: Morbidly obese patients' treatment