The first thing anyone notices is your front door, whether garage or main house. This is true for those who are welcomed and those who are looking for some mischief. So, why not make it eye-catching, attractive, and secure at the same time? You may be tempted to think your house already has working doors, so why upgrade to spend money on it anyway? Well…not so fast.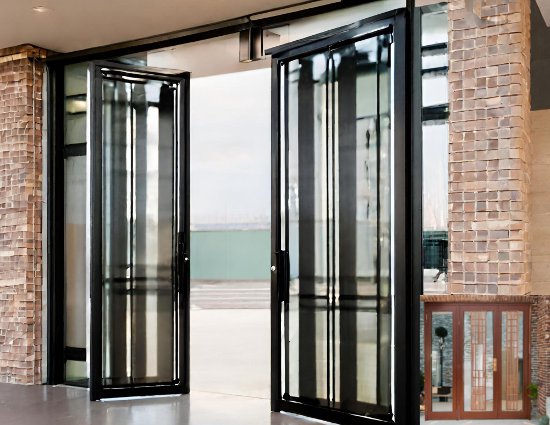 You see, according to the 2023 Cost vs. Value survey by Remodeling, replacing a garage door in the US yields a 102.7% ROI, while replacing an entry door yields a 100.9% ROI. That's all your money back & more on your property's resale value. Isn't that great? We thought so, too. But how do you replace doors, and which material should you choose?
A simple yet effective way is to install metal doors. Not only do they offer high security, but they also have long durability. Given that there is so much to talk about doors for your home and garage, let's see some primary yet hidden benefits of steel doors.
Here Are Some Of The Benefits Of Having Metal Doors Installed In Your Home & Garage
1. Durable
The robustness & strength of steel is something everyone talks about. It has higher tensile strength as well. Steel doors surpass wooden ones in endurance. Isn't that great? On top of it, it lasts much longer as there is no rotting or decaying organic matter.
2. Enhanced Security
How secure are metals? Even your safety deposit boxes at the bank are made up of metal. Yes, they give security unlike any other. Let's quickly see some more security features that metals have to offer.
2.1. Fire Resistance
Metal can tolerate heat up to a high level before melting. That means anyone trying to enter your house will have a hard time breaking into it. Additionally, metals have higher melting points, so in the event of a fire, they will likely be contained and won't spread.
The US Department of Energy mentions that steel doors' R-value ranges from R-5 to R-6 (excluding a window), i.e., a 1½ inches thick door will give five times more protection than an insulated solid wood door of the same size. Also, it will give you time to dial 911 to call firefighters.
2.2. Blast Resistance
In the era of rising crime rates & gun ownership, it is essential to keep your home and belongings safe. Steel performs better in blast resistance tests, and with high quality steels, you get less deformation on blasting and bullets. This is probably the reason why most government buildings doors and civil protection centers have steel doors.
2.3. Tornado Resistance
Steel has higher strength compared to resin, glass, or wooden doors. It can resist the high speed wind from entering inside and destroying stuff. For a metal building, we recommend steel doors as they have higher safety features than any other counterpart.
2.4. Forced Entry Resistance
Intruders can't break into your house while you are on vacation or at your friend's birthday party. First, any kind of hammering on a metal door will make a lot of noise and may wake your neighbors.
Second, even if thieves have a blow torch, they will make light in darkness & will take 20 to 25 minutes to melt. This much time is enough to alarm a passerby or neighbor that something is wrong & call the police.
3. Low Maintenance
As mentioned before, metal doors do not undergo rotting and decaying. Plus, they are not affected by termite colonies or pests either. Fairly insulated steel doors are a good choice for your metal building home and garages.
Additionally, minor scratches are not very visible and do not compromise the functionality of the door. You can make minor scratches look new again by sanding and painting them.
4. Highly Functional
Metal buildings and doors made with steel have an anti-microbial property. Think about it…in an operation theater, doctors use stainless steel tools to operate a patient. Recent studies have suggested that some metals, such as copper, sterling silver, titanium, etc., have high anti-microbial properties.
5. Increases Energy Efficiency
Adequately sealed & weatherproof steel doors will minimize heat transfer from inside to outside. Hence, your HAVC system has to work less to maintain indoor warmth or cool. This will indirectly save your energy bills.
6. Adds Value
As we talked about earlier in this blog, your home resale value increases when you upgrade to a high quality door for your entryway or garage. So, get your steel doors from a certified dealer and make your home & garage secure.
7. Design Options
Some people hate the concept of metal doors, thinking that it will look cold and unwelcoming to the guests & family members. But truth be told, you can design your steel doors to look as classy, elegant, rustic, or contemporary as you want.
There are various design options you can search for online and select one that fits your taste. Simply do a Google or Bing image search for 'stylish metal doors' & you will get ideas for your next home project.
In The Final Analysis
While you are convinced that metal doors are the best choice for your home & garages, it is best if you purchase them from a high quality steel manufacturer. You can look for certified galvanized steel & ask about applicable warranty in any.
Be extra cautious while selecting metal suppliers. Do not get lured by inexpensive deals with cheap dirt costs. Oftentimes, one pays for them in the long run. So, I prefer a certified steel dealer. Also, read previous clients' reviews and feedback.
You can also do a little digging on their social media handle. Do not forget to compare quotes from various dealers before buying. Some metal suppliers also offer free delivery & installation. Your entry door is the entryway to your house, making it safe and aesthetically welcoming.