Summer has so much to like, more hydration and water sports. But it does not end here as there are some pros to summer like the melting foundation, sweat, and super sticky lipsticks.
For girls, it is too tough to deal with summers because they feel challenging to wear a double padded bra, makeup, and much more.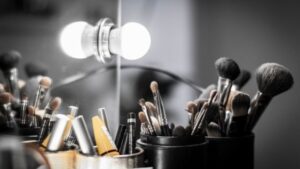 Makeup is a big concern for girls in summers, and it is because of excess humidity and heat. They have a fear that everything will melt or get cakey after going out in the summers, which is true.
When a girl uses a Dropper Full Cover Liquid Foundation, she has so many sun concerns that get incorporated in summers. But is there any solution for all these problems?
The answer is yes, as there are makeup tips available that can help you make your makeup sweat-proof in the summers.
We will discuss some of them
1. Start with moisturizer
The type of moisturizer you are using in summer matters a lot. A perfect oil-free moisturizer is the right product to choose for your summer makeup look.
It tends to stop your foundation from melting and giving it a greasy base to set. It leaves a soft and greasy face that helps you fight with cakey foundations and other products that you apply later.
When you use an oil-free moisturizer, the foundation stays on your face even during humidity and heat.
2. Use a sunblock
For summers, sunblock is the best way to protect your skin from the heat. It is a tip used by my makeup artist for their glam summer looks. Leave a layer of sun protection on your face before applying the foundation.
You can apply it with a soak cushion to give an even look to your face. Applying sunblock with a soak cushion stays in its place and never messes with the foundation you use for a summer makeup look.
3. Use a powerhouse makeup primers
Primers are essential, and you can use them a few seconds before applying the foundation to get a perfect makeup look. It is applied after the moisturizer and before the foundation.
Use your hands to apply a makeup primer and spread it well. Use the tips of your fingers to spread it evenly.
4. Wear less foundation
For summers, the best tip to get a glam makeup look is to wear as less foundation as possible. It helps you avoid caking and melting during humidity and extreme heat.
Use a sponge but more preferably, your fingers to apply foundation. The heat of your fingertips lets the foundation merge in your skin fast and gives you an even face tone at the end.
Use a little amount of foundation and make sure that it suits your skin tone as well. A light base is a perfect choice for summers, and you can set it as a concealer as well. Use concealer on the corner of eyes, lips, and areas where the chances of pigmentation are high.
For concealer, use the shade that suits your undertone and skin tone.
5. Ditch the powder blush
Powder indeed adds balance, but for summers, it is not a suitable product. So, it is a tip to ditch the powder blush when there is so much heat and humidity outside.
If you use the powder blush, you will see your foundation gets caky faster. So go for liquid or creamy blush instead of that and enjoy your glam summer makeup look.
When you avoid the powder, it also gives you a sweat-proof makeup look.
6. Use liquid highlighters
The best tip for getting sweat-proof makeup in summer is to replace your powder highlighter with a liquid highlighter.
It will stick to your cheeks and add more glow to your face. Liquid highlighters are the best summer products because they set your makeup look on fire.
7. Avoid shimmers
To get sweat-proof makeup in summer, ditch the shimmers. They melt in the heat and appear in the form of sweat on your face.
To avoid all this chaos, ditch them for your summer makeup look and keep it as minimum as possible.
8. Go for sheer shades
For your eye makeup, use sheer shades. They look perfect in summers because other colours are too heavy comparatively. Use subtle shades on your eyes for a minimum touch and see how beautiful they look when you go into the sun.
The dark colours are at more risk of increasing sweat, so it is always preferable for something basic and subtle. Choose nude shades and observe the beautiful difference they make in summers.
9. Replace shininess with dewiness
To get a sweat-proof makeup look, it is essential to replace shininess with dewiness. Remove all the products that add shininess and set your makeup with pressed powder.
When you use the pressed powder, it adds dewiness and gives you a sweat-proof makeup look even in the presence of heat and humidity.