Everyone wants to Develop and become the company they have always envisioned. When making decisions as a small business, there are several factors to consider. Spend money on your visual design from the start. By using good design, you can be confident that you are attracting and keeping the audience you need and completing the necessary transactions.
Good graphic design has deeper psychological considerations underlying each choice, in addition to being beautiful to look at. It will be challenging to decide what should and should not be included in your small company graphics if you are not a designer.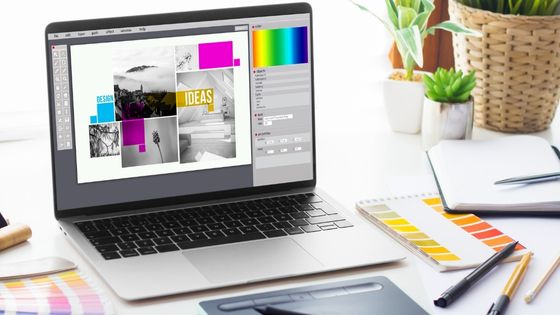 Because of this, WDDUK should be your go-to design resource. You may get various designs from an on-demand graphic design product. WDDUK can create a logo for you if you require one. Do you have to publish graphics on social media? WDDUK will create visually appealing content. It will not be necessary for you to search for a freelancer for each design assignment. WDDUK animated video can assist you in achieving your professional objectives at an affordable cost. A WDDUK plan may be purchased right away to begin requesting your designs.
What Role Does Graphic Design Play in Business?
An aesthetically and professionally designed visual statement is what is meant by the word "graphic design." The main goal of graphic design is to create a fantastic visual piece of information for a certain target audience. In other terms, graphic design is visual communication or communication design.
A graphic designer and customer must be involved throughout the entire creative process. The designer is in charge of producing eye-catching design elements by utilising a variety of visual arts, photographs, typographic approaches, and layout methods. Media like logos, posters, packaging, websites, etc., greatly influence the distinctive arrangement of a wide range of design components in a graphic design.
Today's graphic designers work with a variety of programmes, including Adobe Photoshop, Adobe InDesign, Adobe Illustrator, CorelDraw, and QuarkXPress. Print, broadcast, and web graphic design are the three main areas it covers.
Illustrations & graphics, logos, package design, layout, etc. are all included in print design. Programming and website design are included in the digital entity of designing, whereas animation, graphic design, and cinema are covered by broadcasting.
Nevertheless, certain software may not match your needs when you select it for making logos, etc. This implies that not every piece of software will meet all of your needs to the same extent.
To choose which design software would best suit your needs, it is very necessary to read through several evaluations.
Here is how graphic designing plays a crucial role in brand recognition:
We are all aware of how important initial impressions are. You want a new customer to enter your small business feeling good. Good graphic design helps your business come off as personable, which keeps clients engaged in what you have to offer.
Your audience should ideally remember who you are, what you do, and what sets you apart from the competition. You can not make a lasting impression with shoddy or subpar graphic design. And if your small business does have a terrible design, people will not remember it the way you want them to. Therefore, to make the best impact, present your brand in the best possible way by working with a graphic designer.
When your small business first launches, you will undoubtedly be looking for someone to create your logo. And you ought to! Someone who is not a graphic designer should not attempt to create a logo. It represents your identity and embodies the brand. Professional graphic design should also be used for any further graphic design work you may require, including websites, applications, flyers, social media postings, and anything else.
Having these assets will bolster your brand and force your rivals to compete for customers. Customers will take notice of you since you will stand out in your particular sector. Spend some time figuring out who your target market is, then make something you know they will like.
When you join WDDUK and submit a request, you will receive all of your branding materials.
Every conversion matters to a small firm. Having graphics that your audience can relate to can help you connect with them and strengthen your relationship with them. Visitors should be able to be converted through social media, advertisements, and other resources. Your conversion will increase the manner you have always wanted when your graphics are well-done.
Additionally, a graphic designer will make sure that your images are dynamic and responsive. Your clients will be able to access your website, navigate it with ease, and perhaps even make a purchase. Your visitors are less likely to become customers when there is a barrier in the way of their purchase.
Long-term financial savings might be realised by hiring a graphic designer upfront. Poor designs from the beginning will affect not just your aesthetics but also your sales. And once you do, you will need to work with a graphic designer to get everything right! So, to save headaches later, just engage a professional designer right away.
To succeed, small enterprises must put in a lot of effort. And among the difficulties that might hinder you is budgeting. For your branding, especially, set aside money for a respectable designer.
You must tell the truth about your tiny business. What do you want to accomplish? Who are you attempting to assist? Using graphic design, you can make your tale come to life. Different design components are crucial for stirring emotions in your audience. For what you are attempting to accomplish, choices like colour, typeface, and even the quantity of negative space matter a lot.
When clients comprehend what you are attempting to express without any more explanation, your designer will experience the same level of satisfaction as you. Depending on how well you relate the tale, they can also feel a strong connection to you. The beginning of brand loyalty is there.
You will begin expanding your crew if you own a small firm. Naturally, you will want your workers to feel proud of their workplace. Making sure that both your online and physical presence is visually appealing will undoubtedly help with that.
Your staff members will be more open to discussing and sharing details about their jobs if they are happy with where they work. Customers will take notice of this natural means of promoting the company since it comes from the heart.
Have you ever visited a simply awful website? You probably would leave right away. People do not trust bad design because they wonder what else a graphic design company in London may be cutting corners on if they do not invest in its brand. Your sales may not be doing as well as they may be because of it.
Potential clients frequently view your online presence before they ever use the goods. Make people curious about you by giving them a cause to. Ensure that your advertisements, website, and social media postings are up to date and prepared to be seen by your audience every time they are seen.
By offering effective graphic design, you can interact with your audience. To build designs that prospective buyers can comprehend, a great deal of careful thought must go into them. Everything matters, including balance, order, unity, and rhythm.
No matter how intricate or straightforward the design is, the message should always be understood. When your audience looks at your design, they should immediately understand what you are delivering. If a consumer expresses confusion about your product in feedback, identify the source of their concern and make the necessary design changes to make the message crystal clear.
Conclusion:
Marketing designers should be knowledgeable and have essential abilities for creating many kinds of media designs.
The expense of a small or medium-sized firm can be severely impacted by poorly designed graphics. Even worse, the business can end up overspending on developing new designs.
Utilizing cutting-edge and creative graphic designs may have a favorable effect on a small or medium business's entire marketing strategy.
Thousands of video production companies in London are encountered by almost everyone every single day, particularly through digital and traditional channels. But just a small number of these businesses leave a lasting impression on you thanks to their imaginative and eye-catching visuals.