A blocked drain is a common problem, and it has the potential to damage your entire pipeline and your plumbing system if you let it go untreated. So it is of utmost importance that you get your thing unclogged as soon as possible so that everything gets cleared. You will then have smooth running water from your tap and waste leaving your premises where it is supposed to be. This is where you need to get professionals roped in if you cannot get it done by yourself.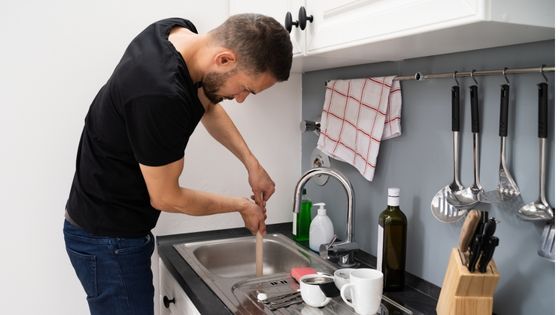 Reasons for a Blocked Drain
But first, know what the causes of blocked drains are. Why do they keep getting clogged?
Here we are for A Look At The Most Common Drain Blockage Causes:
Oil & Fat
Grease
Leftover food
Hair
Tissues & paper towels
Flushable & baby wipes
Cotton wool & buds
Soap
Tree roots
Cat litter
Foreign objects
These are some common blocked drain causes that you might as well avoid with more careful usage.
How to Avoid Blocked Drains?
Blocked drains are a common issue that every homeowner faces, but you can easily overcome the same following some precautionary measures. It is just that you have to be a bit more careful when you are doing your work. Ensure that you do not flush unwanted material down your commode or prevent fallen hair from entering the drain. While in the kitchen, be careful of what you wash away down the kitchen sink and line. Being cautious of your daily usage can avert major problems like a blocked drain. But when it comes to tree roots, they are practically out of your control. That genuine cause cannot be averted, but the rest can. You should also call a plumber if a blocked drain issue is a persisting problem.
What Should You Do When You Have Blocked Drains?
In the world of plumbing, a blocked drain is referred to as a plumbing emergency. Call an expert who will bail you out if the problem goes deep into the system. First, try out some home remedies. If you are still unsuccessful, you can get an expert to help you with a solution.
Home Remedies for Blocked Drains
Do not take the big step right away. Try some home remedies for your blocked drains, after which you get professional help if unsuccessful.
Look Up These Home Remedies:
Pour down boiling water
Baking soda and vinegar
Putting in a plunger
A drain snake
Using chemical cleaners
How Do You Detect a Blocked Drain?
Certain signs and signals you will get if you have a blocked drain.
They Are:
Foul smelling emanating
Overflowing drains
Gurgling sound
Slow draining out
When you detect these telling signs, try out your home remedies, and if you fail, get a professional to clear up your drain.
The Right Professional to Sort out Your Problems
When your blocked drain problem escalates, whom should you call for help? That is a very good question that you must know the answer to. Yes, of course, you must call in a professional who works independently or is employed with some company. They are equipped with equipments and machinery and have the expertise to bail you out. So, get them in.
Conclusion
Your plumber will have cameras and other bigger and more modern equipments that will help locate the blockage in the system. They are better equipped with technology and expertise that will do the trick. So, make sure that you hire only an expert for this task. But first, try the home remedies mentioned, so you are not divested with a lot of money.