No matter the size of your hotel, it's likely that you'll spend a sizable chunk of time at the end of each month reviewing and analyzing the most recent financial figures to prepare for month-end reporting. For many, this task can be a daunting one that takes hours to complete.
A few years back, however, we decided it was time to take our accounting process up a notch by opting for an automated system. We knew this would help save hours of monthly work and pave the way for more valuable productivity in other areas — like cost-effective growth opportunities and investments in new technologies.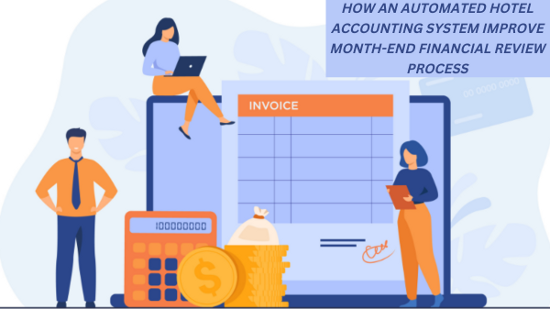 Because more time spent on your billing process is more time lost from executing other core initiatives, saving hundreds of hours in processing time is a great benefit to building a solid bookkeeping system. Look for systems that provide accurate reporting of all transactions, including raw data that can be used for pre-billing and other daily tasks.
A fully automated cloud-based hospitality accounting software can simplify the month-end financial review process and give you more time to focus on other tasks. For example, if your books are maintained on the cloud, then the auto accounting system will generate all reports automatically for you. You can also use this type of system to keep records of the hotel's past transactions for future reference.
An autonomous accounting system is an enterprise resource that automatically processes financial transactions and provides timely and accurate information about balances in accounts receivable, accounts payable, inventory purchases and sales as well as other aspects of revenue generation.
One of the main advantages of an autonomous accounting system is that it eliminates the need for monthly, quarterly and annual financial reviews. It can also be used to handle payroll processing, pay vendor bills and other financial tasks.
Most hotels have a huge volume of invoices each month for paying to their vendors and service providers; therefore it's difficult to keep track of all your transactions. [It's a big headache]
Moreover, a big volume of invoices forces you to spend much time organizing and reviewing those invoices and transactions with other team members.
Also, out-of-date records are a huge problem for hoteliers; There is a chance that you will be charged extra taxes because your hotel is registered as "out of service" or "out of business".
Generally speaking, it's difficult for manual accounting workflow to automate tax payments. For example: It can't auto generate tax reports (e.g., total income tax expense. etc.) and tax records must be manually updated by management members. Moreover, the inventory reports can't auto generate and retain records for future reference.
There is a chance that your accounting system will become too complicated for hoteliers to maintain and manage, especially if you're using a third-party application to handle your accounting operations. An ideal solution would allow you to start from a clean slate, with all transactions historically accounted for, so that you can focus on other aspects of running your hotel business.
The complete List of Benefits we wrote are as follows:
Reduce monthly manual expenses (For example: Monthly financial reports. Monthly tax reports. Monthly payroll related tasks.)
Faster close of books and financials
Generate reports automatically (For example: Profit margin analysis. Profit and loss reports. Balance sheets.)
Perform accurate month-end closing data review process
Reduce time for payment to suppliers and vendors by auto payment feature
You can generate all types of reports from a single online platform: Financial, statistical and inventory reports.
The month end closing process procedure will take 3–5 days in a manual accounting system, but it takes only 2 hours with the help of a fully automated hotel accounting system. The month-end process is often time consuming and repetitive work, due to the large number of tasks it entails.
In many cases, a manual review can be taken out of the equation by implementing a hotel accounting software. Accounting for that software is no longer needed because the tasks are automated and any work needing to be done is completed during the initial setup.
The biggest advantage of having an automated hotel accounting system is the ability to eliminate manual reviews. When a review is fully automated, day-to-day operations are still recorded and accounted for, but the manual process that takes place during review time is eliminated. This eliminates a lot of time from the month-end process because there will be no more late nights working on reports and totals. With this elimination comes another advantage: the elimination of accounting mistakes. As with any manual process, there is always a risk for human error. When errors are made during reviews, they're often buried in mountains of paper records or even forgotten about because they're lost in piles of files. With an automated system, these errors are reduced significantly because there is no record of what was reviewed, when it was reviewed and what the accounting worked out to.
Another advantage of an automated system is the fact that it can be updated on a regular basis so that every time a review is performed, it always works properly. This means that as new information is entered into the system it doesn't require someone to go back and re-look at previous reviews to make sure they're accurate. Updates come in during the initial setup of a hotel accounting software program, so all information already entered was already accurate before any reviews were even performed. This makes the cycle of monthly financial reviews much easier to handle because there is no need to worry about whether or not the data that was previously reviewed is still accurate.
The big advantage of an automated accounting system is the simple fact that it saves time and money. This is an important advantage because money and time are both limited resources in any business environment. When automated hotel accounting software saves a company time, it also saves them money, which frees up those resources for other uses in the company. From a financial perspective, implementing an automated accounting system is cost efficient. The initial setup costs can be high, but overall, not having to perform monthly manual reviews will save more money than was initially invested in the automation system itself.