Canada is recognized as the world's second-largest country, with a vast land coverage of over 10 million square kilometers. Canada comprises the northern half of North America and bears the longest coastline spreading across the Atlantic, Arctic, and Pacific oceans. Canada is diverse in its geographical features, from provinces of British Columbia's mountains and plateaus to the infinite fields of the Prairies, the Pacific Coast's great lakes and seas, and a deep Arctic region. Canada's vast coverage and distinctive features make it specifically apt for individuals to immigrate to Canada with family.
Exploring the five Canadian regions and their geographical aspects will give you an idea of the best regions to settle. You can decide on moving to Canada after analyzing the best option for immigration.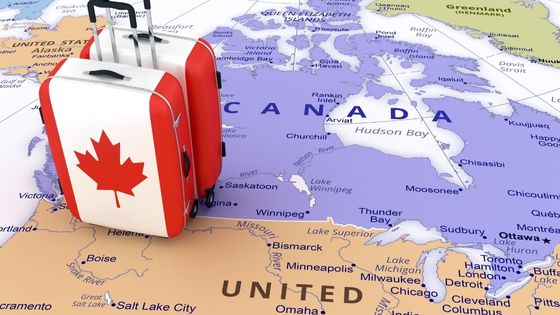 Canada can be classified into the following five regions based on its geography and also its popular occupations:
The Atlantic Region
The Atlantic region comprises provinces and their capital cities, such as Newfoundland and Labrador (St. Johns), Prince Edward Island (Charlottetown), Nova Scotia (Halifax), and New Brunswick (Fredericton).
Activities such as fishing, farming, mining, and forestry make the Atlantic region popular. Apart from being a naturally beautiful coastal area, it is also known for the province of Nova Scotia-the Canadian gateway. The province of Newfoundland and Labrador is also familiar as the British empire's oldest colony.
The Atlantic region experiences cool winters and hot and humid summers because of the Atlantic Ocean.
Central Canada
Quebec and Ontario provinces, along with their capital cities Quebec City and Toronto are located in Central Canada. It comprises more than 50 percent of the Canadian population. 18 million individuals are situated near the cities and towns of the Great Lakes and the St. Lawrence River in Quebec and Ontario's southern region. This region is also well-known for its Canadian industry and manufacturing. Ottawa, the National capital, is also located east of Southern Ontario. The climate is observed to be cold in winters and warm and humid in summers.
The Prairie Provinces
The provinces include Manitoba, Saskatchewan, and Alberta with their capital cities Winnipeg, Regina, and Edmonton respectively.
The Prairies region is thickly populated and continues to grow faster, with more than five million people at its heart. Fertile farmlands and energy sources rich in nature mark this region's popularity. The agricultural industry is the primary one in this region and therefore, this region is often referred to as the Breadbasket. With mining and hydroelectric power generation flourishing here. Saskatchewan is rich in wheat, grains, and oilseeds whereas Alberta is the largest oil, gas, and beef producer. The region is observed with dry and cold winters along with hot summers.
The Pacific Region (West Coast)
British Columbia province and its capital Victoria are situated in the Pacific Region. British Columbia is often known as the Pacific gateway of Canada. It has a population of 4 million, with most of them residing in either Vancouver or Victoria. The population is mainly Asian and the popular languages here are English, Chinese, and Punjabi. It is also renowned for its magnificent mountains. It is extremely popular with lumber and paper products (associated with forestry). It is also special for its mining, fishing, and shipping industries. British Columbia stands as part of its extensive park system consisting of over 600 provincial parks. The climate observed on the West Coast is temperate because of the Pacific Ocean's warm air.
The Northern Territories
The Northern Territories comprise provinces and capital cities, such as Nunavut (Iqaluit), Northwest Territories (Yellow Knife), and Yukon Territory (Whitehorse). It is also often widely known as the "Land of the Midnight Sun" as its daylight can last up to 24 hours due to its summer height. It is a thinly populated area due to its cold arctic climatic conditions, and only 100,000 people reside here. It is also known for its abundant natural resources, such as gold, copper, diamond, lead, and zinc. Individuals earn their living through a few sources or activities including fishing, trapping, and hunting. The climate observed in the Northern Territorial region is mainly long cold winters and short summers, slightly cool.