From times immemorial and undocumented, humans have envied the birds for their ability to fly in the sky. It was for this envy and enthusiasm for flying that humankind chased the ability till they figured out a way of making it possible for themselves.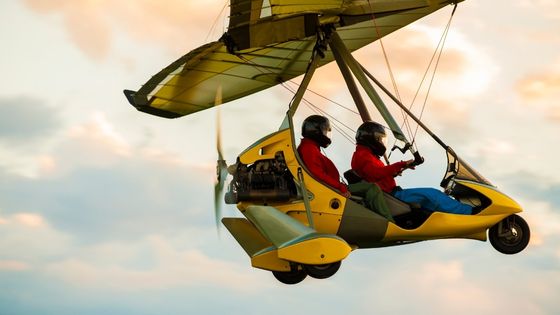 The one wish that all of us have shared as kids is to become a pilot and fly in the sky. And dreamt about it until it became clear to us that it is not something so easy or accessible. But if given a chance, who would not want to experience flying an aircraft in the sky or get the experience closest to that? Microlight Flying is that one chance for everybody!
What is Microlight Flying?
Microlight Flying is an aero sport that has soared in popularity in recent times. Microlight Flying, also called Ultralight Flying, is an activity where you pilot a super light aircraft with one partner. Microlight flights today are less noisier and faster. They can fly at a speed of 100km/ hr for long distances. The maximum number of persons on the plane can be 2 with a weight not more than 450 kgs.
Microlights are soaring all around the world. With the improved technology, they've become accessible to a large number of countries and come with guaranteed safe aviation. In case of unexpected engine failure in the air, the microlights can ensure a safe landing.
Best time to go microlight flying
Since microlight flying is done within low heights of the atmosphere good stable weather and a clear sky are mandatory. Hence it is advised to go for Microlight Flying in the months from October to March. Winter, spring, and late Autumn are considered to be the most beautiful and suitable of all seasons.
Eligibility for microlight flying
There are no eligibility criteria for microlight flying except that the person who wishes to take the ride is above 10 years of age, is not a patient with diabetes, heart-related disease, blood pressure, in bad health, or is pregnant for more than 3 months. If the passenger is old enough, healthy, and not too bulky to be difficult to fit in and get out of the seat, they're more than welcome to take the flight.
Where are the microlight flying facilities available in India?
There are three locations in India where Microlight flying sport is available. They are mentioned below:
It is available in hangar number 2 at the Mysore Airport.
It is located on Bellary road in Yelahanka, Bengaluru.
It is situated in Chennai.
Where to book tickets?
One can book the flights online in advance or one-site bookings are also available. It is advisable to book in advance.
Things to know before flying on the microlight aircraft
Only one passenger can fly with the pilot.
The passenger must be more than 10 years of age.
Person undertaking the flight must not be under the influence of any drugs.
Pregnant women are not allowed to take flight for health concerns.
One must carry an ID proof with them while booking as well as appearing for the flight.
Foreign nationals must carry their passports.
Passengers must follow the safety guidelines very seriously and not breach the safety protocols.
It is prohibited to click pictures in the air so one must keep their cell phones inside.
One must be in a healthy state while taking the ride and it is advised to avoid the flight if you don't feel fit.
Frequently Asked Questions about Microlight flying
Can one click pictures from above?
Answer: Clicking pictures from the flight is strictly prohibited for safety concerns.
Does one need to carry a parachute?
Answer: No. Carrying a parachute is neither required nor useful as the low height of flight does not allow the parachute to be deployed.
Is it safe to undertake microlight flying?
Answer: It is safe to undertake the aero sport. The planes are tested and verified before allowed operations. Their huge wings allow them to ensure a safe landing even if the engine fails in the middle of the flight.
Can children undertake microlight flying?
Answer: Children are allowed to take microlight flying if they are above 10-12 years of age. The child must undertake the flight as a single passenger and not with the parent as the aircraft allows for one passenger only.
Does taking a guest to spectate the flight cost extra?
Answer: Not. One can take guests to spectate the flight with them. It doesn't charge extra.