It's pretty amazing how many different kinds of kaftans from Morocco there are from an ethnic point of view. Part of the reason for this is that weather conditions vary from place to place. Sadly, a lot of kaftan styles have already died out or are dying out right in front of our eyes. Both the books about kaftans and the museums that keep them show how beautiful and interesting they are.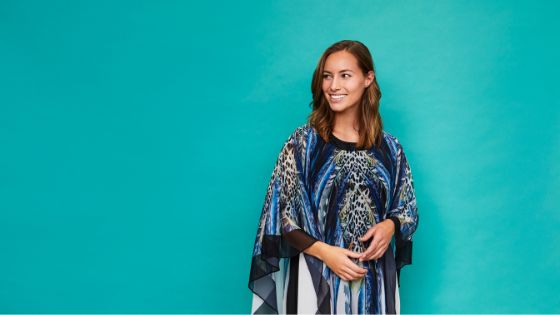 Even kaftans made today have designs that are so distinctive that they are known and liked everywhere. Modernization is a trend everywhere, but women's clothes seem to benefit from and adapt to the needs of the times without losing their glamour, beauty, or elegance.
However, in the mountains or in the country, there are as many different styles of clothing as there are regions, tribes, or ethnic groups.
History tells us a lot about the different kinds of kaftans that were worn at different times. They are different for each tribe or ethnic group, and regional styles change with the weather. The general harmony in a country at any given time makes them more or less the same.
In the beginning, this piece of clothing was made to protect the body in a wide range of weather conditions. After that, the garment took on new meanings. It became a way to keep modesty and chastity while also allowing seduction and elegance.
This is how the aesthetic side gained ground: kaftans started to reach the pinnacle of refinement in terms of both how well they were made and how they were decorated. It is very likely that the Phoenicians, Romans, and Greeks wore clothes similar to the kaftan, especially the ones worn by women in the 19th century. These kaftans are long, roomy, and have many folds or pleats that show hints of the body but cover it like a precious object.
Morocco was the ancient routes' farthest destination, and many of them went there to make money. Because it is the last Arab country when you start counting from the eastern Mediterranean, this is where the most important changes happened.
In more concrete terms, these contributions came about because Morocco is in the middle of several different worlds that all end at the Atlantic coast????
So, Morocco was affected by four types of trade routes: the sea routes of the Arabs, the Arab caravans that crossed the silk route, and the trade that went across the Volga River in Russia.
This shows how the kaftan has different roots. For example, the Viking route from the North Sea brought ideas from Europe and Scandinavia. The Phnician route connected their travels through Tangier and Rabat to the Canary Islands. All of these routes went through Morocco on their way to its important commercial centres at the time, such as Tangier, Rabat, and Sijilmassa.
Check out more from our Moroccan Kaftan dresses collection here. We have a curated collection of elegant classic Kaftan dresses for modern Young women with peculiar fashion tastes. Explore the offerings from leading designers and stock on your festive wardrobe now.
Ivory Kaftan Dress
This Crepe Ivory Kaftan is a perfect pick for daytime weddings or festivities. It's chic, minimal and trendy to the traditional concept of Moroccan kaftans. Adorned with a classic Moroccan border from the neckline to the bottom, the kaftan gives a refreshing appeal with its pearly choice of colour. The Kaftan boasts of detailed floral embroidery and its intricate detailing's catch attention to detail. Pair it with Silver or Nude heels and minimalist trendy accessories to complete your festive look.
Shimmer Satin Moroccan Kaftan
This nude-pink satin Kaftan is sure to exude royalty as soon as you slip in. The Kaftan is adorned with leaf embellishments on both sides throughout the dress length and comes with an identical belt to create a defined contoured look. Everything about this dress is phenomenal. Be it its extravagant sleeves, embellished belt, the colour palette, beads hem or the beautiful flair. Put forth your elegant Diva style with this Moroccan kaftan dress.
Pink Moroccan Kaftan
This Pink Moroccan Kaftan is a visual treat for the eyes. Designed with peculiar details, everything about this Kaftan dress screams elegance. Crafted in the dusty pink shade of Crepe satin, the fabric offers a beautiful flair and fit. The Kaftan is embroidered with colourful subtle beads and comes with an embroidered belt. The belt creates a beautifully contoured appeal to the body shape and gives you an illusion of being heightened. The mermaid tail hem of this dress steals the deal and makes it a perfect pick for wedding festivities at home.
Have a special occasion coming up? You know what to look forward to for your dress selection.
Sheer Embellished Kaftan
Looking for something breezy yet eye captivating? This Sheer embellished kaftan from our collection is a perfect pick for you. Crafted from organza chiffon mix fabric, the sheer sheen of this fabric will make you fall in love with the overall outfit. This kaftan set by BahiAlkhad is a beautiful piece depicting exquisite craftsmanship. The flounced sleeves, colourful embroidery, cinched waisted belt and the A-Line dress fall- Everything about this dress is perfect creating a harmonious put together look.
Kaftan Henna Dress
This sea green Kaftan dress offers a beautiful tinge of gold and is a perfect pick for wedding festivities. The kaftan dress features a round neck, flared sleeves, pearl embroidery, golden work and a slim waist tie. The outfit fits perfectly and enhances the body contours without making it look too flashy. It's the perfect elegant fit you need for your modest wear wardrobe.