You don't necessarily have to feel as though you're living in cramped quarters just because you're living in a small apartment. There are several things that you can do to create more room or at least give off the illusion of having more space while still maintaining a cozy, comfortable ambiance.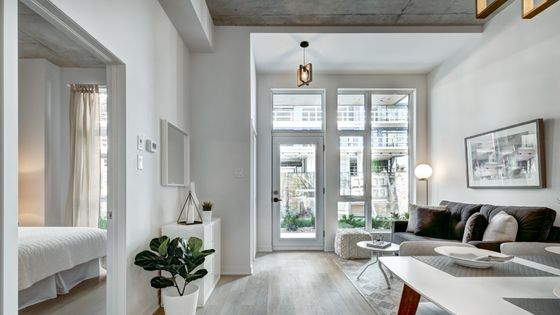 1. Install Shelves
Your small apartment may feel more cluttered because you have a lot of things lying around on floors and countertops, and shelves can be installed to hold many of these items and give you more space. You can install shelves on your walls and have multiple shelf layers, but you may need to ask your landlord for permission if you plan to affix the shelves to the walls with screws and nails. A bookcase or shelf stand can also give you more shelving. If your closets are cluttered, you can also try adding shelves to the closet walls and the insides of the doors.
2. Get Some Partitions
Partitions often work great for creating new rooms inside an apartment, which may be especially ideal if you don't live alone. Accordion-style partitions are easy to set up around different areas of an apartment, or you can use room dividers that come in other styles to make your small apartment seem more spacious. If you live in a studio apartment, you can set up partitions around your sleeping area to create a small bedroom for extra privacy and coziness. You may also choose to use partitions to section off a work area so that you'll be less distracted.
3. Consider Using Multipurpose Furniture
Some furniture pieces are built to have multiple functions and can save you from having to buy so many separate pieces. You can find tables that have drawers to give you extra storage space. Some ottomans also have storage compartments underneath their tops. Chairs that have small tables attached to them can offer you more convenience. If you have a sofa with a hide-a-bed, a foldable sofa mattress that's made with memory foam can help you rest easier.
4. Hang Pictures Of Outdoor Scenery
By putting some pictures of outdoor scenery on your walls, you'll create the illusion of having more space in your apartment. You can feel as though you're looking out into the open world each time you look at these pictures, which may be especially beneficial if your apartment has few windows. Some of the best outdoor scenery pictures include images of forests, mountains or deserts. Pictures of the ocean or other open waterways may also help you achieve a more spacious look. Adhesive tape or hooks can be used to hang your pictures if you're concerned about putting holes in the walls with nails.
5. Use Mirrors
Mirrors can make your apartment look like it's double-sized when they reflect images, and you can place multiple mirrors around your apartment for a roomier effect. Light is also reflected from mirrors, which can open up your space even more. Mirrors that have thin or no frames usually work best for this effect. Long mirrors can be hung vertically from different areas of your apartment. Mirrors that are designed to look like standard or cathedral windows may also work great in your living space.
6. Decorate With Lighter Colors
Dark or extreme colors often make indoor spaces look more confined. With lighter colors, you can give your apartment a more open feel. Lighter colors can also reflect light and help you maximize your indoor lighting. Review your lease agreement to see if you're allowed to paint your walls a lighter color. Light-colored furniture, accents and décor pieces can also be good for this theme. Cream and white are among the best color choices, but you could also try using some shades of lighter yellows and blues to achieve the right look.
7. Downsize Your Belongings
You may need to get rid of some of the stuff that's cluttering your apartment if you have limited space. Old clothes, electronics and other items that you no longer use should be purged from your apartment and either donated or disposed of responsibly. The belongings that aren't used regularly can be kept in an off-site storage unit, or you may have been given a separate storage unit at your apartment building that can be used to hold these items.
Closing Remark
You don't have to tear down walls, build new additions or take other drastic measures to give your small apartment more space. A few simple tricks can transform your apartment from a confined space into a roomier abode that you'll be happy to call home.