Having open lines of contact with consumers is crucial in today's business climate. Better customer connections and more satisfying interactions are the result of organizations employing effective communication tactics. Companies need to use all available channels to make their consumers feel like they matter, including email, social media, and the phone. These are seven ways to strengthen relationships with your clients.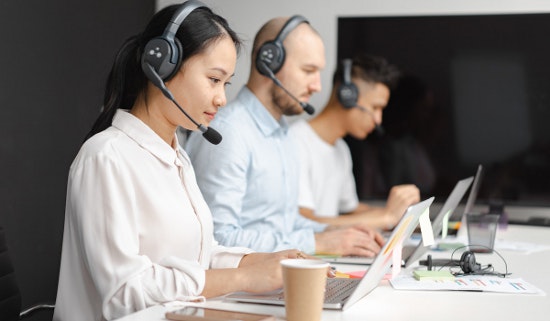 Why To Focus on Customer Communication
Communication with customers is more vital than ever in the modern corporate environment. Strong customer connections, brand loyalty, and expansion are the results of consistent and open dialogue with customers.
Improved Customer Satisfaction
Enhanced interactions with customers usually lead to happier clients. Customers are more likely to be pleased with their experience and return to your company if they believe their demands and concerns have been acknowledged and addressed.
Increased Trust and Loyalty
Customers' trust and loyalty may be strengthened through good communication. Customers are more inclined to stick with a company for the long haul if they have faith in its ability to consistently satisfy their demands and exceed their expectations. Earning more money and having a stellar reputation in your field might result from this.
Better Problem Resolution
Resolution of client complaints and concerns is impossible without clear and open lines of communication. Customers want to be acknowledged and understood when they have difficulties or queries. Building trust and loyalty while resolving issues before they become more serious is possible by actively listening to and addressing concerns in a timely and efficient manner.
Types Of Customer Communication
Phone & Video Communication
Customers and salespeople may have a more personal conversation over the phone. It's possible to have this kind of conversation in person, on the phone, or via video conferencing. This is a very formal type of effective communication.
Written Communication
Email, chat, and social media allow businesses and customers to exchange messages in writing. Both sides can actively keep a record of the exchange. Using an MMS provider for text message communication can also be helpful as this method is quick and effective.
Top Strategies to Improve Customer Communication
The success of any strategy for communicating with customers relies on its ability to be tailored to everyone. Consumers want to feel that their issues are being heard and addressed by actual people. Customers might feel more valued and appreciated when you use their name, ask them specific questions, and provide them with individualized solutions.
1. Use Clear and Concise Language
Consumers like it when businesses keep their communications straightforward and easy to understand. When communicating with clients, businesses should steer clear of sophisticated words and technical jargon. Instead, go for clarity and conciseness in presenting the facts.
2. Respond Promptly
Customers in today's fast-paced environment are used to instantaneous service. Organizations need to address consumer complaints and questions quickly. Customers' displeasure and discontent might increase if they must wait for replies. Responding quickly shows that you care about your clients and are dedicated to giving them the best service possible.
3. Listen Actively
Effective communication relies heavily on the skill of active listening. Listening carefully to the client and then providing a suitable response is essential. With this information, companies may better address their clients' individual problems. Businesses may earn their clients' confidence and loyalty via attentive listening.
4. Use Positive Language
Communicating with customers is greatly aided by using upbeat language. Employing upbeat language may help companies bond with their clientele and turn them into loyal patrons. It also has the ability to raise the profile of the firm and differentiate it from the other businesses in its industry.
5. Use Visuals
The use of visuals in marketing and advertising has been shown to increase sales. They have the potential to make information more engaging and simpler to recall, which may be beneficial to businesses. Examples of visuals include infographics, movies, and still photographs. If you want to improve your interactions with customers, this is the way to do it.
6. Train Your Staff
Make sure your support staff is well-trained in dealing with consumer concerns and questions. Make sure they are equipped with everything they need to provide first-rate service to customers.
7. Collect Feedback
Customers should be encouraged to submit input on your communication process, and this feedback should be used to continuously enhance your communication approach. This will help you grow as a business.
Conclusion
Maintaining solid connections with your clientele necessitates constant and clear lines of communication. Businesses need to be able to successfully interact with their consumers in order to satisfy their requirements, which range from delivering outstanding customer service to quickly addressing difficulties. You should tailor your approach to the customer's preferred mode of contact from among the many choices, such as in-person meetings, telephone conversations, and social media messaging.