After your wedding, it is your first trip with your significant other which does not necessarily need to be expensive to be memorable. Luxurious lodging at lavish resorts and flying through first-class is undoubtedly alluring. Still, if you've spent all of your money on a lavish wedding or want to make little things memorable, there are plenty of affordable honeymoon destination. For many of us it is not possible to afford upscale weddings and luxurious honeymoon which in fact does not even matter. All what matter is love and compatibility between two committed people. We made an effort to give you a list of some affordable honeymoon destinations to visit in 2023.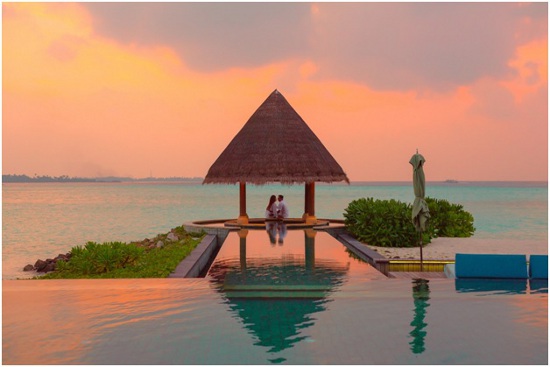 1: Florida Keys:
Places in the Florida Keys, such as Key Largo and Islamorada, maybe terrific options for affordable honeymoon destinations if you're considering travelling to the Caribbean but can't afford to fly abroad. If driving is prohibitively expensive, cheap flights to Miami are frequently available from New York City and many other significant cities around the United States. Once there, rent a car and experience the over 106-mile Florida Keys Scenic Highway as it winds through the enchanted islands with miles of breathtaking ocean views and palm palms swaying in the breeze. You can toast to your new union while snorkeling in warm waters, swimming with dolphins, and enjoying beautiful sunsets when you get there.
2; Mexico:
Another popular and affordable honeymoon destination is Mexico. Once more, you might choose an all-inclusive hotel on the beach for your honeymoon. Alternative options include a couple's retreat focusing on healthy eating, meditation, and experiences. If you enjoy a tropical atmosphere, there are many resort-style lodging alternatives in Riviera Maya. Places like Cozumel appeal to couples who enjoy scuba diving and other daring sports and have many options for relaxing on the beach. Cities like Cabo on Mexico's west coast are popular choices for honeymooners looking for a lavish stay or if you prefer dry temperatures.
3: Las Vegas:
Nevada's Las Vegas is an ideal and affordable honeymoon destination. Newlywed couples won't be let down by this city's nonstop bustle, which includes a wide range of activities, shows, events, concerts, and casinos. Many restaurants offer a wide range of tastes and sensations and lots of free activities and sights to see. When planning your honeymoon, Las Vegas has so much to offer and genuinely has something for everyone, regardless of the season. Vegas is known for its casinos, concerts, shows, and nightlife, but it's also quite easy to access the outdoors. A fantastic free activity is hiking. The largest observation Ferris Wheel in the world, a gondola ride at the Venetian hotel, ziplining, the Neon Museum, and the Flamingo Habitat are just a few of the unusual activities that Vegas has to offer.
4: Sri Lanka:
In the Indian Ocean, it is also possible to live comfortably and affordably on this lovely and welcoming island, albeit your biggest outlay will be your flights. Even though Galle's fortified old city is home to several pricey boutique hotels, it is possible to plan an all-inclusive beach honeymoon. Visit temples, hilltop villages, elephant sanctuaries, and the historic city of Sigiriya. You won't ever get bored; we guarantee it. Even in first class, trains are a very affordable way to get almost anywhere. To minimize disappointment, it is advised to make reservations in advance.
5: Costa Rica:
Costa Rica is one of the best getaways in Central America because of its diverse culture, gorgeous rainforests, and amazing beaches. This tiny nation, sandwiched between Nicaragua and Panama, has a lot to offer regarding natural beauty and wonderful weather. This country, which is distinguished by its location between the Caribbean and the Pacific Ocean, provides a variety of landscapes, including coastlines with black volcanic sand, rocky coves, and white sand beaches. You can zipline and have a lot of local coffee.The dry season, which lasts from mid-December to early April, is the ideal time to visit Costa Rica. Great weather also means a lot of people and expensive things.
Fortunately, Costa Rica offers great value for money wherever you go. Just be sure to make bookings for your lodging and tours at least three months in advance. Visit between May and November when costs are reasonable, and the tourists are gone if you don't mind a little rain. Showers usually only take a couple of hours, so they won't significantly detract from your trip.
6: Florence:
This modest Italian city, well known for its culture and Renaissance art, certainly checks off many boxes. For an incredibly romantic encounter, stroll through this walkable city hand in hand. The capital city of Tuscany has so much to see that you'll enjoy marveling at the magnificent architecture.
See works by Botticelli, Titian, Michelangelo, and Leonardo da Vinci at the renowned Uffizi Gallery. Then, at night, enjoy delectable Italian cuisine and celebrate your honeymoon over a Tuscan wine as you watch the sunset over Florence.
7: Ireland:
If visiting Europe has always attracted you two, you should also consider going to Ireland. This island is one of the cheap honeymoon places that offers a lot to its visitors. Due to the breathtaking natural surroundings and numerous tourist attractions, honeymooners will undoubtedly have a wonderful time here. Ireland is also regarded as the second-largest island in the British Isles. Budget is one of the key factors that can either benefit your trip if planned and decided beforehand. You can opt for affordable transportation and accommodation options to make your trip to this beautiful country of Europe affordable. You can use Maple Parking discount codes to make your transportation inexpensive.
Conclusion:
We all dream of making our ever-remaining memory of life after the wedding memorable. But during these days of inflation, it is also important to plan everything within budget. Something like a honeymoon does not require luxury, but this beautiful time of life only needs to be spent with love and the motive of building everlasting memories. To make your onset moments of wedding special, you can follow the suggestions of the above-listed few cheap honeymoon destinations.