Most households in the UK have small bathrooms. However, it does mean you should not try to make them highly functional and aesthetically pleasing. It can still be a perfect space for relaxation by utilizing the space cleverly. Small Bathroom suite can provide you with an ultimate solution as these come with matching sinks and toilets. So, you don't need to struggle with finding the one. However, small toilets and sink is just a part of the story. There are many other things that you can do to enhance your cloakroom bathroom suites.
In this article, we are going to discuss various ways to have a better small bathroom.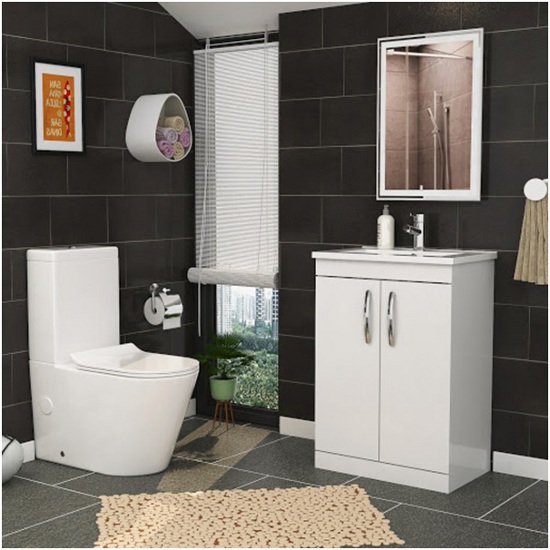 Utilize the Corner Space
One of the biggest challenges of small bathroom design is making the most of the limited space. Every inch count, so it's important to choose fixtures and storage solutions that are both stylish and functional. One smart way to maximize space is to install a corner sink. Corner sinks are perfect for cloakroom bathroom suites because they make use of an often-underutilized area. By freeing up floor space, corner sinks also make bathrooms feel larger and more open. In addition, many corners sinks come with built-in storage options, such as shelves and cabinets, which can help to declutter countertops. With careful planning, a corner sink can be a great addition to any small bathroom suite.
Add Wall Hung Vanity Sink Units
When it comes to small bathrooms, one of the best ways to save space is to install a wall hung vanity sink unit. These sink units have a design that makes it possible to hang on the wall, freeing up floor space in the process. In addition, wall hung vanity sink units often come with additional storage options, such as shelves and cabinets, which can further help to maximize space in a small bathroom suite. With careful planning, a wall hung vanity sink unit can help transform a cramped bathroom into a spacious and functional room.
Add Floating Style Toilet
You should not just limit yourself to a wall hung vanity sink unit. But there are compact toilets are also available in the same wall hung style. The wall mounted toilets can be incredibly helpful for a cloakroom or bathroom with small space. These are not only stylish but highly practical solution as well. The luxury appearance will make them a center of attention in any bathroom space.
Use Wall Mounted Taps
Wall mounted taps are a great way to save space in a cloakroom bathroom suite. By mounting the taps on the wall, you free up valuable counter space that you can use for other purposes. Wall mount taps also create a sleek and modern look in any bathroom. When choosing wall mounting taps, be sure to select ones that are specifically designed for the cloakroom bathroom suite. These taps will have a lower profile and compact design that is ideal for tight spaces. Be sure to consult with a plumber to ensure that the taps are having proper installation and that there is sufficient water pressure for proper operation. With a little planning, these tips can help you maximize the space in your small bathroom suite.
Install a Large Mirror
Small bathroom suites can often feel cramped and cluttered. However, there are a few simple design tips that can help to maximize the space. One such tip is to install a large mirror. Mirrors reflect light and make the space appear larger. They can also be used to create the illusion of more windows. In addition, mirrors can be used to highlight certain features or artworks in the room. For example, a mirror placed above a sink can help to reflect the light from a window, brightening up the space. Similarly, a mirror placed opposite a piece of artwork can create an interesting focal point. By using mirrors effectively, even the smallest bathroom can feel spacious and inviting.
Use Light Colors to Make the Room Feel Larger
When it comes to small bathrooms, the use of light colors can be a game-changer. Not only do light colors make the room feel brighter and airier, but they also create the illusion of more space. If you're looking to give your cloakroom bathroom suite a fresh new look, consider painting the walls in a light, neutral shade. You could also try using light-colored tiles or wallpaper to create a similar effect. Whatever approach you take, remember that light colors can help to make a small bathroom feel much larger.
Final Thoughts
Whether you have a small bathroom suite or looking to spruce up a cloakroom, there are many tricks that can bring a huge change the way these look and feel. Therefore, you should not back off your plan to enjoy a personal oasis even when the space is not enough. We have provided a few basic tips on handling the small space. There are even more ways to utilize space efficiently.