So you have decided to take up yoga and adapt it as a part of your regular lifestyle. While this decision marks the first step on the road of holistic health and wellbeing, it is important to do the ideal beginning – prepare the body and mind to explore yoga in its authentic form. And the only routes that lead to it all go through Hatha Yoga practices.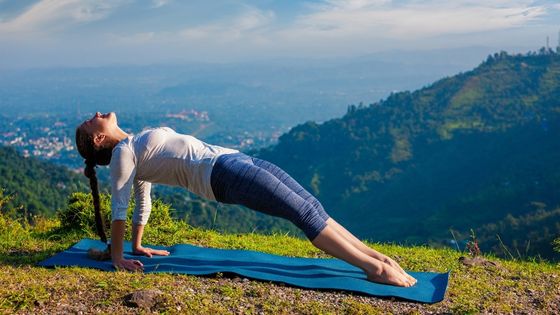 Here, in this article, we would share the most important reasons why Hatha Yoga is indeed the perfect practice for beginners.
Helps Gain Mental Clarity, An Essential Component of Yoga Practices
Hatha Yoga combines three things – coming into a physical posture with meditation and breathwork. When we sync our breaths with the poses while staying in a meditative state, it does wonders in helping us attain mental clarity and focus. As we enter any kind of stressful situation, the immediate response is to choose between fight or flight. Hatha Yoga helps manage this response with mindfulness as we gain clarity in our thoughts and manage our reactions as per it rather than make a reaction based on thoughts that are clouded. This is the beauty of Hatha Yoga.
As you learn to hold each posture and count each breath as you hold it for a few seconds, you focus on being in the present rather than thinking about the past or the future. Your transition into mindfulness begins with Hatha Yoga.
Increases Flexibility for Refining the Yoga Postures
As you adapt to the Hatha Yoga practices, your entire body starts to gain flexibility. Each posture as you practice allows you to stretch and work on a group of muscles which helps improve the flexibility of the body at all levels.
Enhances the Movement of Spine and Increases Spinal Health
During several Hatha Yoga poses, a yogi needs to sometimes bend forward or backward or twist towards each side. This directly works on the spinal health, i.e., it helps in increasing the flexibility as well as the mobility of the spine thereby facilitating a healthy blood flow. Spinal health is highly crucial to perform day-to-day tasks as it sends and receives signals to and from the neuro system to the body.
Helps Gain Hawk-Eye Focus While Aiding the Body to Relax
Our body holds stress and tension in various parts of the body. Yes, that's right! Stress is not just in the mind, it eventually perforates the body too. We hold stress in areas like the shoulders, hips, and lower back. While performing Hatha Yoga practices, we work on releasing this pent-up stress that we store in these areas of the body thereby relieving it from stress. When our body is relaxed, we can automatically focus better on the work at hand.
Helps Maintain A Healthy Body Fat Percentage
Of the many benefits of Hatha Yoga for beginners to advanced level yogis, we often forget one of the most common benefits of all – weight management. Yes, a regular practice of Hatha Yoga is highly beneficial to keep the body in shape and get rid of excess fat. According to Harvard Health Publishing, you can burn 120-180 calories (depending upon your weight) by doing just 30 minutes of Hatha Yoga. If you are looking to do some serious weight loss, then combine Hatha Yoga with Ashtanga Yoga and a sattvic diet, you would not be disappointed.
Purifies the Energy Channels and Prepares the Body for Yoga
As you breathe in and out with each pose while using the force of your body and mind to sync with the pose and as you stay in that posture, all your energy channels become active and start working towards complete purification to facilitate a free flow of energy throughout the body. Hence, Hatha Yoga builds the first stage towards coming into the state of yoga.
Helps Establish Balance between the Mind, Body, and Spirit
When we begin yoga practices, we begin these for different reasons. Some of us do it for the sake of physical fitness, some do it to gain mental clarity, and some do it to gain more spiritual insight into life. But one thing is common for all and that is Hatha Yoga does it all. It helps establish the perfect equilibrium within the body, mind, and spirit so you can manage any stressful situation better.
Increases Strength and Endurance
Whether you are new to any kind of exercise routine or not, to be in yoga or not, we all need mental and physical strength to live a healthy and sound life. In fact, if our endurance levels are good, then there is nothing like it. A regular practice of Hatha Yoga gifts you amazing strength and endurance that works on the mind and body both. As we practice each pose, we learn to become patient, but we also utilize the force of our body and mind to stay in the pose for longer periods of time. This time duration to stay still in the state of Hatha Yoga increases day by day as the practice deepens.
Improves the Mobility of the Joints
The Hatha Yoga postures are designed to work on the joints and improve its mobility so the person can stay active and healthier for longer. No wonder our yogis can climb the mountains with just a stick even today.
Puts You On the Journey of a Yogi
Above everything else, Hatha Yoga puts your body and mind on the journey of becoming a true yogi, alight with love, energy, and strength. This is the beginning of a grand journey ahead.
Looking to Practice Authentic Hatha Yoga? Here's What You Can Do
Since Hatha Yoga is the first yoga form, its origin dates back to the 1st century CE back in India during the time of Natha Yogis. So, if you are keen to study and practice the most authentic form of Hatha Yoga, then go with a 200 Hour Hatha Yoga TTC in India. Further filter it down to a Hatha Yoga Teacher Training in Rishikesh and you have hit a yogic treasure trove.
All the best!