If your home is your safe place, then your bedroom is the heaven where you can dream all you want and be whoever you want. It is your sanctuary, and it must give you relaxing and soothing vibes instead of blinding you with bold colors.
When choosing a bedroom color, one must be very careful. It changes the way you feel in your room, and it also affects your quality of sleep.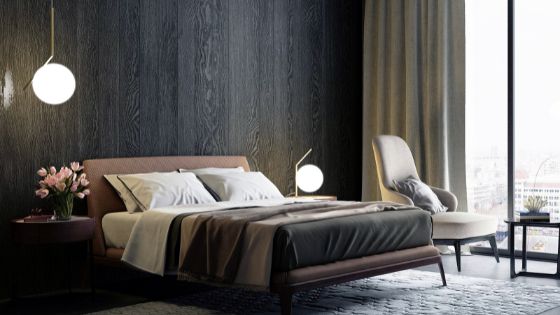 So, if you are changing your bedroom color, consider these tips before zeroing on one and consult the best home additions San Diego services to help you out.
How to Pick the Best Color for Your Bedroom?
You must know what you want from your bedroom or how you want to feel in it. If you have any difficulty understanding it, you can always take help of the best home additions San Diego services to guide you.
It Should Relax You
The bedroom is a place where you can totally unwind, so pick a color which soothes you after a rough day. You can choose soothing saturated gray.A pale gray color will bring an air of simplicity and sophistication. Different shades of white such as ivory white or an off-white color with an accented wall is also a good idea. These colors are soothing to eyes and also calm your nerves.
It Should Add Warmth to The Place
Red is the color of a rose, and the color of love and it will only add passion to your bedroom and your life. So, add a tinge of red and make your bedroom an intimate place. You can paint the whole room red with a bright fifth wall and a contrasting floor, or you can create an accent wall with red and turn it into a picture wall to decorate it with your most beautiful memories.
It Should Not Be Claustrophobic
The biggest mistake people make is looking into lifestyle magazines and choosing a color without considering if it is fit for their room or not. Today, contrasting black and white, gray, and navy blue colors are quite trending and people want them for their bedroom. These colors can make your room claustrophobic if you don't get enough natural light in your room, your room size is small, or you pick a very dark shade.
The dark gray, black, navy blue, chocolate brown, mauve, etc., are the colors which look beautiful if you have French windows in your balcony and an east facing bedroom. Also, ensure that your bedroom has enough lighting to make it look like a heaven, instead of a cave.
It Should Be Cheerful
After all, your bedroom is where you wake up, then why not wake up with sunshine in your eyes? What about a bright or pale yellow? It looks beautiful. For children's bedroom, yellow is one of the most popular shades. You can also try it in yours. You can pair it with white or a pale gray and it will add a hint of sunshine to your room. It also brings positivity in your life.
It Should Calm Your Nerves
To dive deeper into the sea is what calms your nerves or soaring high in the sky does it for you? Add a little of water and sky to your bedroom by introducing blue in your bedroom. You can go for a beautiful blue accent wall and choose a deep sapphire blue. Or, you can choose a cool dusty blue and paint your bedroom in the color of tranquility.
It Should Energize You
When you wake up, you want to feel energized. Let your bedroom color do it for you. Choose a beautiful shade of coral and bring energy in your bedroom and life. It's not too bright, warm, and dull. It's a perfect mix and brings the perfect amount of energy, beauty and tranquility. It goes well with every type of color.
Coral and white looks perfect and gives your bedroom an air of sophistication. Coral paired with blue gives you the feeling of a day on the beach. Coral and yellow are paired to add colors to your bedroom. Apart from it, you can pair it with gray, gold, purple, mauve, and several other shades.
It Should Make You Feel Serene
There are not enough words to describe what different shades of white can make you feel. Choosing an ivory or off white color is perfect if you are looking for a serene bedroom. You can pair it with a vibrant patterned carpet for a classy look.
It Should Look Luxurious
Purple is a beautiful color and when the right shade goes on your walls, it makes your personal space look luxurious. It also brings out the creativity and uplifts your mood. You can pair the amethyst with a moon white color and your bedroom will brighten up. Or you can choose a dusky purple to paint your entire room for Barbie-like scenery.
It Should Inspire Growth
Green is the color of prosperity and nature. It symbolizes growth. There are numerous shades of green available out there to give your bedroom a natural and serene look. You can go for a teal color or a turquoise green to pair it with white bedding and curtains. A bright green accent wall is something you don't want to miss.
It Should Look Pretty
Pretty pink is not a color you can overlook. Not just your daughter likes it, but the right shade of pink will make it your favorite too. You can go for a pale pink backdrop and pair it with some minimalistic colors like white and pale blue. A bright pink fifth wall is also a good idea.
What More?
Looking at different colors make you dizzy with beauty as all of them are so beautiful and you don't want to paint your bedroom all the shades of a rainbow. Choosing a bedroom color need not be daunting if you know what you want and how you want to feel in your bedroom. So, go over the above tips again and you will find what you are looking for. Visit the best home additions San Diego services near you for the best advice.