Are you pursuing some easy and simple ways to design your living room with creativity? It is not as difficult as it looks because you can renovate your room without spending a hefty sum and with few magnetic products. A pleasant environment can give you relief and a simple way to sit and enjoy your quality time calmly and comfortably. However, to revamp the look, there are some interesting living room design ideas that you should know and try in your room. This blog will guide you through easy tips to help enrich the room with pretty adornments.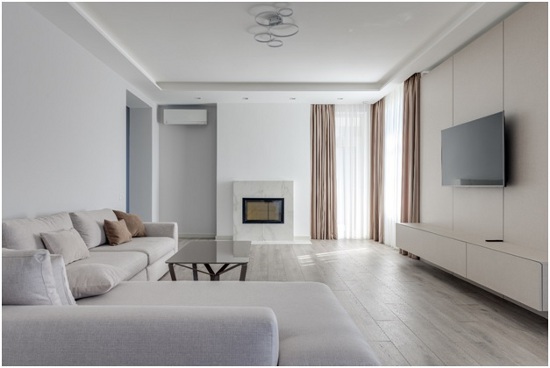 Top 7 Living room design ideas in 2023
As we all know, the living room is the most used place in our houses and maintaining its splendor is quite difficult. But still, we all want to revamp it to give our home an amazing look because our houses play an essential role in representing our lifestyle. So, why not decorate it with some striking pieces of furniture and home décor accessories to enhance its attractiveness? Look no further and read this blog and get some useful living room design ideas.
Here are 7 innovative solutions to improve your lounge look.
Get Elegant Designed Furniture
Decoration Solutions with Lighting
Add Up Some Grace With Rugs
Embellish Faux Plants
Style With Antique Pieces
Pick A Beautiful Color For Wall Painting
Transform With Books
Get Elegant Designed Furniture:
Everyone wants delicately designed furniture for their lounge because furniture design greatly matters. But choosing the right furniture is not that much easy. Therefore, remember that before buying any furniture, it must be comfortable yet affordable so that you can sit comfortably and relax in your sofas, chairs and more without getting out of your budget. Then pick the right color that matches your room walls; it will be one of the best living room design ideas ever. The furniture design is on the top, which is very important. Some furniture looks over because of its heavy designs. You should get a unique design because the sitting room looks good.
Decoration Solutions with Lighting:
Lighting is one of the main living room design ideas for decoration. It helps to uplift the glory of your front room because lighting decoration is like a cherry on the cake. Add attractive floor lamps at the room's corners and ceiling lights to give the room an ultra-luxurious look. You can also add wall lights and chandeliers for more charm. The most difficult part is getting these fancy lights at reasonable costs, as these lightings are very expensive. Accordingly, you don't have to worry about the hefty prices, and you can go through Costway discount codes to make your purchase hassle-free.
Add Up Some Grace with Rugs:
The floor of your living room also needs some elegance which is only possible with rugs. Rugs are a comfortable and cultured living room design ideas. This idea is somewhat unique as it is less common in modern houses but gives a classy touch to the decoration. Consequently, you can go for the Polka dot or abstract design rug and place it in the center of the sitting room. You will also feel the warmth and cosines as the rugs are so comforting. You can also opt for hanging rugs which you can hand on the wall, which will be a captivating option for decorating walls.
Embellish Faux Plants:
Plants are not only the source of oxygen for us but also create a refreshing atmosphere around us. Since, plants refreshes the air so they can also be used as interiorbeautification. So, decorating plants is the perfect living room design idea as they provide an eye-catching view of your room. Give a natural touch to the room with some faux plants and soothe your eyes with them because greenery always looks good outdoors and indoors.
Style with Antique Pieces:
Antique pieces are an incredible way to design your home better. They have always been great home décor accessories. Some artistic antique showpieces, small figurines and pottery will give a space an intriguing look. These are also attention-grabbing accessories from which people can't get their eyes them. Antique showpieces can be an excellent living room design idea that you should try. Additionally, you can add some vintage paintings for a more enhanced look.
Pick a Beautiful Color for Wall Painting:
Wall painting greatly impacts the look of the room because a perfect color matters. It would be best to paint your room walls with lively colors to create an outstanding aura. Pastel colors also look stunning, and you can decorate walls with beautiful photo frames and canvases. The pastel shade will be a better background for any wall décor since light colors suit best on the walls.
Transform with Books:
Take your home look to the next level with an incredible bookshelf. Because the bookshelf is one of the finest living room design ideas, making an everlasting impression on everyone. Place a captivated design bookshelf in one corner of your living room, elevating the room's appearance like never before. The books can also be placed in the wall cabinets and the center table in front of the sofa set to make a more creative design.
Wrap Up!
Designing your home is the best hobby; everyone likes to renovate and decorate their homes after some time. People love to bring creativity and art to their homes as it is their comfort zone of everyone, and who doesn't love to maintain their comfort zone? Because at the end of the day, after getting free from a hectic routine, everyone prefers to watch TV while relaxing on the couch and eating their favorite snacks. Consequently, this is important to make your comfort zone the most attractive by adopting the newest living room design ideas.