Today's book industry is seeing an increase in demand for ghostwriters. Hiring a ghostwriter gives you the freedom to tell your narrative how you want it to be told, regardless of whether you're too busy to write a book or simply lack the writing skills. Several businesses, influencers, and celebrities have turned into self-publishing ghostwriters. This gives rise to self-publishing and the significance of writing a book while increasing work credibility.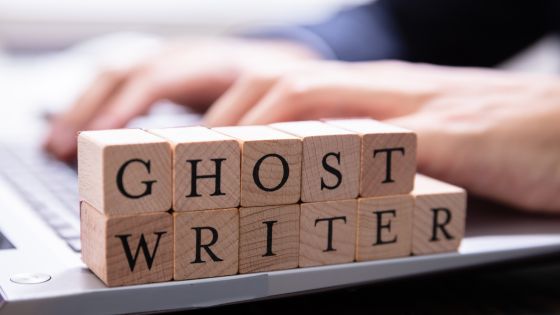 If you have a book concept but lack the time or skills to write it yourself, ghostwriters might be the answer to your problems. Self-publishing ghostwriters help you turn that idea into a book you can hold in your hands. There are several benefits of hiring a ghostwriter, but before moving forward, we should look into the definition of ghostwriters.
What is a Ghostwriter?
A person who creates written content anonymously is called a "ghostwriter." They can produce different kinds of content, such as a single blog post or writing an entire series of books. Many people prefer ghostwriting. Some write the content anonymously, and some write it under their names. A ghostwriter usually comprehends the information given by the client and writes it in their voice. They produce the best content, and the client gets all the recognition.
Why Should You Choose Self-Publishing Ghostwriters?
There are several ways a ghostwriter might assist a struggling writer in becoming a published author, from improving content to assisting an author in choosing a publishing path. They also act as a publishing consultant or provide specific recommendations. While a personal connection from ghostwriters may help an author get their foot in the door, every self-publishing examines each book on its own merits and gives you full control over your book.
Benefits of Hiring Self-Publishing Ghostwriters
Here are some common benefits of hiring self-publishing ghostwriters:
Saves Time!
Since authors are busy writing high-quality content in a limited time frame, many rely on ghostwriter services. Therefore, they hire a ghostwriter who can deliver the project in a short span and reduces the amount of time needed for publication.
Fewer Efforts Needed
Ghostwriters are supposed to save you the work of writing and self-publishing your book. They perform the bulk of the work when it comes to writing the material, gathering all the relevant data, and publishing it.
High-Quality Content
If you are knowledgeable about your subject but lack writing and publishing skills, you can choose to hire a professional writer to assist you in creating a high-quality book.
Control Over the Process
You can have full control over the entire process after hiring self-publishing ghostwriters. The services offered by the self-publishing agencies can be an appealing option for clients if they want to publish their books with high royalty rates.
Gain Recognition
Hiring a self-publishing ghostwriter can help you in creating content and attract readers. You can hire a ghostwriter for your book and get the credit for it.
Make Your Decision Wisely!
When you are looking for a self-publishing ghostwriter, you should build a connection with them. You should consider many factors while hiring a ghostwriter, such as their background, previous projects, and expertise. You should have a conversation with the hired ghostwriter to gain good results.
Communicate Your Ideas
When you hire a self-publishing ghostwriter, you should communicate all of the ideas with them so that the ghostwriter won't do any guesswork. So, in order to make your work according to your choices, you should tell them your visions.
Participate in The Process
A client should participate in every step of the process of writing and self-publishing. You can probably face the aftermath if you don't spend time on the project. If you're ready to remain involved as a writer while your work is being ghostwritten, it will likely come out as you had hoped. Be ready to actively participate or live with the outcomes because even the best ghostwriters cannot write your ideal book without assistance.
Know The Subject of Your Book
When you hire a ghostwriter for your book, you should ensure you know the subject of your book. You should give all the pointers and ideas your ghostwriter needs for writing the book.
Spend The Money Wisely
When you are hiring a ghostwriter, you should look into several things, such as the track record of their success. As you know, good quality demands a good price. So, to hire an experienced ghostwriter, you must keep a good budget in mind.
Summing It Up!
A ghostwriter creates the content anonymously. If you are an author but don't have time to show your skills, you can hire a ghostwriter. A ghostwriter helps you to write a book by comprehending the information you have given and writing your tone. There are many benefits of hiring a ghostwriter, as it saves your time, you can put in less effort, and getting high-quality content. You can also get full control over the process and gain recognition. So, if you want to hire a self-publishing ghostwriter, you should participate in the process and know the subject of your book to communicate ideas with the ghostwriter to create your book according to your choices.