For students who have graduated, career planning is a must. Only with proper career planning, they can land their dream job. Having a decent job and settling in life is the ultimate aim of graduates at the end of the day. Working professionals need a stable job with a suitable work nature and culture. If you are a final-year graduate or a working person and thinking of- How to get a job?; How to stay in a company?; Skills needed to retain a job position; How to adapt to the company's work culture?; How to improve your resume? If you are unsatisfied with your job or want to switch careers, this post by Best Career Counselling in India is for you. Keep reading.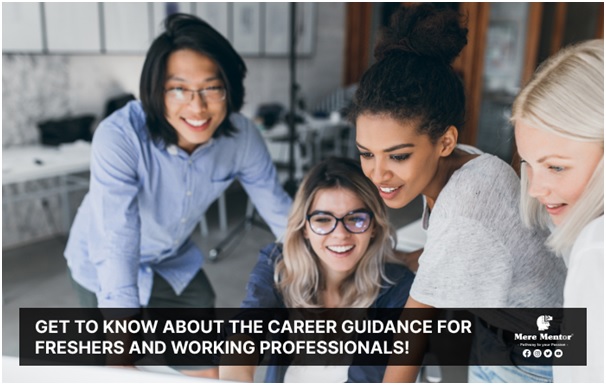 What Is Career Guidance?
Career counselling is a process where counsellors help you make career decisions. Career counselling helps you know your strengths, weaknesses, hidden abilities, skills and passion. The career guides suggest career and job options suitable for your personality, values and background. You will get to know about the availability of a plethora of career options. Career counselling for freshers and working professionals deals with concerns like establishing boundaries, skills to develop, tips for creating a resume, finding jobs, etc.
Who Is A Career Counsellor?
A career counsellor is a professional who helps students, graduates, working professionals, NGOs, Government in providing career counselling. The routine of career counsellors is to conduct psychometric assessments, generate career reports, conduct individual counselling, provide action plans and assist the clients with their every query. Career guides are well-versed with numerous career options, cons, and pros. They also handle the concerns of working professionals and freshers in their jobs.
Freshers, Follow These 3 Steps To Land A Good Job:
Freshers require a career counselling session to get the right job which suits their personality, values and background. But freshers must follow a few things to land a good job, as suggested by Career Counselling in Mumbai.
A fresher should be clear enough to know about the industry and its function to which they apply for a job. Only if the aspirant understands the work nature and culture he will be able to survive the environment.
If you are a fresher and have more than one company, job, or position in your mind, build a resume accordingly. Customise your skillset for the job roles or companies you are applying to based on the job requirements.
A fresher should be skilled enough for the post he is applying for. Though having experience is impossible, they should have good knowledge of the subject and an understanding of how the job works.
How does a Career Counsellor help a Fresher?
Career counsellors help you in finding your area of interest. For example, if you have completed a Law degree and are not willing to go and practice in court, they can help you bring out your other hidden talents to have a career out of that.
Career counsellors help you enhance your skill sets and suggest the necessary skills to develop for a particular job.
Career counsellors of Best Career Counselling in Kolkata make you understand the job market. For example, to have a career in Banking and Finance Industry, the competitions are high, so the probabilities are less for an aspirant to get a job. Knowledge of the working of job markets is a must for a fresher to get a post.
Career counsellors help enhance your overall personality and boost your self-confidence and self-esteem. Some people are highly talented but do not get a job quickly because of their inferiority complex. A session with a counsellor can improve your confidence level and give you a new life purpose.
Career counsellors help you in planning your future. They do not influence or force you to do or take up something. Instead, they encourage you to try things that will work out for you after reviewing your career report based on your psychometric assessments.
How does a Career Counsellor help a Working Professional?
Some of the working professionals won't be satisfied with the job they are doing. Career Counselling For Working Professionals help them by exposing them to many other job opportunities. They make you understand the nature of work in those careers, and they will help you adapt to that particular work environment.
Some job-goers want to switch jobs for many reasons. It could be because of not liking the work, a stressful environment or anything. For example, if you are working in some corporate and want to switch your field to writing, then counsellors can help you with the adaption and stuff.
If you want to quit your job and do a master's degree abroad or in the same country, counsellors can help you with the procedures, admissions, colleges, visas, etc. They also groom you with the necessary skills needed to pursue the course.
If you want to switch careers and do not know what to do next, career counsellors make suggestions based on your interests, capabilities, passion, skill sets, etc. They also come up with backup options if you are not okay with their opinions.
Switching a career from one to other can be mentally draining and can put you in depression and anxiety. Career counsellors ease your depression by motivating, encouraging and teaching you the techniques to handle stress.
Career counsellors of Career Counselling in India help you build your curriculum vitae. Switching to a completely different career will require a different set of skills. So, they assist you in creating your profile and enhancing your resume with the needed details.
Before making any suggestions, career counsellors will do a lot of research, and after that, they instruct you to do something. Also, since they are professionals, you need not worry about your privacy.
Conclusion:
In this blog, you learnt how career counselling is crucial for freshers and working professionals. Career counselling is only a medium to help you get placed in a good job or get into some course. But graduates and working professionals should remember that the ball is in their court to make decisions.