The popularity of podcasts has increased and magnified in the last few years as if it has taken the world by storm. Everyone owns a smartphone in this digital era, and listening to podcasts is how people of the modern world seek information and entertainment. But what about using podcasts for business? Podcast marketing is an emerging trend in the business world. Read on to know how you can use podcasts to build your brand awareness.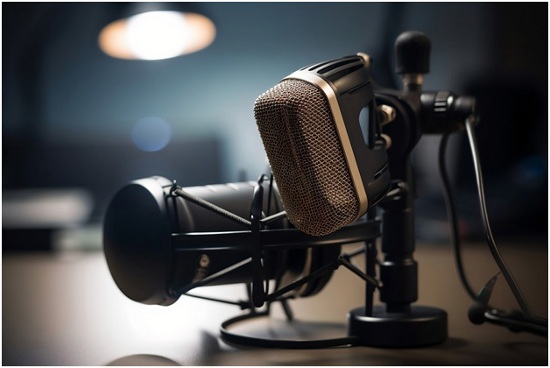 What is a Podcast?
A podcast can be defined as a program made available in digital format that can be downloaded via the Internet. It is basically a series of digitally created and organized episodes focusing on a subject or theme, such as technology, start-ups, or anything else. It can be described as digital radio. A device and an internet connection are all you need to listen to a podcast. If executed well, podcasts are beneficial in:
Promoting a good or service
Attracting and generating new leads
Increasing overall conversion rates and revenue
Increasing the volume of loyal and invested customers
The Rise of Podcast
The pandemic significantly boosted the growth of podcasts. Despite the lockdown, media companies created podcast channels. Many companies, brands and organizations launched their podcast channels, gaining immense popularity worldwide.
Companies also began to develop specific podcast channels for their employees. Podcasts gradually started to be seen as a powerful, versatile, and informative medium. Their excellent repeatability and engagement helped companies establish immediate relationships with customers, other companies and the overall business community.
Using Podcasts as a Marketing Tool to Increase Brand Awareness
Podcasting has become one of the most effective tools for building brand awareness in recent years. Podcasting is a fresh and innovative way for businesses to reach customers. People are becoming increasingly interested in audio material as they frequently spend more time in front of their laptop screens. People like it because the audio content can be consumed while on the move, driving, exercising, or cooking supper. When they find the time, they are more inclined to listen to engaging talks than read the content. Companies are also considering turning part of their text-based material into audio, believing it would increase engagement.
Using Podcasting for Brand Awareness to Build Trust with Customers
Podcasting helps your business have a powerful voice. With your chosen content, you can showcase your organization's goal, personality, and character. As a result, you can naturally attract more clients and raise your sales goals. Unlike traditional advertising, which consumers find difficult to trust, podcasts allow you to establish more honest customer relationships. Trust is essential in business for building a loyal following in a market saturated with products and services. Most importantly, trust equates to more sales.
Building trust is even more challenging for a new business, and podcasts are an excellent tool for getting started with your audience.
Using Podcasts for Brand Awareness to Reach New Audiences and Generate Better Conversion
With your podcast, you can reach a specific audience. All you have to do is get behind your microphone and start sharing your information in the most engaging way possible. When your enthusiasm for the subject shines through, your business image improves. You will be able to attract attention as your impact and authority grow. Consequently, it will help you generate more leads and improve conversion rates to increase your company's profitability.
Using Podcasts for Brand Awareness to make Engaging Content
Remember that podcasts are attractive because they cover various fascinating topics. Your audience can download your episodes later or listen to them when they are released. Starting a podcast enables you to get creative with various formats: you can be a solo host, do tandem hosting, invite guests, do a drama, do a comedy skit, and more. Moreover, your podcasts can be as varied as you want, allowing you to focus on unique stories, provide advice, share experiences, play music, or do whatever you want. You can use your imagination, and get as creative as you want.
Using Podcasts for Brand Awareness as it is Easy and Quick to Produce
Podcasts are easy and affordable to produce. A quiet room, a microphone, a recording device, and editing software are all required for production. An important thing to remember is the description of your podcast. The next thing potential listeners look at after your podcast name and logo is your podcast description. So you have to do your best. You can start with a question, add episode highlights, useful, interactive information, etc. After you've completed a podcast episode, you can share it on your blog and social media channels.
Podcast for Brand Awareness: A Long-Term Investment
Podcasting is a long-term investment for increasing awareness of a brand. While businesses may not see an immediate return on investment from their podcast, continuous development of high-quality audio content may benefit their brand in the long run. Businesses can gradually build a devoted audience that believes in their brand message and is more inclined to buy their products or services.
Conclusion
In the modern era, using podcasts for brand awareness is the best way to ensure better brand worth. Podcasts are one of the finest ways for your clients to consume content since they are convenient. With the increasing popularity of podcasts as entertainment and information, marketers are tapping into this medium to reach their target audience.