1. Social media marketing doesn't have to be expensive
There's a common misconception that social media marketing is expensive. But the truth is, you can get started with social media marketing on a shoestring budget. All you need is a little creativity and a willingness to put in the work. The best part is that your customers are already on social media, which is a major advantage when you choose this approach.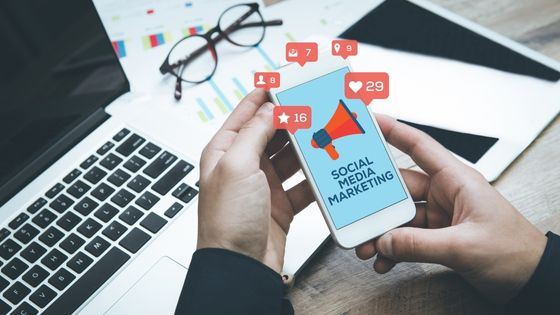 Here are a few tips to get you started:
Start by setting up a profile on one or two social media platforms. Focus on the platforms where your target audience is most active.
Create quality content that provides value to your audience. It can be anything from blog posts to infographics to video tutorials.
Engage with other users on the platform. Comment on other people's posts, share their content and follow accounts that are relevant to your business.
2. You don't need a huge following to be successful
You may need a large social media following to succeed as a business owner. But the truth is, you don't need a huge following to make an impact on social media.
With the right strategies, you can reach your target audience and achieve your business goals, even if you have a limited number of followers. So how do you do it?
Here are a few tips:
Find your niche: When you know who you want to reach, it's easier to find them on social media.
Create valuable content: Provide your audience with helpful, informative, or entertaining content.
Be consistent: Post regularly and interact with your followers regularly.
Be patient: Wait to see results overnight. It takes time to build a following and see
3. Quality trumps quantity to become successful on social media
Most businesses understand that they need to be on social media to reach their audience. But with so many platforms and options, it can take time to figure out where to start.
Here's the thing:
It's about something other than being on every social media platform. It's about being on the right platforms and creating quality content that will resonate with your audience.
Think about which platforms make the most sense for your business.
Take a look at your current specific goals and your audience. What networks will reach and engage your audience
Here are a few tips:
Keep your messaging consistent across platforms
Create visually appealing content – Use hashtags and @mentions to reach a wider audience
Use analytics to see what's working and make changes as needed
4. Timing is everything
In business, timing is everything. You need to know when to make the right move and when to wait for a better opportunity. There are a lot of factors to consider when trying to time the market. You need to look at the overall trend, the competition, the stage of the cycle, and your readiness.
If you timed the market perfectly, you would make much money. But timing the market is difficult, and even the most experienced investors can get it wrong. The best thing you can do is to stay informed and be patient. With time and practice, you will get better at timing the market, and you will be able to make more money in the long run.
5. Analytics is your best friend
By tracking your performance and analyzing your results, you can quickly identify areas that need improvement and devise a plan to target those areas.
You can track many different metrics, but some of the most important ones to focus on are engagement, reach, and leads. By tracking these metrics, you can get a better understanding of what's working and what's not, and you can make adjustments accordingly.
Now is the time to start if you still need to use analytics to track your social media marketing. It's the best way to identify areas of opportunity and ensure that your marketing efforts are as effective as possible.
6. Always be testing
As a social media marketer, it's important always to be tested. What works for one audience may not work for another, and what works today may not work tomorrow. The only way to know what works is to test, test, and test some more.
You can test many things on social media, from the time of day you post to the content you share. You can hone in on what works best for your business and your audience by constantly testing different strategies. So don't be afraid to experiment – it's the only way to ensure you get the most out of your social media marketing.
7. Keep your content fresh
If you want people to keep returning to your social media pages, you must keep your content fresh. That means regularly sharing new and original content that your audience will find valuable.
One way to keep your content fresh is to create a social media content calendar. It will help you plan and publish your content in a timely and relevant way.
8. Monitor your analytics
If you're not monitoring your social media analytics, you're missing valuable insights into what's working and not. Regularly checking your analytics lets you see which content is getting the most engagement and adjust accordingly.
There are several social media analytics tools, so find one that works best for you and your needs. Once you have a tool in place, take some time to learn how to use it to get the most out of your data.
9. Be responsive on social media For Boosting Your Social Media Marketing
Responsiveness is key when it comes to social media marketing. If you're responsive, you're taking advantage of valuable opportunities to connect with your audience and build relationships.
There are a few things you can do to be more responsive on social media:
Make sure you regularly monitor your social media channels to respond quickly to comments and questions.
Use social media tools to help you keep track of conversations, so you get everything.
Set up notifications, so you're alerted as soon as someone mentions your brand or leaves a comment on your post.
Take the time to craft thoughtful responses that show you're listening to what the other person is saying.
By being more responsive on social media, you'll be able to better connect with your audience and create deeper relationships.
8. Tell stories
In today's world, social media is one of the most powerful tools to promote your business. And one of the best ways to stand out on social media is by telling stories.
People love stories. They're engaging and emotional and can help you connect with your audience in a way that facts and figures alone can't. When you tell stories on social media, you're not just promoting your products or services – you're also building your brand and connecting with your customers on a deeper level.
So how can you use stories to boost your social media marketing? Here are a few tips:
Use stories to introduce your brand and give people a sense of who you are.
Use stories to humanize your brand and connect with your customers on a personal level.
Use stories to promote your brand and connect with your customers.
9. Get involved in the conversation
As a business owner, you know that social media marketing is important. You also know that it can take a lot of work to stand out in the sea of other businesses all vying for attention on the same platforms. How can you ensure that your social media marketing is effective?
One way to ensure your social media marketing works is to get involved in the conversation. Join relevant online communities and forums, and participate in discussions related to your industry. It will help you get your name and your business's name out there and better understand what your customers and potential customers are interested in.
Another way to boost social media marketing is to create shareable and valuable content. Provide your followers with helpful tips, interesting articles, and funny memes – anything that will make them want to share your
10. Be yourself For Boosting Your Social Media Marketing
Regarding social media marketing, it's important to be yourself. Being genuine and authentic will help you build trust with your audience, which is essential for any successful marketing campaign.
Of course, you should keep some details of your personal life private on social media. But you should be relatable, approachable, and above all, authentic. Your audience will appreciate it, and your social media marketing will improve.