Many of the largest and most well-known electronics and car companies in the world were founded in South Korea, including Samsung, LG, Hyundai, Kia, and more. As South Korean companies dominate the mobile and auto industries, learning Korean online can be a great way to expand your career opportunities.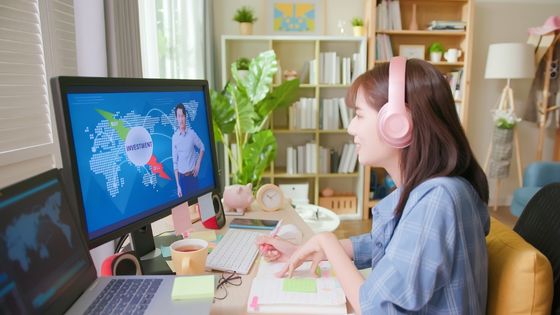 Where Can You Learn Korean Online?
Learning a second language as an adult has never been easier than it is today. The reason? Online classes and apps can be accessed from computers and mobile devices with just a few taps of our fingers.
However, both of these options have innate flaws. Online classes are expensive, and you're forced to share the instructor's attention with other students. Apps might be more affordable, but then you're left with the problem of learning on your own, which makes it easy to get distracted, procrastinate, and lose sight of the goal.
What, then, is the solution?
Online tutors are a great way to learn any second language, especially Korean. Online tutors solve the problem of personal attention since the instructor only focuses on you during your sessions. Tutoring also solves the challenge of motivation, since you will have someone to push you along your journey and hold you accountable as you progress toward your goal.
When you learn with online tutors from Eurekly.com, you get access to experienced, qualified instructors who don't charge an arm and leg. In fact, prices start as low as $13 per session.
Benefits of Learning Korean with Eurekly Online Tutors
Eurekly is an easy-to-use website that matches tutors with students. You can easily find online Korean tutors, as well as tutors in many other subjects. You can search for tutors by availability, languages they speak, their location, and more. You can also sort through your results by tutor pricing, popularity, and ratings.
The ratings are another aspect that makes the site unique. Each tutor is given a star rating (out of five) by their students. That way, you can easily see if their students were pleased or not. Moreover, many tutors on the site offer free trial lessons, which means you can test out the waters to make sure you're a good match without paying any money.
Tutors price their services competitively because there is such a wide selection. They know that if they charge too much, students will turn elsewhere. Therefore, it's really a student's world when it comes to online tutoring—they have a definite advantage.
Another way in which online tutoring gives a lot of power to the student is that you get to decide when and where you learn. You don't need to change your schedule to suit the tutor's—you can simply choose a tutor who works at your desired times. Also, you don't need to spend money or time on transportation—as long as you have a stable internet connection, you can learn anywhere.
And finally, if you and your tutor aren't a good match, you can't simply thank them, say goodbye, and find someone new. With online learning, you don't need to stick with a specific tutor if they're not right for you. Instead, you can find someone you "click" with, someone who can be your partner in this worthwhile endeavor.
How Can Learning Korean Help You Advance Your Career?
South Korea is a powerhouse in the global electronics and automotive industries. Consumers around the world buy South Korean products without even knowing their origin. If you live in an English-speaking country and also speak Korean, you'll have a leg-up over other employees if you work for one of the Korean giants.
Not only will you be able to gain a greater understanding of the company's products in their native languages, you'll also have the ability to forge international relationships.
Moreover, anyone who relocates to South Korea for work will be able to advance further by knowing the local language. A recent study published in the Journal of Multilingual and Multicultural Development states that investment in the Korean language is "a key" to creating deeper relationships and engagement.
Korean is also widely spoken in China, Japan, the United States, and India. In fact, according to the Times of India, Korean is the fastest-growing language in the country. Therefore, whether you live in the West or East Asia, knowing Korean can get you far.
Even if you don't work for one of the big Korean companies, knowing the language can still help you in your career. Fluency in Korean can help you get work in translation, interpretation, aviation, tourism, sales, teaching, writing, and other areas.
Start Learning Korean Today!
With so many online tutors at the tips of your fingers, there's never been a better time to learn Korean. The trick is getting started. Eurekly makes it easy with a curated list of tutors, sorting abilities, competitive prices, and free trial lessons. If you think Korean fluency is beyond your grasp, think again. Start learning today and see how accessible it is.