An Amazon Product Video is a short video that helps buyers to understand and compare your products. You can use this feature to show customers what your product looks like and how it works, as well as showing your brand's story and personality through the video.
It's also a great way to give potential customers an immersive experience, with 86% of online shoppers believing videos helped in their purchase decisions.
As a result, it's important to do it right. I have compiled my experiences with Amazon Product Videography in a simple, easy to follow guide for sellers wanting to enhance their customer's experiences.
Who can use Video content?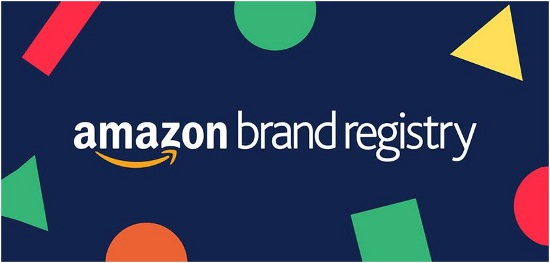 To use Video content for your listings, you have to be approved and registered on Amazon Brand Registry. Once you are brand registered, however, you can use this feature in your listings, Storefronts, and in Sponsored Brand Video ads.
Choosing the appropriate Video type
Depending on your product, some types of videos may help the customer more than others. If you're selling something that can be complicated to use for example, then it's probably good to have an explainer video to accompany it.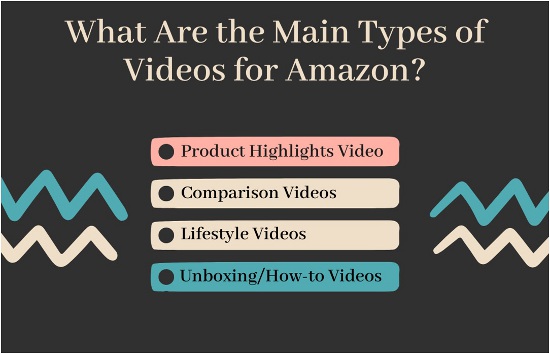 There are 4 types of videos you can incorporate with your product:
● Product Highlight Videos:
Product highlight videos are a great opportunity for you to demonstrate what your product can do, how it works and why it's worth buying. They can also provide useful information about the product like how long it takes to charge or what time of day is best to use it.
You should include all essential information such as specifications, features, benefits and any other relevant details that may help people decide whether they want your product or not.
● Comparison Videos:
In this video type, you show how well your product competes with other products. You can also compare the results of a certain action with & without your product.
When comparing competing products, it is important to remain factual & non-defamatory. Instead of naming and shaming your competitors, it's better to target their functionality defects to add value to your product
● Lifestyle Videos:
Want to give your buyer a quick joyride of your product? Then lifestyle videos are the one you're looking for. Using the customer's imagination to my advantage, I was able to show my target audience using my product. This resulted in a sort of validation that is key in building trust between your customer and product.
● Unboxing/How-to Videos:
There's just something about unboxing videos that make them so enjoyable! Your buyers get a rundown of what to expect the moment they open the packaging box. These videos are good for products with many parts.
How-to videos or explainer videos as mentioned above, are helpful in showcasing features and educating your buyer about your product.
It's important to mix and match video types to make your videos enjoyable and informative to the viewer. Create a video yourself or hire a professional Amazon Product Video Service, depending on your time constraints & video-making abilities.
Regardless of how you create a video, it is crucial to be very active in planning for it.
How do you Plan a Video?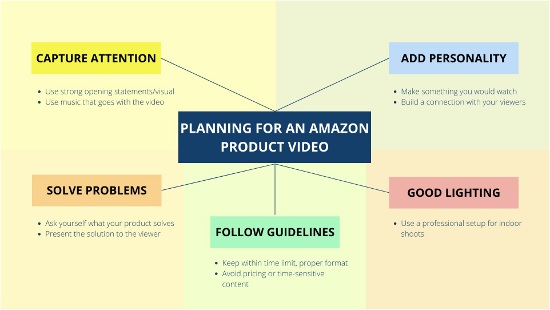 Capture the attention of the viewer early with a strong beginning statement or visuals. It's important to reel them in right from the get-go
Make sure to keep your video below the 1-Minute mark and 45-Seconds mark for Sponsored Brand Video Ads.
Question yourself about what problem your product solves and apply the Pain-Agitate-Solution formula to sell it to your customers in the video.
Give considerable attention to the audio side of things, as a low quality video might still be acceptable if not perfect, but a poor audio quality can immediately scare off the viewer.
Make the lighting in your video the top priority if you're doing indoor shoots.
If you cannot decide on a background, its always good to go with the trusty Solid Color/White Background for your video.
To extend the reach of your content, you also might want to consider adding captions for differently-abled customers or customers that just don't have the volume on their phones turned up.
Music can bring your videos to life, so use good royalty-free music from the tons of libraries available in your video.
Avoid using discount oriented language, pricing, and time-sensitive content in your videos
Inject personality into your videos. Make something that is enjoyable first to you and then to your viewers. Have fun with the way you create your videos!
Have your Amazon Product Video ready?
Once you're done with creating your video, follow these steps to upload it on Amazon:
● Log in to Amazon Seller Central.
● Navigate to the 'Inventory' tab.
● Select 'Upload and Manage Videos'.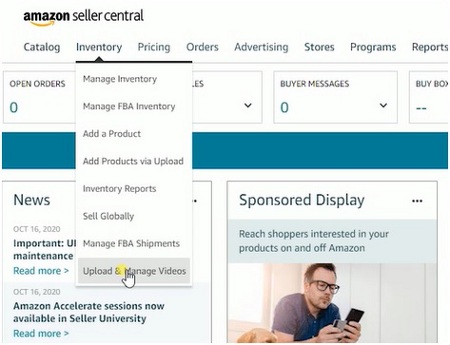 ● Click on 'Upload Video'.

● Find & select the video file. Remember, your file shouldn't exceed 5GB and be in one of the following file formats: 3GP, AAC, AVI, FLV, MOV, MP4, MPEG-2. For the best results, upload in 1080p quality.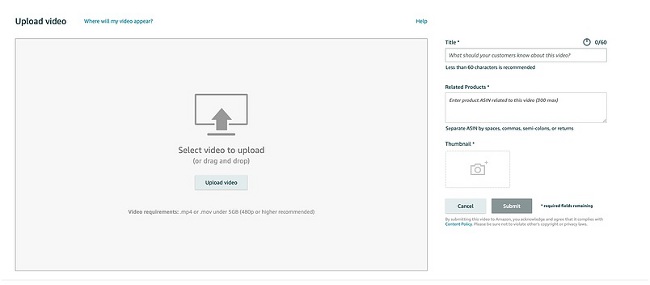 ● Insert a thumbnail for your video and a keyword-incorporated title.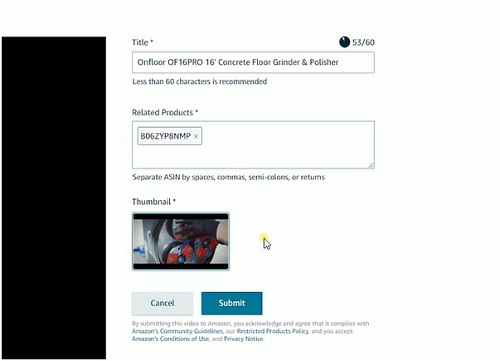 ● Select the ASIN(s), then click 'Submit' to send your video for approval.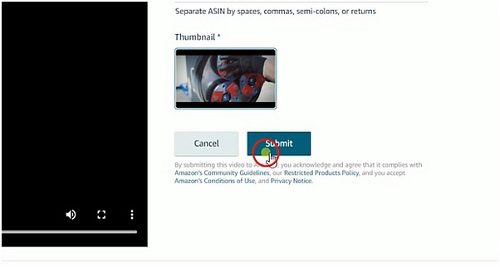 Once approved by Amazon, the status will be updated to 'Published'. However, you may have to wait upto 24-Hours to see your video on your listing.
Other than that, congrats! You have a video ready for attracting customers and showing your products most exciting features!
Final Thoughts
In conclusion, creating a good product video is very helpful and necessary for all Amazon sellers. These tips will surely help you create a quality video that will attract more customers. Keep in mind that you do not have to follow all of them. Just pick a few things that align best with your business needs. That way, you can make the best video possible. Good luck!