How do you become a professional cricketer, and when it is appropriate to be a cricketer are issues without a definitive answer.
It is up to yourself if you are able to commit the necessary commitment and effort needed for this profession. Techniques can be improved however you will require a base when you begin your career as a cricketer.
How do you build an initial base?
Find out the ideal time to begin this as a full-time job. This article can assist you in creating a plan to become a professional cricketer.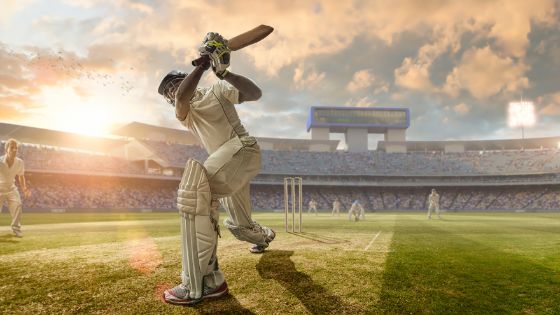 Is there a specific age limit for a new cricket Career?
There is no age limit to play the sport professionally. If you are successful you are able to play until the early 40s. However, it is recommended you begin your journey at an early age so that you are prepared to move forward and become a household name.
There are many steps you have to traverse to get to the top.
Another advantage you can enjoy is that if you begin playing at an early age is that you can choose from a variety of teams for players who are under the age of 16 or 19 that you can play for.
This helps you build experience and show your talents and passion even at a young age, and improves your chances of being selected for different clubs or even playing for your national squad.
How to Start Career in Cricket
As with all other sports, playing cricket requires you to be physically fit as an athlete.
When you start any sport, make sure you're prepared to put all of your effort into improving your fitness as well,  instead of simply focusing on the sport.
Do not ignore your body's nutritional requirements if you are planning to become a professional sportsperson.
The next task is to purchase the cricket gear.
It is not necessary to purchase the most expensive model, instead choose one that will be useful during the initial phase of becoming a player.
Look for an academy for cricket that is basic close to where you live. This will allow you to understand the fundamentals of cricket.
It will also lay the foundation for your career in cricket. There is no need to jump straight to a prestigious, highly-professional academy right from the start in the first place. Begin these steps slowly and gradually.
Keep in mind that these small academies can only assist you in determining the right fit if you're passionate and fascinated by cricket.
Therefore, the first step is to figure out whether you'd like to become an athlete or not.
Now that you're ready to move on into the following step.
Choosing an Academy
If you're confident enough to go after a career in cricket you should enroll in an academy that is professional.
These academies play an essential role in guiding you to the right direction on how to become a successful professional.
Your mentor, coach, and the knowledge gained will aid you achieve your goal. Before you choose a professional cricket school, keep certain things in your mind. The goal is to bring you an inch closer to a future in cricket.
Examine all the facilities they are providing you with What is the proportion between a coach and a student.
Learn about the history of the school to know what kind of opportunities and exposure they will offer you.
Make sure that there is a cricket pitch with their own facilities for you to use as much as you'd like. Finally, make sure you check the fees and if they are in line with your budget, you can go with it.
The first significant step to becoming an athlete in cricket has been done!
Setting small goals
When you begin pursuing a job, the best way to rise up the ladder is to set small goals. If you're thinking of how you can become a player in cricket, you have smaller goals that you must achieve.
Small goals you set for yourself keep you determined and won't give up the hope. It also helps you develop each step of the way and in an efficient way.
Enhance your cricketing skills
Nobody can make improvements to your performance until you are working toward it. In order to stand out in the crowd, you have to be at the highest level.
Your coaches and instructors can only assist you. The first objective you should be able to achieve is to improve regularly in your sport.
Try it by practicing for hours in a day and watching a professional game as well as interacting with experts too. If you observe someone playing visually, it helps you develop those abilities on the field.
When you interact with professional players, they will teach you how to become a professional cricketer, including every experience they've had.
Learn from their mistakes, and continue to move further in your career in cricket. Jasprit Bumrah is currently developing his skills, and says you should have the ability to play with a variety of styles, so that you don't get bored.
Becoming a Professional Player
If you're selected at an opportunity at the district-level, you're on the way towards becoming a professional. But the battle isn't finished yet.
You must become a state-level player, and you could have the chance to join the IPL and the National team.
If you're playing for your local team and club, it can help you get the experience you need to be able to join the state team and compete for the Ranji trophy.
However, wherever you play you must make yourself known to the people who decide to allow them to select you.
Make sure you are in top shape and work hard. If you're a batsman, simply do a few drills hitting the ball.
And when you are a bowler, just practice throwing the ball. Don't attempt to be the top in everything. Be the best in a particular area and you will be able to earn your place on the team for the state championship.
Now that you're playing for your state, you can now move on and attempt to make it into the IPL as well as the national team.
Participate in the various selection camps that are happening in various parts of the country and try to earn your place in the team. It's the final step in your journey to become a professional cricketer.
How do you become a cricketer as you tackle Failures
However, the path to become a cricketer is fairly straightforward on the web. However, failures could make you lose faith. If this happens, be aware that your failures don't determine you.
Be able to overcome those fears and failures and believe in your own abilities. If you believe that you can accomplish it, then that you can achieve it.
There aren't many who get to be a part of the team of their nation, however there are plenty of opportunities there.
The day you'll be able to repay you by bringing your dream to fruition. If you don't succeed today, be aware that there's always tomorrow that will make you successful.
Tips on How to Become a Successful Cricketer
After you've started playing cricket professionally then your task is to keep that winning streak going. But, how do you stay successful?
While you won't be successful all your life, there are some guidelines to be aware of.
Do not be burdened by your previous performance into today's performance.
Set small goals for yourself in a game. Start by making 30 runs, then aim at a 50 before going to make 100.
Be sure that the mission given to you at every game is completed, at times you'll have to score sixes, or, sometimes, aid the team in achieving the required score.
Don't be afraid to face your fears when you're having a bad day. but do your best. Even if you do over 20 runs and the next one is likely to be a new one.
Be careful not to be unpredictable, particularly when bowling.
Instead of simply batting or bowling, put your money into fielding, too. It is now important when deciding the team for the match.
When you have all this in mind, your chances of having more performance will increase.
Also, you will be able to keep your gains for a good period of time, and continue to play even if you do not perform very well. Since your statistics are a reflection of your performance in the field of cricket.
Playing for School/University
The game of cricket, which is an activity for teams, cannot be learned completely by learning new abilities. You must work as an entire team.
The teams at your university or school can assist you in understanding the team dynamics. This is an important part when you begin your career as a cricketer.
Additionally, you can play games that are competitive and showcase your talents.
The School or University will aid you in the next stage of your professional education. The goal is to be selected at the district level.
If you're consistently doing well, your university or school will offer you the stage or suggest your name to compete in district-level matches.